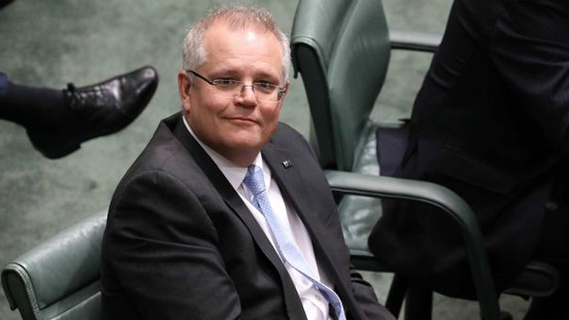 At around this time last year, then Australian treasurer Scott Morrison stated in an interview with Fairfax media that he'd be playing a leading role in the push to pass further religious protection laws in 2018.
Now prime minister, Morrison announced last Thursday that his government plans to introduce religious discrimination legislation into parliament with the aim of getting it passed prior to his imminent ousting in the federal election next May.
The Pentecostal PM also released the Ruddock Religious Freedoms Review report, which his government had been sitting on since May. Launched late last year, the Ruddock inquiry was a direct response to the concerns of some Liberals Party members about marriage equality laws.
The government has accepted all 20 review recommendations in-principle. It's moving to legislate 15 immediately. The new position of religious freedom commissioner will also be created within the Australian Human Rights Commission, despite the report recommending against this.
The final five recommendations will be referred to the Australian Law Reform Commission to report back on in the second half of next year. These include the recommendations to strengthen the laws that allow religious schools to discriminate against students and teachers based on their sexuality.
Reserving the right to discriminate
The Ruddock review recommends that all jurisdictions abolish laws that allow religious schools to discriminate against individuals based on their race, disability, pregnancy or intersex status, which leaves LGBTQ people out in the cold.
Indeed, currently section 38 of the Sex Discrimination Act 1984 (Cth) stipulates that religious schools can discriminate in connection with employees, contractors and students in regard to their "sex, sexual orientation, gender identity, marital or relationship status or pregnancy".
What the Ruddock review proposes is that religious schools retain their ability to discriminate against employees, contractors and students based on their sexual orientation, gender identity or relationship status, as long as some provisos are put in place.
These provisions are that the discrimination is based on the precepts of the religion, the school has a publicly available policy outlining its position and copies of that are provided to concerned parties. And when it comes to expelling kids, the school has to regard "the best interests of the child".
Stalling on reforms
Just prior to the Wentworth byelection in October, the Ruddock review recommendations were leaked to the press. And this led to an uproar when the public realised that religious educational institutions can discriminate against LGBTIQ people.
After repeatedly defending the laws to reporters, Morrison then buckled. He announced that no student should be able to be discriminated against on the basis of their sexuality. And he further promised to change the law as soon as possible.
However, a bill that Morrison personally introduced that was supposed to amend the laws to protect students against discrimination stalled a few weeks back, as it contained amendments that LGBTIQ groups and Labor claimed could be used to discriminate against students.
The contention was caused by a clause that ensured any "teaching activity" done within the tenets of a religion, as well as another that secured a school's capacity to initiate "rules". These provisions it was thought could have been used to indirectly discriminate against LGBTQ students.
So, now Morrison has prioritised enacting a Religious Discrimination Act, while putting off removing these discriminatory laws, and in turn he's guaranteed that LGBTQ students and teachers can continue to be discriminated against at least until after the next federal election.
Religious freedom for whom
At the announcement of the upcoming religious discrimination legislation, Morrison said the laws are needed in multicultural Australia. He implied that many migrants have strong religious beliefs and these need to be protected.
Of course, this is the same man who just weeks before declared that migration numbers need to be cut due to the strain on infrastructure, claiming that the roads are clogged, the trains are full and the schools can't take in any more kids, because migrants are taking up all the space.
It's well-known that the real priority of Morrison and other figures within the Liberal Party religious right in moving to enact a Religious Discrimination Act is to ensure the protection of the majority religion in this country: Christianity.
As he said in his Fairfax interview last year, he's concerned about individuals being offensive about or making a mockery of all religions, but he's particularly concerned about the one he "and many other Christians subscribe to".
As Macquarie University Professor Marion Maddox pointed out in an article last year over the last decades whenever there has been moves to establish any sort of religious freedom laws it's been the Christian religious right that has blocked them.
"The reason was because they were worried that would mean religious freedom for everybody, and not just for them," Professor Maddox told Sydney Criminal Lawyers®. And she explained that they were concerned that it "might limit their freedom to denounce other people's religious beliefs."
Protecting those in power
The Christian Church might be feeling that it doesn't have as much sway as it used to in this country. And this is for good reason. In 1966, 88 percent of the population was Christian. This dropped to 74 percent by 1991, and in 2016, it was down to 52 percent.
However, it is still by far the majority religion in this country. Those Australians who have no religion only make up 30 percent of the population. And Islam only accounts for 2.6 percent of the general populace.
And that's the strange thing about the Religious Discrimination Act proposal. It's being pushed by conservative Christian types who are part of what is still the majority religion. And usually discrimination laws are needed to protect minorities or those who aren't in positions of power.
To begin with the Sex Discrimination Act was established to protect and uphold the rights of women, more so than protecting men's rights. The Racial Discrimination Act is to protect those from minority ethnic groups, who were being discriminated against by the majority.
But, here we have a federal government driving through new anti-religious discrimination laws designed to maintain the power of one of the strongest institutions in the country, while at the same time emboldening it to discriminate against others based on their sexuality.
Receive all of our articles weekly