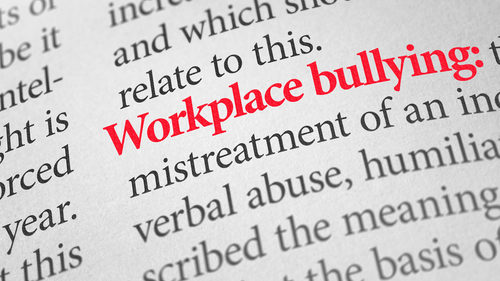 Controversial Sydney radio announcer Ray Haydley is being sued over allegations of workplace bullying and harassment.
The lawsuit is being brought by his former programme producer, Chris Bowen, who says he suffered years of abuse at the hands of Mr Hadley, who he says referred to his girlfriend a 'curry muncher'.
In a preliminary hearing in Sydney District Court last week, the judge heard evidence that not only did Mr Hadley make the racial slur, he bullied, harassed and intimidated Mr Bowen on more than 1,000 occasions spanning over a decade, including calling him a "fucking poof" a "fucking spastic" and a "poor simpleton".
Mr Bowen alleges that the systemic bullying was an intentional infliction of mental harm which led to psychiatric injury.
What is workplace bullying?
Section 789FD of the Fair Work Act 2009 (the Act) explains that a worker is bullied at work if an individual or a group of individual repeatedly behaves unreasonably towards the worker, or a group of workers of which the worker is a member; and that behaviour creates a risk to health and safety.
Bullying behaviour can range from obvious verbal or physical assault to subtle psychological abuse. It can include:
physical or verbal abuse
yelling, screaming or offensive language
excluding or isolating employees
psychological harassment
intimidation
assigning meaningless tasks unrelated to the job
giving employees impossible jobs
deliberately changed work rosters to inconvenience particular employees
undermining work performance by deliberately withholding information vital for effective work performance.
Amendments to the Act which came into effect on 1 January 2014 set down a range of measures to deal with claims of workplace bullying, from 'reasonable management action' by employers to the powers of the Fair Work Commission (FWC).
Aside from seeking assistance and resolution from the FWC, another option for dealing with bullying, as in the case of Mr Bowen is to take civil action and seek retribution through the courts.
In this case, Mr Bowen is suing Mr Hadley for negligence and breaching his duty of care.
Negligence in New South Wales is defined in the Civil Liability Act 2002, as arising when a person does not exercise what would be considered reasonable care and skill.
To make a claim of negligence in NSW, you must prove three elements:
A duty of care existed between you and the person you are claiming was negligent;
The other person breached their duty of care owed to you; and
Damage or injury suffered by you was caused by the breach of the duty.
Duty of care
Duty of care in cases of negligence in NSW can be established through the type of relationship between the claimant and the negligent party. There are many kinds of duties of care and they can arise in many different instances, but some examples include:
doctor to patient;
land owner to tenant;
occupier of land to visitor;
manufacturer to consumer;
teacher to student;
road user to any other person nearby; and
employer to employee.
Parent / guardian to the child in their care
'Influencing witnesses'
But as the case progresses, further allegations have been made that Ray Hadley has gone to "extraordinary attempts" to influence a potential witness in the case, another employee Luke Bona, including sending him text messages and offering his son a job.
Mr Hadley denies all of the allegations and both parties have been ordered into mediation ahead of a trial that scheduled in 2021.
Receive all of our articles weekly