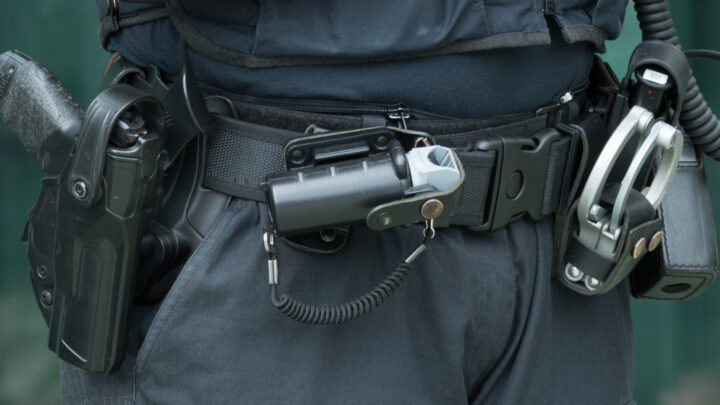 An internal police investigation is now underway, following the death of a man pepper sprayed by New South Wales Police Officers. 
Police have only issued a few details about the incident. Police attended an address in Wellington in the central western area of New South Wales, after reports of a domestic dispute. 
They used capsicum spray on the man, after a struggle. The man was arrested and then lost consciousness. Police officers performed CPR, but the man was pronounced dead when he arrived at Wellington Hospital.
The state crime command homicide squad is now investigating the circumstances surrounding the incident. That team's investigation will be subject to an independent review.
The use of pepper spray, otherwise known as capsicum spray, continues to be controversial. The type of spray used by NSW Police is Oleoresin Capsicum (OC) spray. 
Routine use of pepper spray
In 2020 after police used pepper spray to subdue members of the public participating in the Black Lives Matter protests, the debate heated up again, with a lot of concern around how police officers use this tool, which was introduced into the police arsenal in the 1970s as a 'non-lethal' weapon to subdue offenders. 
However, although pepper spray is considered relatively 'safe' – the active ingredient, capsaicin, which is the same chemical that gives chilli peppers their 'heat' causes burning to the eyes and skin for a short period of time, and generally 'wears' off all by itself. However, it does cause immediate blindness, which renders a person completely unable to see, a considerable debilitation – and questions remain whether such force is necessary during arrest.  
In some cases, the use of pepper spray can cause health complications, particularly if the person being sprayed suffers from asthma or another other respiratory disease for example.  
In Australia, pepper spray is generally considered a 'prohibited weapon' and it is not available for sale to the general public in the same way it is in other countries, such as the US. 
In NSW the Weapons Prohibition Act 1998 (NSW) prohibits "any device designed or intended as a defence or anti-personnel spray and that is capable of discharging any irritant matter".
Section 7(1) Weapons Prohibition Act 1998 (NSW) says that "a person must not possess or use a prohibited weapon unless the person is authorised so do so by a permit."
There is a maximum penalty of 14-years jail for breaching section 7(1). If dealt with in the local court, which is more common, then the maximum penalty is 2-years jail.
When can police use pepper spray? 
The 2019 NSW Police Force Training Manual for Oleoresin Capsicum Defensive Spray (redacted for public consumption) states that 'defensive' sprays may be used for:
protection of human life
a less than lethal option for controlling people, where violent resistance or confrontation
occurs (or is likely to occur),
protection against animals. 
Only operational police trained in the use of OC spray are issued with OC spray, i.e. officers who have attained the required standard of proficiency through the approved training course
conducted by suitably qualified Operational Safety Instructors or a specialist course conducted by the Tactical Operations Unit can carry OC sprays in the line of duty. 
Officers must carry OC spray in an approved carrier and wear on the appointment belt for the duration of the rostered shift.
Defensive sprays are only as per instruction prescribed in the approved training course.
Officers receive  initial OC spray training at the NSW Police Academy and ongoing training is conducted as required as part of Defensive Tactics Mandatory training.
Duty of care when using OC spray 
Police have a Duty of care for any individual that is affected by OC spray. Start decontamination
procedures as soon as possible after the subject has been sprayed but only after:
taking precautions to reduce the possibility of secondary contamination to the arresting
officer/s, such as wearing of disposable gloves and allowing enough time for airborne OC to sufficiently disperse
the subject has stopped resisting and is under enough control, and
the possibility of injury from other people in the vicinity is minimised.
Continuously verbally reassure the subject throughout the decontamination process.
The manual also outlines medical warning signs and symptoms and the procedure officers should undertake. It states: 
Potential adverse side effects 
Medical attention must be arranged and provided as a matter of course. 
If you have any
concern about a subject's condition, you must call an ambulance immediately.
Be alert for signs that may indicate an extraordinary reaction to OC spray:
rapid breathing rate (more than 20 breaths per minute)
shallow, restrained or difficult breathing lasting more than two to three minutes
audible wheezing or noisy breathing
blue discolouration of lips and tongue (cyanosis)
deteriorating consciousness
chest or neck pain
profuse sweating
vomiting or severe dry retching.
The document also outlines for officers the dangers of positional asphyxia, which can occur if a person is restrained in a way that does not allow them to breathe freely. Positional Asphyxia is linked to sudden and unexplainable death.
Reasonable force
The amount of force police can use during arrest is also a contentious issue, particularly because of the way section 231 of the Law Enforcement (Powers and Responsibilities) Act 2002 reads. 
It provides that police officers are permitted to use "such force as is reasonably necessary" to arrest a person or stop them from fleeing an arrest.
What constitutes a "reasonable" level of force can be difficult to determine, but should be limited to what is necessary to restrain. 
This means if a person tries to resist arrest, police can potentially use more force. 
However, if those under arrest remain compliant with police instructions, force should be kept to a minimum. 
The law provides that any force that is more than what is reasonably necessary in the circumstances amounts to the criminal offence of assault.
Receive all of our articles weekly