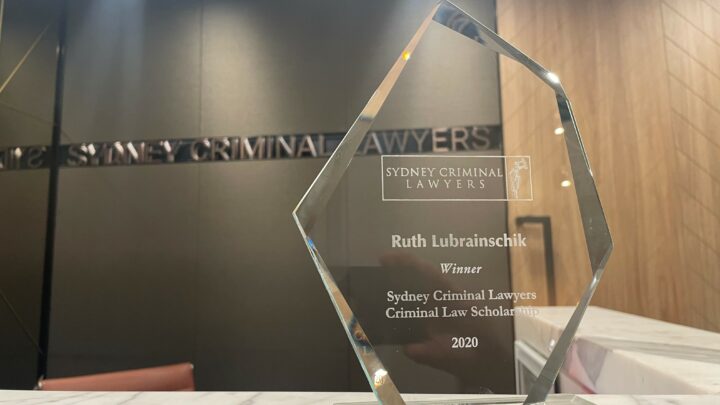 Ruth Lubrainschik describes herself as someone who has a "deep empathy for human struggle", and it is this deep empathy which drives her interest in criminal law as well as her strong belief in the capacity of the law to be transformative and not just punitive.
Ruth excelled as a student of law at the University of New South Wales, achieving High Distinction grades in a range of subjects including Criminal Laws, Crime Prevention Policy and Federal Constitutional Law, and was placed on Faculty of Law Dean's List.
Since February last year, she has worked as a student intern at the Public Defender's Office, which Ruth says has strengthened her understanding of just how important the role of a criminal defence lawyer is in safeguarding the rights of the most vulnerable in the criminal justice system.
Ruth is passionate about Indigenous justice as well as the special hardships faced by women in the criminal justice system. Her passion for social justice, Ruth explains, is fuelled by her own family history which is "riddled with injustice – from programs in Russia, to the Holocaust, to Apartheid South Africa."
Improving outcomes for vulnerable Australians
Ruth believes wholeheartedly in the law's transformative capacity, and aspires to build a career which influences the legal profession in a way that improves outcomes for vulnerable people.
"Ruth is a shining example of the aspirations that younger people need entering this profession to be able to effect change over the long term," says Sydney Criminal Lawyer, Ugur Nedim.
"The justice system is facing a crisis in many ways – courts are overloaded, prisons are overcrowded. This is not a new revelation, but it is time that we started having new conversations about it".
Transformative justice
"There is a chance for the profession as a whole to reconsider the current punitive approach to ensure that it is balanced with addressing the real needs of the socially and economically disadvantaged people who make up a large percentage of the prison population. This means looking at a range of interventions in areas such as mental health, poverty, and drug rehabilitation for example, not just to curb offending and re-offending, but to improve life outcomes as a whole," says Mr Nedim.
"Young lawyers such as Ruth who can identify these issues, have a real opportunity to bring fresh perspectives and new ideas along with vitality and enthusiasm for change. We are delighted to award Ruth the scholarship, and we wish her the very best as she embarks on her career."
The Sydney Criminal Lawyers Scholarship
The Sydney Criminal Lawyers Scholarship was established to help aspiring lawyers with a strong interest in social justice to achieve their goals as an investment in the future of the profession so that it is meeting the needs of a changing society –  providing public safety and meeting community standards and expectations, but also promoting social justice.
The Criminal Law Scholarship is awarded based on a range of factors, including passion for criminal law, future objectives in the field, experience in voluntary positions and academic performance. It provides $5,000 to assist the winning candidate to complete studies, or to use as financial support as they embark on their careers.
Ruth's current goal is to gain more experience working in criminal law and to sit the bar. Longer term, she is considering pursuing a career as a Public Defender.
How to Apply for the 2021 scholarship
Applicants must have Australian citizenship or Australian permanent residency and enrolled in their penultimate or final year in an LL.B, Juris Doctor or Legal Practitioners Admission Board course, or undertaking a Graduate Diploma in Legal Practice, in New South Wales or the ACT
To apply, email a covering letter, resume and academic record to Mr Ugur Nedim at un@sydneycriminallawyers.com.au. Include all contact information.
Applications close at 11.59pm, 30 November 2021.
More information is available on the Sydney Criminal Lawyers website.
Receive all of our articles weekly