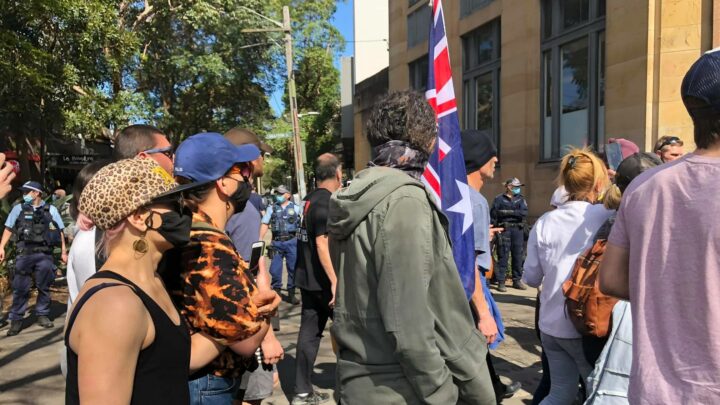 A NSW Government worker will be compensated after being dismissed for attending a 'freedom' rally and posting a picture of Gladys Berejiklian with a Hitler mustache to social media. 
In the middle of pandemic lockdowns last year, Sydney child protection worker Ms Vanessa Lichi attended a "World Freedom Rally" at Victoria Park, near the CBD. 
On 6 September 2021, Ms Lichi was summarily terminated from her position due to her attendance. 
She was told by the HR Department that she was not allowed to work in the office or have any contact with staff or clients for 14 days, and that she had been reported to Crime Stoppers over her attendance.
When Ms Lichi questioned the decision, she was shown a number of posts from her personal  Facebook page, which were described as "critical" of the NSW Government's pandemic response. 
One included an image of Gladys Berejiklian, the then NSW Premier, with a Hitler moustache. 
Grounds for dismissal 
From what's been described in evidence at the Industrial Relations unfair dismissal hearing brought by Ms Lichi, the posts and memes were not too dissimilar to many others being shared around social media at the time, expressing the views of people frustrated by lockdowns, confused by vaccination mandates and changing public health rules, separation from family and friends, job losses, wage cuts and a general fear for the future.  
Ms Lichi was dismissed in September, despite explaining to superiors at the time of the misconduct allegations that her partner's job had been affected by lockdowns and that she attended the rally to exercise her "implied constitutional right to Political Communication, to peacefully protest and assemble." 
She further explained that at the rally she did not speak to anyone but her partner, didn't advertise her employment and complied with move-on directions from police. She was not arrested or charged for attending. 
Ms Lichi also mentioned that she was confused' by posts from MPs such as Craig Kelly which questioned the legality of lockdowns and vaccinations mandates, and whether it was unlawful not to abide by the public health rules. 
Implied constitutional right 
This week, Industrial Relations Commissioner John Murphy determined that Ms Lichi's dismissal  due to her attendance at the rally and the social media posts, was neither unjust nor unreasonable. 
However, he did consider it had been "harsh" and took into consideration the fact that her family was under financial pressures, ordering the Department of Communities and Justice to compensate her with 12 weeks' pay.  
In his ruling, John Murphy stated that attending the rally was a breach of the public health orders at the time. He also said that posting Ms Berejiklian's face next to Hitler was an "appalling act of disrespectfulness and unfairness". 
He also called other posts "fearmongering rubbish" . 
It's another case that highlights the issue of freedom of speech on personal social media accounts, particularly for government workers. 
Government workers don't have freedom of speech 
The Australian Public Service (APS) comprises "entities that employ their staff under the Public Service Act 1999 (PS Act)." This includes all state departments, local council workers,  and some other entities. 
In January 2020, the APS updated t's use of social media for all employees. 
While the APS says that APS employees have a right to personal and political expression, this right must be "balanced with the "obligations of APS employment, and the need to be seen as trusted and impartial public servants." 
In 2013, Michaela Banerji was dismissed by her employer, The Australian Federal Government, because during her time as an employee of the Department of Immigration and Border Protection (since renamed the Department of Home Affairs) Ms Banerji operated the Twitter profile 'LaLegale', which frequently posted opinions critical of the Australian Government, its immigration policies, and its treatment of immigration detainees.
After an internal investigation linked her to the Twitter account, she was dismissed for breaching the Australian Public Service (APS) Code of Conduct. Ultimately her case ended up in the High court, which upheld the dismissal. In a unanimous decision on 7 August 2019, the High Court Justices ruled that the dismissal was lawful because the APS code was proportionate to its purpose of maintaining an apolitical public service. 
At the time, there were concerns that the judgment would have significant implications for any employee of the APS – because it set a precedent to the effect that the right of public sector employees to freely communicate on political matter is constrained by rules set down by their employer, including any codes of conduct.
That said, the right to freedom of speech is not guaranteed to any Australians under the Australian constitution. While there is a degree of protection from government interference with political communication guaranteed under the implied freedom of 'democracy', it is by no means absolute. 
Receive all of our articles weekly