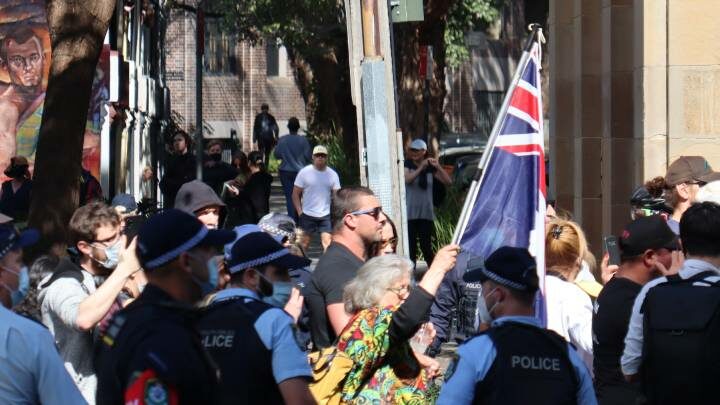 It was common knowledge that truck drivers across the state planned a protest on 31 August, and that's one of the incidents the New South Wales Police Force had been warning against and preparing for.
But quite separate to those protests have been at least 79 others across the state, during which police say they arrested more than 150 people and issued nearly 600 fines.
Police continue to warn that such demonstrations contravene the latest Public Health Order, which purports to empower officers to issue on-the-spot fines as well as exercise their discretion to serve court attendance notices which can lead to prison sentences of up to six months.
79 protests across New South Wales
In defiance of the current lockdown, which is in its tenth week, protesters gathered at a range of locations across Greater Sydney including outside State Parliament in the CBD, Waverley, Fairfield, Campbelltown, Blacktown Sutherland, as well as in Cessnock and Lake Macquarie.
Rallies were also held in regional areas including outside Byron Shire Council Chambers in Mullumbimby, in front of the Lismore City Council chambers, in Wagga Wagga, Orange and Dubbo.
Many of the 153 people arrested were released soon after their identities were established, but others were charged with a range of offences including contravening a public health order, assaulting police and resisting arrest.
Police say the protest organisers were different to those who allegedly organised the rally in the Sydney CBD last month, one of whom pleaded guilty and was sentenced to imprisonment
And police have once again asserted that Strikeforce "Seasoned" will continue to investigate those suspected of being involved in public health order contraventions, even after the events have occurred.
Use of encrypted social media pages
While earlier anti-lockdown protests had been publicised on social media sites such as Facebook and Twitter, organisers are increasingly going 'underground' – using encrypted sites such as Telegram to spread news of upcoming events.
And while government ministers and even police top brass have publicly stated that Australians have a right to express their views, they have at the same time made clear that those who protest in breach of the state-wide lockdown will face the full force of the law.
A polarised nation
Those against public protests frequently say that now is not the time to be out in public. They point to their perceived fears of a COVID spread resulting from these demonstrations, imploring protesters to express their opinions on internet forums behind closed doors rather than in open spaces.
Those in favour of protests express the view that this is the very time to protest, given the devastating impact on mental health, businesses and the economy as a whole of the state government's wholesale, protracted lockdowns which do not have an end date.
They assert there is little evidence of COVID spreading outdoors, and that there needs to be a policy shift away from the current approach of isolating the entire population and towards approaches adopted by other countries, some of which have accepted the presence of COVID and focused on isolating the elderly and most vulnerable.
Suppressing discordant views
The division is so pronounced that those who express views online which don't toe the government line are publicly vilified and marginalised – labelled as 'Covidiots' and 'anti-vaccers' for expressing such concerns.
Many have moved to private groups as a consequence, a place they feel they can express their views without public ridicule.
And while our leaders have an important responsibility to deal with the issue of COVID-19 – which includes protecting the vulnerable and ensuring the health system can cope with outbreaks – it is fundamental to any democracy to recognise that those with views that are inconsistent with those of the government be be able to reasonable express themselves without vilification, or their pages being banned.
The contrary argument, of course, is that such views should be silenced and pages shut down on the basis they proliferate dangerous misinformation.
Lockdown fatigue
In any event, one thing is certain – a significant segment of New South Wales residents have had enough of extended lockdowns.
The frustration amongst many is palpable, with no end in sight to restrictions which are – again – destroying the mental health of both adults and children, resulting in a sharp increase in self harm and suicide by children, leading to increased rates of domestic violence offences, and devastating businesses and the economy as a whole.
The words spoken by Premier Gladys Berejiklian during her daily COVID press conferences are starting to wear very thin, partly because she keeps changing 'goal posts' for the reopening the state.
Many are also angry that the government has made openly clear that only those who are 'double vaccinated' will be 'handed back' freedoms; and only limited freedoms at that. This gives rise to the assertion that, for all intents and purposes, the government's vaccination policy amounts to a form of coercion.
And while 'the health advice' is a common phrase used by the premier, the actual advice relied upon is not outlined or made clear – perhaps save for carefully selected phrases from Report of the Doherty Institute; namely, those that are consistent with the government narrative.
Indeed, that institute's modelling seems to be changing on a near-weekly basis.
Vaccine 'hesitancy'
Many hold the view that individuals should have the ability to live semi-normal lives without having to be injected with vaccines that have only received preliminary approval, for which the health advice has changed significantly over time, for which manufacturers have been given immunity from any and all liability for adverse effects, for which the Australian government has not (unlike many other countries) established a vaccine compensation scheme, for which Australian doctors have been warned they could be disciplined if they express concerns, and for which many believe the side-effects can be significant and may be underreported.
Many residents now feel are being compelled to make accede to the government's demands – which they believe undermines their ability to make an informed health choice.
They are not convinced of the efficacy of current COVID-19 vaccines, given those who receive them can contract and spread the virus.
The contrary argument is, of course, that the vaccines reduce the severity of symptoms – that those who receive them are less likely to becoming seriously ill or die, and that the pressure on our public health system is thereby reduced.
They add that the government has made it clear the only way out of lockdowns, and the restoration of freedoms, is for vaccination targets to be met – and that people need to have these vaccinations so everyone can get on with their lives.
The
This time last year, the Premier of New South Wales was being applauded for her approach to pandemic management, with Prime Minister Scott Morrison labelling our state 'the gold standard'.
But this year, Ms Berejiklian has taken a far more hard line approach – which she has stated is necessary due to the high transmissibility of the Delta variant.
The premier has unapologetically sanctioned tough lockdown measures, including a curfew for Local Government Areas of concern in Greater Sydney, has authorised the use of the military to enforce Public Health Orders and even gone so far as to have the New South Wales Police Force draft the latest orders.
The divisiveness of these policies is, perhaps, one the most unsettling side-effect of the pandemic so far.
Last year, we were "all in this together" but, 12 months on, it's a very different story, and many believe our leaders are applying knee-jerk policies which are failing to serve the public interest.
Receive all of our articles weekly