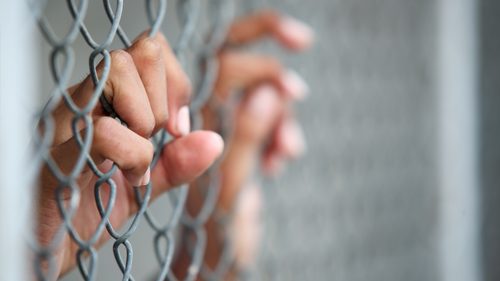 A group of more than 100 Indonesian youths are pressing ahead with a class action law suit against the Australian Government, claiming they were imprisoned alongside adults when they should not have been.
The Australian Government wants proceedings dropped, saying the agencies involved –
The Immigration Department, the Australian Federal Police, the Commonwealth Director of Public Prosecutions and the Attorney-General's Department, which are all named in the suit,  are not within the jurisdiction of the Indonesian court.
But lawyers for the Indonesian youth say they are fighting a human rights case on behalf of 115 people: 31 alleged people smugglers who were detained while juveniles and 84 who were put in immigration detention alongside adults.
X-rays are an inaccurate way to determine age
The youth claim the Australian Government incorrectly determined their age by using x-rays, a widely discredited method. The practice has since been discontinued in Australia.
"The Australian government has put Indonesian minors into Australian adult jail…. Besides, they are poor children – there is no way they can go to Australia to bring up their case," says Lawyer Lisa Hiariej.
The Australian Government has responded in a formal letter which will be given to the Indonesian court. Ms Hiariej's says she will ask for a month to respond.
As previously reported, this is certainly not the first time children have been locked up inside adult prisons by Australian authorities – it now occurs right here in Australia.
The practice is contrary to our obligations under international law. Article 37 of the United Nations Convention on the Rights of the Child (UNCROC) – to which Australia is a signatory –  requires that "every child deprived of liberty shall be separated from adults unless it is considered in the child's best interest not to do so."
Landmark case in WA
The Indonesian youths' class action comes just as Ali Yasmin, an Indonesian minor who was detained for 689 days in Australia – 386 of them in adult detention – is appealing to have his conviction overturned in the Western Australian Court of Criminal Appeal.
Mr Yasmin was arrested in 2009 while working as a cook on a people-smuggling boat. He was only 13 years old at the time. The Australian authorities gave him a wrist x-ray which determined his age to be 19 years. He was then locked up alongside adults. This was despite the fact that the DPP had a copy of his birth certificate that confirmed he was still a child.
The Immigration Department also interviewed him at the time, and formed the view that he was about 14 years of age.
The policy at the time was to not to charge anyone with people smuggling who wasn't established to be 19 years old, and to instead return them home. But the young person's age documents were not produced to the defence.
He was sentenced to five years in prison, and served two years in a maximum security facility in Western Australia. He reported being sexually assaulted while in prison.
It's been a long battle for Mr Yasmin who spent most of 2015 fighting for the right to appeal his people smuggling conviction.
A decision in his case is expected within weeks. It is considered a test case that could pave the way for others who were imprisoned as minors to take legal action.
Receive all of our articles weekly