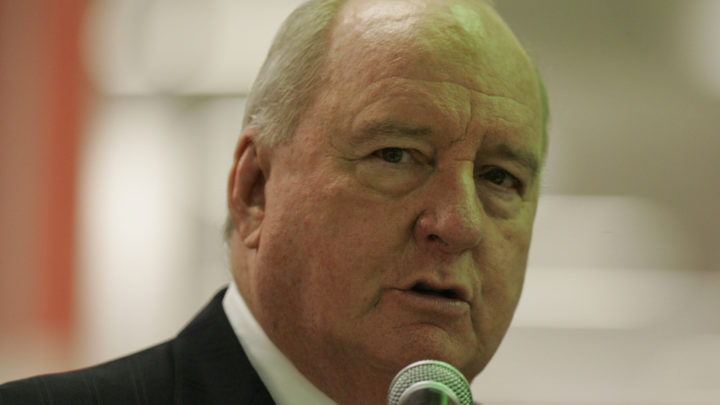 We recently reported on the Wagner family of Toowoomba who were the recipients of a damages awards in excess of $3 million after a court found that Nine Network Australia and their journalist Nicholas Cater falsely reported that the family was responsible for floods that led to the destruction of a town and the deaths of 12 people.
But last year, Alan Jones and his broadcasters were similarly found guilty of defaming the family after the radio shock-jock repeatedly made "vicious and spiteful" comments about them on-air.
The court ruled in favour of the Wagners and ordered Jones and two radio stations to pay more than $3 million dollars in damages at that time.
Wilfully blind to the truth
During the Supreme Court hearing, Justice Peter Flanagan found that Alan Jones was "wilfully blind to the truth," engaged in "unjustifiable conduct" and "was motivated by a desire to injure" the reputations of the Wagner brothers when he made false statements about them.
Allegations made by Alan Jones, and found to be defamatory, included that the family was responsible for damage caused by the Grantham floods in 2011, including the loss of more than 50 homes and the deaths of 12 people, two of them children.
In the aftermath of the floods, some media reports and commentary centred on the collapse of a quarry wall (the quarry is privately owned by the Wagner family), suggesting it played a significant role in the floods.
But a commission of inquiry by Walter Sofronoff QC in 2015 cleared the family of any wrongdoing.
The family went on to sue some of these media outlets for defamation.
What is defamation?
Defamation, as its name suggests, is to 'de-fame' or sully the reputation of someone. Many people think that defamation suits can only be resolved through civil liability suits, but this is not the case.
In New South Wales, the Defamation Act 2005 (which is much the same as it is in all other states and territories in Australia) also makes a provision for criminal culpability, depending on the nature and seriousness of the act of defamation.
Civil defamation
The Wagner family's case against Alan Jones and the two radio broadcasters was a civil defamation case and these are presided over and deliberated by a single judge.
Typically, civil defamation relies on three components to be established:
Firstly, that information was published (including orally communicated) to at least one other person – essentially this means that the defamatory statement was put into the 'public domain'.
Secondly, the person allegedly defamed is clearly identifiable (directly or indirectly) by the information, and thirdly, that the information was defamatory in nature – that is, it has the power to adversely affect or did affect a person's reputation.
There are a number of defences to civil defamation including, but not limited to:
Truth – being able to prove facts which support the truth
Expression of honest opinion – supported by facts
Public interest in the matter
Innocence – not being aware the material / information was defamatory
The information was already public record, for example, a criminal history.
However, in ruling for the plaintiffs in the Wagner family's case against Alan Jones and radio broadcasters 2GB and 4BC, Judge Flanagan said during the hearing he had "not encountered before" a defamation case in which the defendants had repeated defamatory statements but did not seek to prove their truth through expert evidence.
In civil cases, where defamation is found to have taken place, plaintiffs are awarded damages.
Judge Flannagan noted that … "prior to the publication of the defamatory broadcasts, each plaintiff enjoyed an excellent reputation for honesty and integrity, both in business and community circles…. "The publication of the defamatory broadcasts was very extensive. The defamatory broadcasts have caused each of the plaintiffs to suffer profound personal hurt and harm to their reputations."
He awarded damages of more than $3 million to the family. Alan Jones and 2GB will be required to pay the Wagner family more than $3.3 million. In addition, Brisbane radio station 4BC and Jones were also ordered to pay the family more than $440,000.
It's understood that the broadcasters' lawyers are considering their options for appeal.
Criminal defamation
Criminal defamation is outlined in section 529 of the Crimes Act 1900 (NSW), which prescribes a maximum penalty of 3 years' imprisonment for anyone who, without lawful excuse, publishes a matter defamatory of another living person:
(a) knowing the matter to be false, and
(b) with intent to cause serious harm to the victim or any other person or being reckless as to whether such harm is caused.
Going to court for a criminal offence?
If you are going to court for a criminal offence, call Sydney Criminal Lawyers anytime on (02) 9261 8881 to book a free first appointment with a defence lawyer who will advise you of your options and the best way forward.
Receive all of our articles weekly
Author
Sonia Hickey
Sonia Hickey is a freelance writer, magazine journalist and owner of 'Woman with Words'. She has a strong interest in social justice, and is a member of the Sydney Criminal Lawyers® content team.