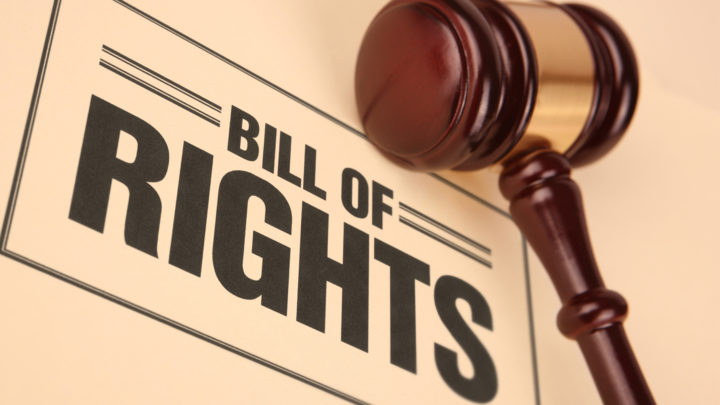 A lot of issues have been pointing to the lack of rights protections in this country. The AFP raids shone a light on press freedoms. The 80-odd federal national security bills passed since 9/11 have been slowly eroding personal freedoms. And there are ongoing concerns around privacy.
The main reason for the dearth of basic human rights safeguards in Australia is it's the only western democracy without some form of bill of rights. And to top that off, there are only a handful of freedoms guaranteed in the Australian Constitution.
A bill of rights or a human rights act is a document that enshrines citizens' freedoms under law. It protects these rights against infringements from others, including government and corporations. And it also provides that a nation's laws are in line with international human rights standards.
But, rather than moving to secure the rights of those "quiet Australians" who voted him back into power, prime minster Scott Morrison has twice drafted a piece of legislation that seeks to uphold one right above all others. And that's the right to freedom of religion.
Now, this probably wasn't the right the rest of the nation would have prioritised. And when you look at the proposed Religious Discrimination Bill 2019 (RDA), what you actually find are laws allowing for those of faith to discriminate against minorities on the proviso that their religion allows it.
Enshrining the right to discriminate
"Religious freedom does not mean freedom to visit harm upon others in the name of one's own religion," said Joanna Abraham from Australian Lawyers for Human Rights (ALHR). "The Racial Discrimination Bill legislative package is not consistent with international human rights law."
This bill "creates the anti-human rights situation, whereby discrimination will be permitted on the basis of religious faith", the co-chair of the ALHR Human Rights Act Subcommittee added.
And to get an understanding of what Ms Abraham means, one only has to take a look at section 42 of the second exposure draft of the RDA, which outlines that "statements of belief do not constitute discrimination".
This means that if someone makes a remark about another that would otherwise be classed as discrimination under federal or state anti-discrimination laws, this provision supersedes those laws if the individual can prove their statement is a belief that's part of their creed.
As Ms Abraham told Sydney Criminal Lawyers, "where state anti-discrimination legislation aligns more closely with international human rights law… it is particularly objectionable for the Commonwealth legislation to override state human rights protections."
The religious right's agenda
Morrison started banging on about legislating to protect religions from "mockery" back in December 2017. The then treasurer said he would be calling out people for being offensive about religions, "particularly the one I and many other Christians subscribe to".
And there you have it, the Pentecostal PM is moving to protect his faith and that held by the rest of the Liberals' religious right. Indeed, Morrison made these remarks just a fortnight after the passing of marriage equality had ruffled his feathers and those of other ultra-conservatives within the party.
But, the religious right had been gearing up for the enactment of same-sex marriage for some time. In the same week the postal vote provided the greenlight for marriage equality, a parliamentary inquiry into religious freedoms established 12 months prior tabled its interim report.
The parliamentary committee set out within its report that the major issue stifling freedom of religion in this country is state anti-discrimination laws, "which do not allow for lawful differentiation of treatment by religious individuals and organisations".
While two weeks prior to equal marriage passing, then PM Malcolm Turnbull announced a review of Australian law in the context of religious freedoms, which was headed by former attorney general Philip Ruddock, who outlawed same-sex marriage in 2004. And its report became the pretext for the RDA.
Redrafting the bigot's bill
Given the push for the RDA was a reaction to affording the LGBTIQ community the same right to marry as the rest of society, it came as a shock when the original draft sought to open up discrimination against everyone in the name of religion, besides able-bodied straight white men.
However, the first draft didn't go far enough for some, specifically the Church, so the PM sent it back. And then amidst the smoke from the bushfires, he appeared in December – before taking off to Hawaii – and released the second draft of the RDA and its accompanying legalisation.
Amongst the changes to the original bill are some amendments that allow religious aged care facilities, hospitals and accommodation providers to discriminate against staff in terms of hiring on the basis of the potential employee's religious beliefs.
And the bill's health practitioner conduct rule was tweaked so that it's clear that a doctor, midwife, nurse, pharmacist or psychologist can only conscientiously object to providing a "particular kind of health service" to an individual, rather completely refusing to serve them outright.
Prioritising their own privilege
So, understandably, LGBTIQ groups, human rights organisations, law councils and unions have been speaking out in opposition to the bill and calling on parliamentarians not to pass it. However, as yet, the Labor Party hasn't committed to opposing the bill.
To be clear, we're looking at a government that's planning on undermining the anti-discrimination framework that's been built up over decades in order to further assert the rights of a select group who are already guaranteed a good amount of privilege in this country.
And these same players are refusing to prioritise rights protections for all, as it would only seek to lessen the ability of the authorities to continue on legislating to enhance the powers of law enforcement and security agencies, whilst opening up further fossil fuel extraction.
Ms Abraham summed it up by saying that the legislation would "build a fundamental imbalance into our existing anti-discrimination legal system by privileging the rights of one group within society at the expense of everyone else".
And the lawyer concluded that "in ALHR's view, the human right to freedom of religion would best be protected by a federal human rights act or bill of rights and the RDB legislative package should not be passed."
Receive all of our articles weekly