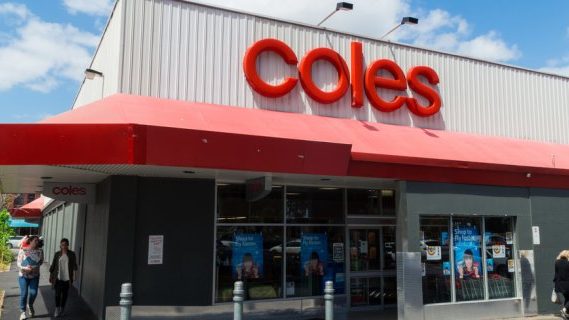 Fed up with shoppers stealing from its self-serve checkouts, supermarket giant Coles is considering the introduction of new technology to tackle shoplifting.
The proposed new scanning machines will use advanced recognition software to identify specific fruits at vegetables by their weight and image.
While Coles is yet to confirm the roll-out, it has expressed concerns about the spike in shoplifting since the introduction of self-service checkouts, which has become an expensive headache for both Coles and Woolworths.
The dollars involved
For the 2014-15 financial year, Coles revenue was reported to be $38 billion, while Woolworths reported sales of $61.1 billion.
Industry figures estimate that up to 3 per cent of these profits disappear in theft, potentially costing the companies as much as $2.97 billion annually.
And it's not just the poor who steal – studies suggest that the profile of a shoplifter is complex, and there are many reasons why people steal.
Self-service checkouts and theft
Psychologists suggest that it's easier for people to steal from automated checkouts because there's no 'human' element involved in the transaction. This not only means there's no one watching, but has the effect of easing the conscience.
In addition to dehumanising transactions, theft also occurs as a result of built-up resentment from people who feel they have been overcharged for years, or that the big chains aren't doing the right thing in terms of their social obligations; for example, in their dealings with Australian farmers.
Theft may also arise out of a sense of entitlement, justified on the basis of having spent thousands of dollars on groceries over many years – making people feel they deserve a little 'fiver finger discount' every now and again.
Whatever the reason, theft at the supermarkets is becoming more commonplace than ever before, and one of the simplest ways that people steal is by passing off expensive fruits and vegetables for cheaper items when they DIY. Another way is to quietly slip something into a shopping bag without scanning it.
Earlier this year, a leading criminologist went so far as to suggest that the DIY machines are 'normalising' shoplifting.
ANU criminologist Emmeline Taylor suggests that once people realise it is easy to steal from automated checkouts, the behaviour can become addictive.
Beware: the giants are cracking down
In an effort to combat the issue, many supermarkets have already introduced extra security cameras and trained staff to detect theft, some of whom supervise the self-service areas and others 'meet and greet' customers with a warm smile, while having their eyes and ears wide open.
Shoplifting is a crime
Shoplifting (or larceny) is a criminal offence in NSW, which can come with heavy penalties including a criminal record.
For goods up to $5,000, the maximum penalty is 12 months' imprisonment and or a fine of $5,500.
For good worth over $5,000, the maximum penalty increases to two years' imprisonment and/or a fine of $5,500 if the case remains in the Local Court.
If the good are worth less than $300, police have the option of issuing a Criminal Infringement Notice (CIN) for $300 rather than sending a person to court.
A CIN does not come with a criminal record and, like other infringement notices, a person can choose to defend the matter in court rather than paying the fine.
Image credit: i.ytimg.com
Receive all of our articles weekly