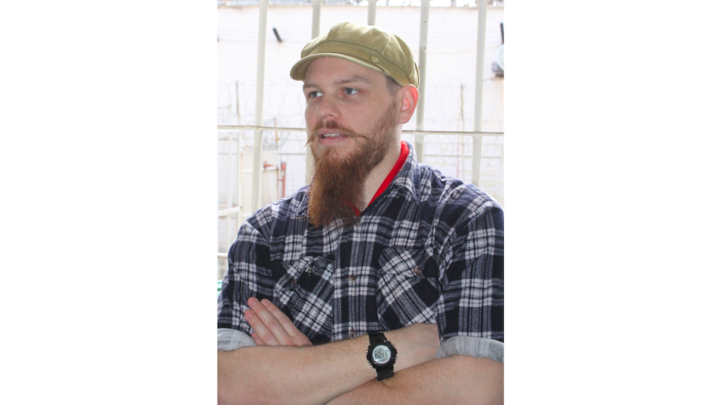 Sydney man Jock Palfreeman should be on his way home to Australia, instead he will remain in a Bulgarian immigration detention for at least another two months, awaiting a legal decision on his fate.
Parole granted and then suspended
Jock Palfreeman was granted parole last month in keeping with the Bulgarian legal system's protocols and processes, but it was a decision that was greeted with outrage with many Bulgarians taking to the streets to protest the Australian's release, prompting the country's chief prosecutor to lodge an extraordinary petition to suspend his parole and review the ruling from the Court of Appeals.
Following this, nearly 300 judges (representing about 15 per cent of the total 2200 judges in Bulgaria) signed an open letter in support of the original decision.
It's a complex and political issue, but the crux of it is this: A significant majority of the country's judges are trying to advance judicial reform in the country, and this been a significant issue over the past several months, with Bulgarian elections looming. Jock's case has come to represent many of the issues surrounding the controversial Supreme Judicial Council.
Parole hearing adjourned for two months
In the past 24 hours, Jock's lawyers have appeared on his behalf at a hearing at the Supreme Court of Cassation to determine whether his early parole would be officially granted, but within an hour of it starting, the hearing was adjourned pending a two-month period for judges to make a decision on whether he will be released or thrown back behind bars. In the meantime, Jock remains in Busmantsi Detention Centre in Bulgaria's capital city Sofia, a highly secure facility which temporarily accommodates foreigners.
He has already served 11 years of a 20-year sentence for fatally stabling Bulgarian law student Andrei Monov in 2007 and wounding another man, Antoan Zahariev.
Andrei's father, Hristo Monov a former member of the Bulgarian Socialist party, is one of the most vocal opponents of Jock's release. It's also been reported that the Monov family want Jock Palfreeman to be barred from leaving Bulgaria pending court-ordered compensation to them of 300,000 euros – about $480,000 AUD.
New CCTV evidence
Jock has always maintained his innocence, saying he was coming to the aid of gypsies being attacked by Andrei Monov and his friends. Earlier this month, it was reported that new CCTV images strongly suggest he acted in self defence.
The footage appears to show the men hurling objects at Jock, knocking him to the ground, and then surrounding him when he tries to run away. Jock says the CCTV footage makes him feel 'vindicated'.
But even the new CCTV evidence is not able to assist his case now.
Despite the fact that Jock was granted parole by three senior judges in the Supreme Court of Appeals, Bulgarian authorities have not upheld that decision, a move which many believe
is not just an attack on the Bulgarian judiciary, but also a clear breach of Jock's human rights. Australian supporters of Jock Palfreeman have called on the United Nations to intervene.
Australian government "deeply disappointed"
For its part, the Australian government is treading carefully.
Australian Foreign Minister Marise Payne Australia's Foreign Minister Marise Payne has confirmed she is in talks with her Bulgarian counterpart about the release of Jock, but at this point, his future remains unclear. The minister says she is "deeply disappointed" the Australian is still being held in Bulgaria, despite being granted parole and issued with an Australian passport so he can come home.
"I am concerned … that there may be a range of non-legal considerations … that are influencing this matter, and I want to be sure that the law is being applied consistently," says Ms Payne. "I am strongly of the view that he should be treated in accordance with Bulgarian law and that he be allowed to return to Australia immediately."
Receive all of our articles weekly