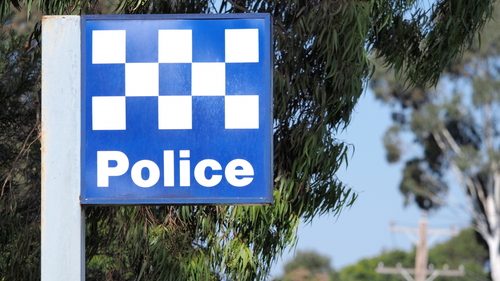 Another Queensland police officer has landed himself on the wrong side of the law after pulling a gun on a speeding motorist in the outback.
Senior Constable Stephen Flanagan was suspended without pay over the incident, and is now in court trying to have his pay check reinstated while facing criminal charges.
Video footage played in court shows the officer driving on the Landsborough Highway on the outskirts of Longreach late last year, before he spots a ute allegedly driving 125kph in 110kph zone.
Flanagan does not turn his lights and siren on, instead trying to pull the ute over using his horn.
Whilst doing this, the officer is heard yelling "fucking pull over now, cunt" and "I'll put a fucking hole in him".
Gun drawn and pointed
When the car pulls over, Flanagan emerges from the police car and points a gun at the driver.
He then aggressively directs:
"Get out of your fucking car right now."
"What the fuck are you pulling here today? You came past me – I'm bloody beeping the horn up the side to point you over and you still keep driving."
"What's your fucking story? Do you have a licence?"
"You didn't see me? Right, where's your licence dickhead?"
A woman who was in the passenger seat of the ute films the incident on her smartphone. That footage was tendered at the civil hearing.
The driver is then handcuffed while his details are checked, and released a short time later. The couple subsequently filed an official complaint prompting the immediate suspension of Flanagan without pay.
The terms of his suspension do not exclude him from seeking part-time work.
Senior members of the Queensland Police Service (QPS) submitted in court that they are standing by their decision to suspend Flanagan without pay.
The QPS also tendered video footage taken of Flanagan during an incident in 2013 on the M1 between Brisbane and the Gold Coast.
Threats and bullying
While on duty in 2013, Flanagan pulled over another motorist for allegedly speeding. On that occasion, he approached the driver screaming 'you are driving like an absolute c***", before grabbing the driver's keys and throwing them to the side of the road.
The driver nevertheless remains calm and tries to explain himself, before Flanagan yells: "We'll go to court and I'll sit there and laugh my ass off while you get convicted."
When the motorist complains of a sore shoulder, Flanagan threatens: "I'll snap you in half in a minute, how does that sound?"
An internal investigation found that Flanagan had failed to treat the driver with appropriate dignity and respect.
Criminal charges
While the Supreme Court decides whether the officer should be paid while suspended, Flanagan is also facing charges of assault and deprivation of liberty for the Longreach incident, which carry maximum penalties of 7 and 3 years' imprisonment respectively. He has not yet entered a plea and is due to return to Brisbane Magistrates Court in coming weeks.
The QPS has been inundated with allegations of misconduct in recent times, with complaints frequently supported by shocking video footage– but new reports suggest the organisation may finally be working towards repairing its shattered public image, and reinstating public confidence in the police service.
Receive all of our articles weekly