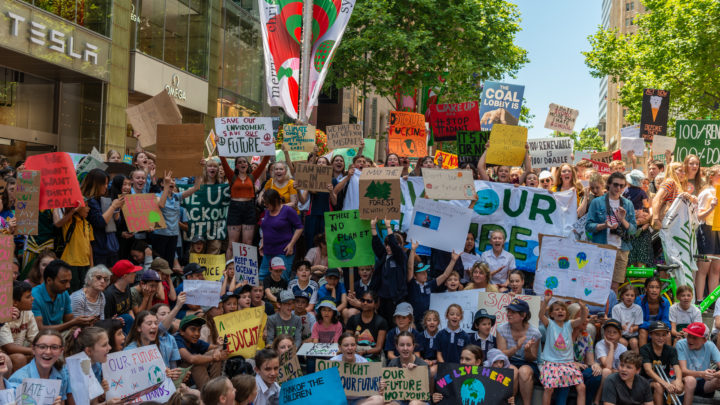 As bushfires continue to rage across the nation, many Australians are calling on government to act on the dangers presented by climate change.
Even many who have been sceptical until now, or hopeful that the real effects wouldn't hit for another century or two, have started to wake up.
In recent years, Mother Nature has left many in no doubt that temperatures are rising, and that something needs to urgently be done about it.
For the past few decades, scientists have been very clear about global warming, saying that prolonged droughts and increased storm intensity are two of the most likely outcomes.
And we know that our federal government is not listening. Actions such as the Torres Strait taking Australia to the UN, school kids on strike, thousands of people marching the streets in protest nor recent comments made by the world's most famous climate change activist, Greta Thunburg, have swayed Scott Morrison's commitment to 'no change' to Australia's existing policies.
Then, on Christmas Eve, Nationals MP Barnaby Joyce – himself a farmer in drought – posted a video to social media suggesting that God is in fact the answer to climate change.
State and Local Governments need to act on climate change
But in recent weeks, there has been a voice of reason.
New South Wales Minister for Environment Matt Kean has broken ranks with his federal Coalition counterparts, arguing that climate change is very definitely behind the current bushfire crisis.
In a radio interview days before Christmas, Mr Kean remarked that climate change must be dealt with as a matter of 'science, and not religion.' He has also committed to increasing the NSW government's emissions reduction targets.
Mr Kean sets an example for the rest of state and territory governments in Australia, who surely must, in the absence of federal leadership, now pick up the mantle of climate change and take action.
Public health emergency
Aboriginal communities in the Northern Territory have gone on record saying they fear being the country's first climate change refugees. And these fears are not unfounded.
Last summer was the hottest on record, and also the driest in 27 years in central Australia. A heat monitoring study showed that on some unshaded streets the surface temperature was between 61C and 68C. People are bracing themselves for another scorching summer made worse by severe drought. Several of the remote communities and outstations are already running out of water. Another dozen have reported poor quality water. In the year to July 2019, Alice Springs reported 129 days over 35C, and 55 days over 40C.
Predictions by the Central Australian Aboriginal Congress for the health impacts of heat are dire. In its submission to the NT government's climate change policy discussion paper, it outlined some of them: "Increased sickness and mortality due to heat stress, increased food insecurity and malnutrition, increased risk from infectious disease, poorer mental health and an increased potential for social conflict."
In the past few weeks the Royal Australian College of General Practitioners (RACGP) also issued a climate change health emergency as Sydney suffered through thick haze measured at 11 times 'dangerous' levels. Regional areas too, are covered in smoke.
Australia, of course, is not alone. Tens of millions of people around the globe are also under significant threat from climate change.
In 2017, a study by the Environmental Justice Foundation (EJF) predicted that climate change would create the world's biggest refugee crisis. The study called on governments everywhere to agree a new legal framework to protect climate refugees and for leaders to do more to implement the targets set out in the Paris climate agreement.
Communities can effect real change
The good news in all of this, is that where governments are failing, cities and local precincts are picking up the charge. One example is The C40 coalition (90+ cities representing 650 million people) including New York, London and Sydney have agreed to reduce their emissions in line with the ambitious elements of the Paris Agreement.
Another example is the regional town of Byron Bay on the far northern coast of New South Wales. Always well-known for its eco-friendly policies, in 2015 it set an ambitious target to be a "zero emissions shire" by 2025 by cutting greenhouse gases in a range of areas, through a plan that involves boosting renewable energy uptake, improving public transport and options for electric vehicles as well as changing land use practices and improving the management of its water and waste.
These communities are proving that they can do what the federal government won't do. And in doing so, are embracing innovative thinking and setting policies and targets that others can use as a blueprint to create their own impactful change at a grass roots level, because in many ways too, it's simpler and easier for those Australians who desperately want to make a difference to do so at a local level where they can see real results being achieved.
Undoubtedly, it would be better if this could be dealt with at a Federal level, but climate change can't wait. The sense of urgency is gathering momentum, and State and Local governments both have the opportunity to lead the charge.
Receive all of our articles weekly