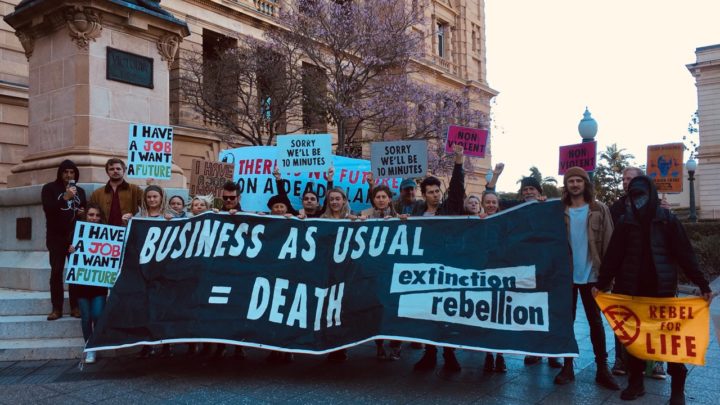 The human race has until the end of next year to initiate changes that will allow for a reduction of greenhouse gas emissions by 2030, so that global temperatures don't exceed a 1.5 degree rise by the end of the century, which would prevent a climate and ecological catastrophe.
This information hit the mainstream media last week. It's still in keeping with last October's Intergovernmental Panel on Climate Change findings. But, it means governments – like the one led by coal-wielding Scott Morrison – have to implement serious change within 18 months, not 12 years.
On the same day that news ran, three scientific papers were published that debunked the common assertion that the drastic climate change of present is a regular historical occurrence. Going back 2,000 years, the researchers couldn't find anything similar to what's taking place right now.
And last week as well, 16-year-old Greta Thunberg teamed up with British band The 1975 to release a single about the emergency. The Swedish student behind the school strike for climate delivers a spoken word piece that calls for "system change" instigated at the "grassroots level".
"So, everyone out there, it is now time for civil disobedience. It is time to rebel," Thunberg ends the song.  But, with a timeframe as short as 18 months, is this attempt to get political dinosaurs to give up their fossil fuel addictions even a possibility?
It's time to rebel
Well, according to Extinction Rebellion Australia spokesperson Miriam Robinson not only is it a possibility, but thanks to global movements – like her own – which are focused on diverting the planet from a climate and ecological crisis, so far, we're on track.
"It's starting to happen. Extinction Rebellion is growing exponentially, with the number of people signing up," Ms Robinson told Sydney Criminal Lawyers. "What we are doing at the moment is scaling-up and decentralising."
Launched in the UK on 31 October last year, the Extinction Rebellion (XR) is a response to government climate inaction around the globe. Indeed, until XR activists and eco-conscious students started rallying, it was a "business as usual" approach coming from major parties.
As Robinson explains, XR researchers have posited that 3.5 percent of the population need to start mobilising in order to effect the change that's needed. And the scaling-up process that the movement is currently undergoing in this country is all about getting those numbers.
So, now, rather than focusing on small-scale protests at particular sites, XR wants to initiate large numbers of people to conduct acts of civil disobedience in major cities, which through the disruption of "business as usual" will force the hands of politicians to urgently change laws.
Straight forward demands
The Extinction Rebellion is so named as the world is currently going through its sixth mass extinction, which equates to the demise of around 200 species a day. And this is being caused by ever-increasing expansion in human activity.
Extinction Rebellion arrived at the table with three demands. The first is that governments start telling the truth about the climate and ecological emergency. And that they – along with other institutions – begin communicating the "urgency for change".
"We want the media to start telling the truth about the climate emergency as well," Ms Robinson continued. "So, number one, tell the truth. Number two is net zero emissions by 2025, meaning emissions have to start going down by 2025. They're still going up."
And the third XR demand is that governments must create citizens' assemblies. These bodies would be able to consult expert opinion and make decisions on climate and ecological justice that politicians would be required to follow.
"Citizens' assemblies oversee government to make sure plans that are put in place to curb emissions are actually carried out," Robinson explained. "Exactly what and how that is going to be done should be decided by the people."
Effecting change
Australia is currently governed by a PM who once appeared in parliament holding a lump of coal as he spruiked the values of fossil fuel energy, while his cronies put the pressure on the nation's chief scientific research agency to sign off on the first of many slated coal mines in the Galilee Basin.
So, you could be excused for thinking that a grassroots movement making these guys bend to its will is a little far-fetched, but Robinson begs to differ. She points to the developments in the UK that followed the largest acts of civil disobedience in that country's recent history.
The Rebellion drew global attention in April, when it shut down parts of central London for over a week. At the time, over 1,000 of the protesters willingly got arrested for the cause. And now, they're going through the court process, as they all plead not guilty.
"They got a climate emergency declaration in the UK. They've also got a citizens' assembly in place. Although, at the moment, it's advisory. So, we want it to have more power," Ms Robinson emphasised. "That's why Extinction Rebellion is still going – until we get all the demands."
The long-term climate activist added that the UK has also established a target of zero net emissions by 2050 in response to the April protests. However, the Rebellion wants that target to be brought forward, so that it takes effect in 2025.
In our stolen backyard
Currently, the amount of XR groups Australia is growing, along with the number of demonstrations. The next big day of action is the Global Climate Strike on 20 September, which will be followed by the XR organised week-long Open Rebellion for Climate Justice beginning 7 October.
Ms Robinson pointed out that the city councils in Sydney, Melbourne and Hobart have all declared climate emergencies over the last couple of months. And now, the movement has its eyes on state governments, prior to calling on the federal one to declare an emergency.
"We don't expect it to happen overnight. But, we need to make it happen within the next year. We don't have time. It's a good 18 months," Ms Robinson concluded. "Unless we start moving now, we're in trouble."
Receive all of our articles weekly