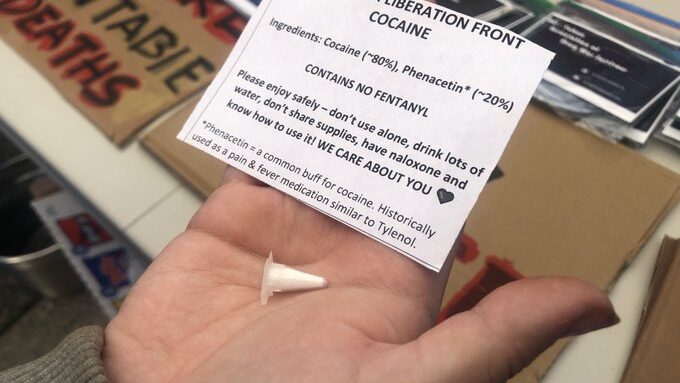 Drug User Liberation Front members appeared at an intersection in the Canadian city of Vancouver on 24 June and handed out free clean cocaine and opiates to highlight the issue of rising overdoses during the COVID-19 pandemic, as a result of the increasing toxicity of the local drug supply.
The free and tested small vials of cocaine and opium came with an accompanying note detailing its ingredients, along with a message that read, "Please enjoy safely – don't use alone, drink lots of water, don't share supplies, have naloxone and know how to use it. We care about you."
In May, illicit drug fatalities reached their highest level ever in British Columbia, the province where Vancouver is located.
One hundred and seventy people died as a result of toxic drugs that month, with the presence of the potentially deadly synthetic opioid fentanyl detected in 119 cases.
Dr Martin Lavoie, a district chief health officer, put the upsurge in overdose deaths down to the rise in drug use that's accompanied increased unemployment during the pandemic, as well as the closing of borders, which has disrupted the flow of drug supplies, causing a spike in toxicity.
City calls for a safe supply
The City of Vancouver issued a statement in July 2019 calling on "all levels of government", health professionals and the public to advocate for a safe supply of drugs, because the city "is in a state of emergency", as "people are dying every day from an unregulated, contaminated drug supply".
The city further outlined that rather than a problem with overdoses, it's experiencing a "drug poisoning crisis", as they're being cut with mainly fentanyl, as well as other adulterants. And since a spike in deaths in April 2016, the entire province has declared a health emergency in this regard.
So, as the pandemic set in, British Columbia enacted a safe supply policy in March this year that allows doctors to prescribe pharmaceutical narcotics to vulnerable people who use drugs, such as those at increased risk of catching COVID, people with substance use disorder, and youths under 19.
An authentic safe supply
On 23 June, the recently-formed Drug User Liberation Front held a protest march in Vancouver's Downtown Eastside – considered the nation's poorest neighbourhood – before rallying at a popular intersection on the following day to distribute free clean drugs.
"Step up and address the issues that are killing us or allow us access to the resources and funds to do it ourselves, outside of the constraints of this discriminatory structure," said the Drug User Liberation Front in a statement.
And the group issued a list of demands, which included extending the safe supply scheme so that it covers all people who use drugs, broadening the substances involved to include injectable heroin and cocaine and ensuring that there's equal access to the scheme throughout British Columbia.
However, the overdose crisis in the province continues. The Canadian Association of People Who Use Drugs posted on 6 July that "an authentic safe supply" is still needed as British Columbian paramedics had responded to 131 overdose call-outs in just one day.
This dramatic escalation in overdoses happened on 26 June and marked the most ever recorded in a single day.
Photo supplied by Globe and Mail journalist Andrea Woo
Receive all of our articles weekly