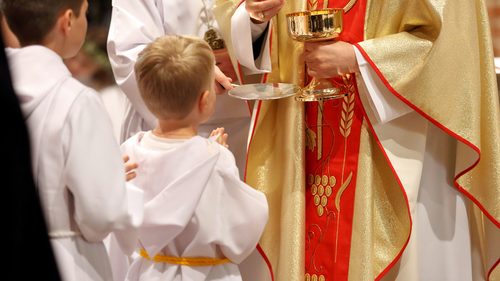 Australia's Catholic leaders have steadfastly refused to break the seal of confession, regardless of the consequences.
Existing laws
Section 127 of the New South Wales Evidence Act enables clergy "to refuse to disclose a religious confession made to him or her, unless the confession was made for a criminal purpose".
The section is mirrored in the Commonwealth Evidence Act, as well as the Evidence Acts of other Australian jurisdictions.
However, South Australia has passed legislation which will make it mandatory for clergy to report information received during confessions about child sexual abuse.
Other jurisdictions have not followed suit, despite mandatory reporting being a key recommendation of the Royal Commission into Institutional Responses to Child Sexual Abuse.
Royal Commission's Report
Recommendation 7.4 of the Royal Commission's final report calls for:
'Laws concerning mandatory reporting to child protection authorities should not exempt persons in religious ministry from being required to report knowledge or suspicions formed, in whole or in part, on the basis of information disclosed in or in connection with a religious confession.'
The Commissioners make it clear that "we have recommended that the failure to report offence should apply if a relevant person at the institution knows, suspects or should have suspected that a child is being or has been sexually abused".
"In line with the standard of criminal negligence, the offence would be committed on the basis that the person should have suspected only where there is a great falling short of what would be expected of a reasonable person."
The recommendation is one of many designed to protect children from sexual abuse and ensure that both individuals who engage in that conduct and institutions that enable it are brought to account.
Church Leaders Defiant
However, the President of the Australian Catholic Bishops Conference, Archbishop Mark Coleridge, and the head of Catholic Religious Australia, Sister Monica Cavanagh, have jointly stated that members of the Catholic clergy will never break the seal of the confession "… because it is contrary to our faith and inimical to religious liberty", adding:
"We are committed to the safeguarding of children and vulnerable people while maintaining the seal. We do not see safeguarding and the seal as mutually exclusive."
Victims of Child Sexual Abuse
Victims' groups are appalled by the stance of Church leaders, saying they are effectively enabling sexual predators to engage in their crimes and then seek absolution, only to commit further crimes and again seek to be absolved of their sins.
They believe it should be made mandatory to report information about child sexual abuse received during all past, present and future confessions, and that the Church should stop protecting and indeed enabling child sexual predators.
Richard Jabara, who as a 13-year-old was sexual assaulted by Catholic priest and serial child abuser Terence Pidoto, says the Church's position leaves his him deeply unsatisfied.
"To me it just comes across as 'sorry we were exposed'", he said.
"That's what they've always been — a secret society".
A Divided Institution
However, the stance of the ACBC and CRA is at odds with that of the Truth Justice and Healing Council, which represented Australia's bishops and 150 religious orders during the five years of the royal commission.
This Council's report agreed that it should be made compulsory for all clergy – regardless of denomination – to report information about child sexual abuse received in any context.
NSW Government Inaction
Unlike the South Australian government, NSW Premier Gladys Berejiklian has failed to act on the Royal Commission's recommendation, saying instead that the issue will be "deferred" and later dealt with through the Council of Australian Governments, a national body made up of each State Premier, Territory First Minister, and the Prime Minister.
"Our response to that recommendation is to take it through the COAG process, we believe that is the best way to deal with it," she remarked.
"They're complex issues that need to be balanced with what people believe to be religious freedoms".
Many see this as a way of pushing the issue aside, rather than making decisions that might offend the religious right.
NSW Greens MP David Shoebridge is one of those who views Ms Berejiklian's response as inadequate, saying it is "essential that all Australian governments immediately legislate to break the culture of secrecy in the church once and for all and put children before religion".
Receive all of our articles weekly