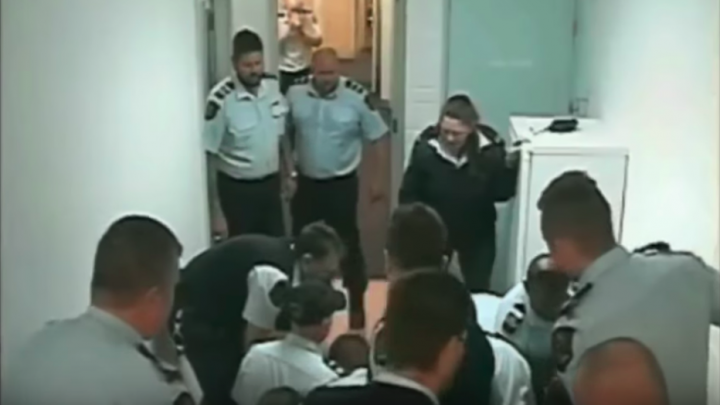 Although it's 25 years after the Royal Commission into Aboriginal Deaths in Custody, Indigenous people continue to die at alarming rates in police custody and inside correctional centres.
The latest death in the spotlight is that of Wayne Morrison, who died three days after being transferred to South Australia's Yatla Prison where he was on remand – which means he had not been found guilty of an offence.
It was Mr Morrison's first time in custody and he had no criminal record.
The above CCTV footage shown to the coronial inquest into the Aboriginal man's death, and recently made public, shows that he was restrained by as many as 14 officers before being laid face down in a prison transfer van.
In the shocking video footage, it is almost impossible to see Mr Morrison amongst the prison staff swarming the hallway, some of whom are forcibly holding the man on the ground.
It is not until officers lift him up to take him to the transfer van that Mr Morrison's body can partly be seen. He had been restrained with handcuffs, flexicuffs, and a spit mask before being transferred to a section of Yatla Prison, accompanied by eight officers and the driver of the van.
There is no footage from inside the van. However, when the vehicle arrived at its destination after a three minute journey, Mr Morrison was found to be blue and unresponsive. He died three days later at Adelaide hospital.
Mr Morrison's journey in the van remains a mystery, as seven of the eight prison staff who accompanied him have declined to provide police with statements.
A second lot of footage is said to show resuscitation attempts, but was deemed too sensitive to release to the public.
Mr Morrison's death adds to the number of Indigenous people who die in custody every year without proper explanation.
It is then left to the Coroner to piece together the cause of death.
Mandatory reporting
All deaths in custody are mandatorily reported to coroners for investigation, and the Coroner can then make recommendations regarding whether a person or persons should be charged with criminal offences.
But the frustration amongst many who advocate for the rights of inmates and detainees is that despite the incredible time, effort and government funding that goes into well-intentioned investigations, the recommendations often fall on deaf ears, or are otherwise not acted upon.
In the meantime, individuals continue to die – disproportionately Indigenous people in custody.
Coronial recommendations not implemented
It was recently reported that the death of a young man who hung himself in prison in Darwin inn 2016 was investigated by Coroner Greg Cavanagh, six months after the Coroner recommended that hanging risks be addressed following the hanging death of another inmate.
In 2010, the same Coroner recommended health screening of people taken into custody by police to include the question "do you have an injury? " after the death of a man in a Darwin watch house. While new processes were established as a result, they failed two years later when an inquest found that another man who died at a NT watch house was so intoxicated he was "incapable" of completing the questionnaire.
Systemic racism
Many believe the failure to act on many of the recommendations of the Royal Commission stems from racism inherent in the criminal justice system as a whole.
Statistics suggest than 56% of the 147 Indigenous people who have died in custody since 2008 had not been found guilty of any crime.
And while every death is reported, the cases for Coroners to investigate continue to mount and a number have expressed the view that their recommendations are falling on deaf ears– and that there is a distinct lack of accountability for abuses against inmates.
Receive all of our articles weekly