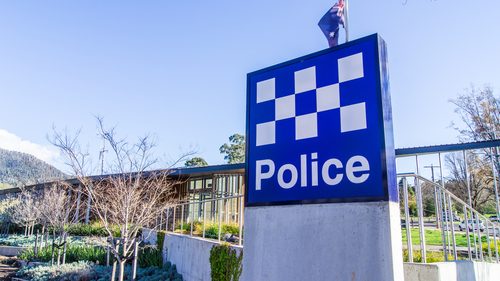 Charges against a former Gold Coast police officer who reported on corruption in the Queensland Police Force (QPS) have been dropped, after an expert report found the evidence against him had been tampered.
The incident has prompted an investigation by the state Ombudsman.
Public encounter leads to prosecution
Former officer Paul Carney has long been an advocate for greater accountability and transparency in the QPS, and a critic of the corrupt practices he believes are prevalent at all levels.
He retired from the QPS in 2010 on medical grounds, and went on to start a website devoted to exposing police corruption and other forms of misconduct. He also launched a civil court case against the service over his treatment at the hands of certain officers.
In 2015, Mr Carney was at a public swimming pool in Brisbane when a verbal altercation took place between him and a former police colleague, Stephen Illidge, who he had criticised on his website.
Mr Carney always maintained it was a chance encounter, but police nevertheless saw fit to prosecute him for 'stalking with violence'.
Evidence had been tampered with
The proceedings were taken over by the Office of the Director of Public Prosecutions (ODPP) and ultimately reached the day of the trial, when the ODPP decided to withdraw the charge and abandon the case.
Mr Carney, who represented himself in court, was adamant throughout the proceedings that there was no evidence to support the charge against him. He maintained he was swimming laps in the pool for 20 minutes when approached by Illidge.
CCTV footage obtained by police indeed showed Carney in the pool, and officer Illidge standing at the side. The men are seen arguing and profanity is used. At one point, Carney calls Illidge 'corrupt' and tells him to stay away from his belongings.
At the committal hearing (which is a preliminary hearing to decide whether there is enough evidence for a case to proceed to trial), Mr Carney tendered an expert report to the effect that the footage had been tampered with after being taken by police.
A senior software engineer who analysed footage stated there were several 'interruptions', where periods of up to eight minutes were not able to be viewed.
"It is my opinion that the corruption and/or video errors have been introduced post-copy as a result of human interaction with the file by both direct and intentional manipulation," the expert stated.
"In my professional opinion, the interaction with this file post downloading/copying to external media could reasonably be considered a tampering event."
Sympathy from another whistleblower
Former police sergeant Rick Flori also suffered years of harassment and intimidation at the hands of the QPS.
Mr Flori pasted media reports of Mr Carney's case on his Facebook page, expressing sympathy for what the fellow former Golge Goast officer was put through.
Mr Flori was found not guilty of misconduct earlier this year, after being accused by the QPS of leaking footage to the media of officers bashing chef, Noa Begic, in the back of a police vehicle in the carpark of Surfers Paradise Police Station in 2012. The officers responsible for the assault have never been disciplined, let alone criminally prosecuted.
Last month, the Queensland Crime and Corruption Commission (CCC) told Mr Flori they would not investigate allegations of reprisals against him, despite the fact he originally complained to the organisation in 2016, who advised him at that time to await the outcome of the criminal proceedings.
It is understood Flori is taking civil court action against the QPS for the way he was treated – losing his job, spending years and many thousands of dollars to clear his name, and experiencing unimaginable stress and anxiety.
QPS culture
The QPS has faced several allegations of misconduct in recent times, and what's emerged in the eyes of many is that rather than address the issue,  the organisation turns against 'good cops' who decide to speak out.
There have been reports of police officers wrongfully accessing and using data from the QPRIME database. In one case, an officer gave a convicted domestic violence offender the address of his former partner, who police were meant to be protecting rather than endangering. The officer later joked about his conduct.
Queensland officers have also been accused of taping over CCTV footag which showed a violent offender confronting his former partner in a courthouse.
There are now calls for the CCC to be given more resources and greater powers to discipline offending officers, and to provide more support to whistleblowers within the force.
But there are also concerns about the composition of the CCC itself, with many accusing it of being made up of former officers who are not willing to take action against their own.
Receive all of our articles weekly