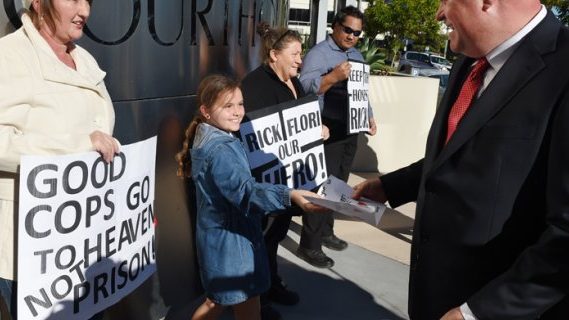 Suspended Gold Coast policeman Rick Flori has lodged a civil claim in the Brisbane Supreme Court, signalling the beginning of his lawsuit against the Queensland Police Service (QPS) for "whistleblower reprisal".
Mr Flori's claim names eight police officers, including assistant commissioners Clem O'Regan and Brian Codd.
The story so far…
Rick Flori was stood down from the ranks of the Gold Coast Police and charged with 'misconduct in public office' after allegedly releasing footage of police officers brutally assaulting a 21-year-old man in 2012, and later washing the blood away.
The CCTV footage from the carpark of a Surfers Paradise police station shows Noa Begic being dragged by several police officers, punched and thrown to the concrete floor while handcuffed. He had been arrested earlier that evening on allegations of public nuisance and obstructing police.
Mr Flori, a sergeant with 25 years of service, has since been fighting to clear his name. Among other things, his lawsuit seeks damages for loss of reputation and loss of wages after he was targeted as a whistleblower and relentlessly pursued by members of the force.
His is seeking $1 million in damages plus $300,000 for lost superannuation.
Cover up
In the meantime, Mr Flori is still awaiting trial over allegations of misconduct in public office for allegedly releasing the damning footage, an offence which carries a maximum penalty of seven years' imprisonment.
The officers who perpetrated the assault have largely gone unpunished, and it was reported last year that one of them, David Joachim, is related to Queensland Police Commissioner Ian Stewart.
Mr Stewart was the Deputy Police Commissioner when the bashing occurred in 2012, and became the state's top cop later that year. He admits being "distantly related to David Joachim through marriage" but denies having any involvement in the police investigation into Mr Begic's bashing.
David Joachim was stood down on full pay after the assault, retiring in 2013 without any further action being taken against him.
Only two of the assailants have faced disciplinary action, and none of them have been charged with a criminal offence despite overwhelming evidence of assault in the CCTV footage – which, among other things, shows one officer holding the handcuffed Mr Begic while another punches him to the head.
Strong public support
Rick Flori has garnered a strong public following, with a Facebook page of almost 7,000 online supporters urging him to keep fighting.
He has always maintained that he will not give up his battle – an ordeal which is now in its 6th year.
"It's devastating," Mr Flori says. "It's not just affected me, it's affected my family.
"I'm committed not to accept this type of behaviour from anyone, particular from a body that's supposed to be looking after us."
Receive all of our articles weekly