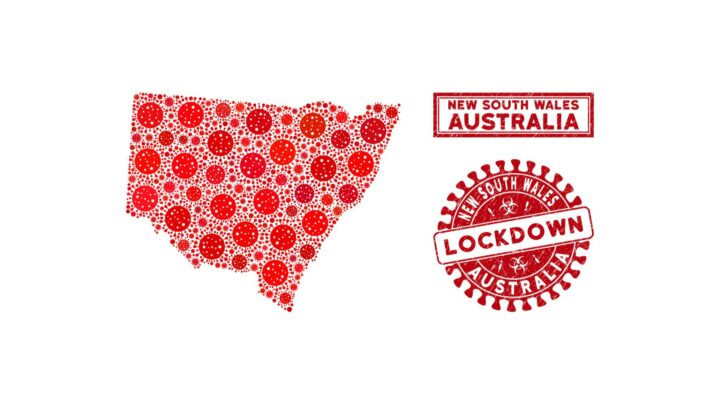 New South Wales Premier Gladys Berejiklian has announced a snap lockdown of the entire state effective at 5pm today, and even tougher public health orders to enforce the restrictions.
Despite the number of COVID cases continuing to rise, with 466 recorded today, Ms Berejiklian says the measures are necessary to keep numbers from going even higher, and has shifted the responsibility of formulating the rules to the New South Wales Police Force – raising concerns about the separation of powers.
It is the latest in an escalation of restrictions in our state – one which comes despite the devastating impact of lockdowns on fundamental freedoms, mental health, businesses and their employees, and the economy as a whole.
NSW: The Police State
A question in the minds of many is: why is the Premier putting the responsibility  both making and enforcing public health rules in the hands of the police force?
Last year, the Berejiklian Government gave the NSW Police Commissioner, Mick Fuller, 'emergency' powers to deal with the first wave of the pandemic; but those powers were limited and police were not called upon to make laws, only to enforce those formulated by the government ostensibly on health advice.
However, the move set a precedent for the shifting of power from elected officials to the police – one which has now escalated.
The newest regulations, drafted by police, were accepted by the emergency cabinet on Friday, and will come into effect in the coming days.
As of next week, there will be an increased police presence in all areas, including specialised command officers, riot squad police and 1400 members of the NSW highway patrol. Extra checkpoints have been set up on key roads.
More soldiers on the streets
A further 500 members of the Australian Defence Force will be joining police operations – there are already 300 military personnel deployed.
NSW Police commissioner Mick Fuller has said, "Some of the strongest laws, some of the strongest police action coming, I'm not apologetic, please don't write and complain to me. We have given ample warnings and cautions. That time has gone."
The increased restrictions on outdoor movement are in complete contrast to what we have been told for months – that  there is little evidence to suggest that outdoor transmission is a significant risk.
In answering a question posed by a journalist on this particular subject during a weekend press conference, the Premier said police had requested stricter rules on people being outside as an 'operational issue'.
"So while there is no strong evidence about outdoor transmission, operationally we have said to police 'what do you need to do, what do you need to ensure stronger compliance?' and this is one of the things on their list."
In the press conference The Premier admitted that she was happy to give police chief Mick Fuller any resources he needs to ensure compliance with public health rules across the state.
New rules and massive increase in fines
From 12.01am, Monday 16 August 2021 the following rules will apply:
Singles in hotspot areas will be required to register the name of their one companion with the state government.
People who fail to comply with a public health order will face on-the-spot fines of $5,000 – a five-fold increase on the current fine of $1,000. This includes breaching orders to stay at home, self isolate and stay within geographical limits, as well as lying on a permit or to a contract tracer.
People who breach the two person outdoor/recreation rule will face on-the-spot fines of $3,000.
No one can travel to holiday homes, unless for maintenance, and then only one person will be allowed to attend to the premises.
People living in Greater Sydney may only travel 5kms from home.
A permit is required to go into regional NSW. Only one person will be allowed to travel for 'essential' reasons.
In addition to this, a permit system will apply from 12.01am, Saturday 21 August 2021 for anyone wishing to travel to regional NSW for permitting reasons such as inspecting real estate or travelling to a second home.
In the meantime, the NSW Government continues to push for vaccinations. It recently implemented a 'no jab, no job' policy for construction workers and has hinted that 'some freedoms' may be returned to the community when it reaches 70% overall vaccination rate.
The push for vaccinations
There have also been hints that in due course, there will be a set of rules for the 'vaccinated and the un-vaccinated,' all of which is typical of the authoritarian approach being taken in New South Wales. Making vaccines mandatory dangerously encroaches on civil liberties, human rights, and the basic principles of democracy.
The Premier herself has acknowledged that while vaccinations are an important part of the overall strategy, they're not completely effective.
"If you look overseas, even in communities with high rates of vaccination, they have thousands and thousands of cases every single day. That's why we're urging people to get vaccination.
But recent research, including some conducted by Public Health England, show even those people who are fully vaccinated against COVID-19 may be able to transmit the hyper infectious variant just as easily as those who aren't.
Even so, many in NSW are feeling increasingly like they are being backed into a corner to be vaccinated when they may prefer not to be, or to wait a little longer before making a decision.
The state government will introduce a COVID-19 test payment of $320 for workers who need to isolate after taking a test and waiting for results.
Receive all of our articles weekly