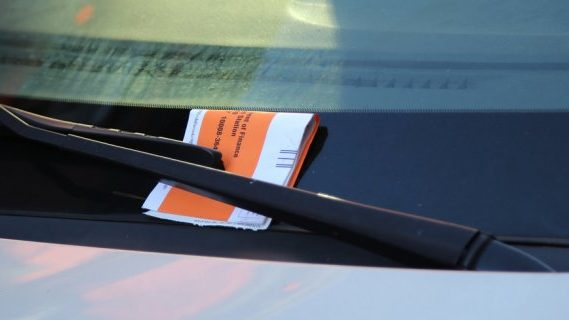 We all hate parking fines, but most of us just pay the money and get the matter over and done with.
But not everyone thinks that way, and some people have gone to extraordinary lengths to get out of paying.
Here are some of the innovative ways people have tried to avoid their fines.
Man drives car off tow truck to avoid fine
One UK man was so determined to avoid his car being towed away for illegal parking that he leapt in as it was being loaded onto the tow truck.
As the car hadn't yet been fastened, the man was able to reverse off the truck, landing with a crash onto the road a metre below. He continued speeding away in reverse.
Although the whole thing was being recorded on a parking official's phone, the man (and his car) got away and haven't been tracked down since.
Paying the fine in 5 cent pieces
While technically paying the fine, one South Australian man decided to cause the local council as much inconvenience as he had suffered.
He went to his bank and withdrew $60 in five cent coins before paying a visit to his local council to pay the fine.
He asked the worker if they accepted cash, and when she said yes, he pulled out the silver – all 1200 coins – and presented them to her.
He asked for a receipt, but the council worker refused to accept the money, saying she could not process a transaction with that many coins.
The man then turned around and left anyway, saying "You're part of a corporation I don't want to deal with. I'm paid. I'm out. Bye. I gave you the money."
Unfortunately for him, the law was on the side of the council worker: no one is obliged to accept ridiculous amounts of coins as payment.
In fact, section 16 of the Currency Act, which applies across Australia, says that no-one is required to accept only silver coins for a payment of more than $5.
Adelaide City Council is standing firm, saying that the man will still need to pay fine despite leaving the coins.
App helps drivers avoid fines
Apps that claim to help motorists avoid parking fines have been around for years.
One such App, ParkPatrol , was first introduced in 2010. It works by letting people know when a parking officer is near their car, as other users can report the location of parking officers they see.
The App cross-checks all these reports with parked cars that are registered in their database and sends text messages to App users if an officer comes within 200 metres of their car.
The App's website says that:
"when the community acts together, we become a powerful data gathering and reporting tool… A groundbreaking community based infrastructure designed to help you stay one step ahead of parking tickets."
Conventional ways of dealing with unwanted fines
If you have received a parking ticket, the most convenient course of action is often to simply pay it and move on.
But if you have been unfairly fined and wish to dispute it, the following options are available:
Requesting a review
You can ask the State Debt Recovery Office (SDRO) to review the penalty notice, which will not cost you any money.
Reviews can be made on the basis of an error, or if you have special circumstances that deserve leniency.
The SDRO frequently overturns fines if there are good reasons to do so – for example, if you have evidence of a pressing reason why you could not make it back to your vehicle, or if there was a particular reason you did not know about (or misunderstood) the required payment, and/or you otherwise have a good history of complying with parking and traffic requirements etc.
If your request is not granted, you still have the option of going to court.
Take the matter to court
It is also possible to take the matter to court, where a magistrate will decide the outcome of your case.
While you may be successful in court, the time and stress associated with court proceedings causes many people to just pay the fine and get on with their lives.
If you go to court and get legal representation, the costs of a lawyer may not be worth it in the long run – even if you end up winning.
Another risk is that if you lose, you may end up having to pay the other side's legal costs.
So there it is – the best course may be to exercise great caution and avoid a fine in the first place, or to request an SDRO review if the fine is unfair.
Receive all of our articles weekly