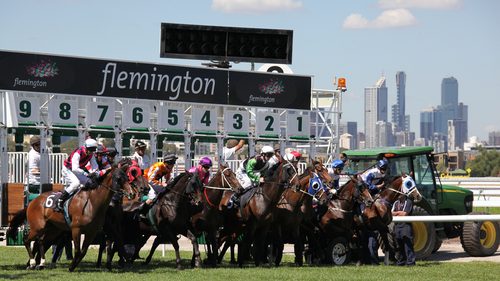 It's been dubbed the 'race that stops a nation'. For less than 4 minutes every year, many Australians drop everything to watch the Melbourne Cup – the country's most famous horse race. For most of them, it's an afternoon to celebrate.
This year was no different; that is, until the sad news that one of the horses, Cliffsofmoher, had to be put down due to an injury.
He's the sixth horse to die as a result of the race since 2013.
The news has led to renewed calls for a looking into the horse racing industry – which many see as just as much a culprit of animal cruelty as the greyhound racing industry.
Melbourne Cup tragedies
It's just a single race, conducted once a year, but it regularly results in the deaths of horses who are pushed to their limits – and beyond, both in the lead-up and during the event.
At the first event on 7 November 1861, three of the 17 starters fell during the race. Two died, one bolted off the course and two jockeys sustained broken bones – but the race continued.
In 2013, French horse Verema died. In 2014, Admire Rakti collapsed and died in his stall after the race. In the same year, Araldo broke his right hind leg and had to be euthanised.
In 2015, Red Cadeaux shattered a leg and was euthanised about two weeks later.
And last year, Regal Monarch died after a sickening fall in another race at Flemington on Melbourne Cup Day.
Not just during the 'race that stops the nation'
Of even greater concern, reports suggest that in a single year from July 2016 until July 2017, 137 horses died on Australian racetracks.
And getting injured isn't the only reason why. The industry has long been rife with reports of drug use, in particular drugs that mask pain, allowing horses to race and train with injuries that would otherwise be too painful to bear.
For example back in 1979, Dulcify courageously ran a kilometre of the race with a broken pelvis. Vets recommended the horse be immediately euthanised due to the injury, but his champion trainer wasn't ready to give up.
Sadly, after closer examination, vets discovered the broken bones of the shattered pelvis had damaged the horse's internal organs. Dulcify was then put down.
The horse racing industry
The industry has worked hard to present itself in the most favourable light and paint good public relations front, banning certain drugs banned and regularly testing horses.
But perhaps due to the enormous sums of money generated by horse racing in Australia, the industry has largely escaped the levels of scrutiny afforded to greyhound racing.
Many believe animal cruelty is just as prevalent in horse training as it is with greyhound breeding and training.
Earlier this year, eight trainers in Victoria were charged with offences related to 'doping horses' using bicarb soda, an alkalising agent available in any supermarket, to counteract lactic acid build-up in muscles, delaying the onset of fatigue, giving then a small edge ahead of the competition.
As a result of the investigation by Racing Victoria, Robert Smerdon, former director of Aquanita – considered one of Australia's premier training facilities, was charged with being party to the administration of alkalising agents or other medications to a horse on race day on 115 occasions between 2010 and 2017.
He was also charged with ordering a stable hand to administer Vicks Vapor Rub on the nose of a gelding named Disco Dan before running him in a race at Bendigo in October 2010.
Vicks is believed to open up a horse's airways and allow them to take in more oxygen during a race. The use of Vicks and a range of other treatments or medication, including anything administered by stomach tube (such as sodium bicarbonate), paste, syringe, topical application or inhalation, is strictly prohibited by the Australian rules of racing in the 24 hours prior to a race.
Horse racing is big business
The 2018 Melbourne Cup prize money alone was $7.3 million, an increase from $6.25m in 2017.
There's a great deal at stake for those involved, considering that a thoroughbred racehorse can cost anywhere between $50,000 and $250,000 and will cost more than $50,000 per year to feed, house, train and maintain.
For the big players, there's a desire to see a return on that investment. But many agree that it shouldn't come at the cost of an animal's life.
And for governments, the taxes generated from horse racing are considerable.
In 2015, the industry was valued at around $50 billion and payed taxes of around $600 million to State Governments, and $560 to the Federal Government.
PETA calls for investigation
Animal rights organisation, PETA has called for an investigation into the death of The Cliffsofmoher and inquiry into the cruel practises used in the horse racing industry.
Among other things, the organisation says young horses are often forced onto tracks long before they have finished maturing, are whipped and pushed 'past their limits'.
The powerful Thoroughbred Racing Industry (TRI) is resisting these calls, saying horses are well-treated and usually put down once a life-threatening illness or injury is detected. They say most fractures in horses lead to immediate euthanasia, as if this is a good thing.
It also points out that horse racing is part of the 'Aussie tradition'.
But many believe that generating revenue and being a part of our tradition should not be cause to rule out an inquiry when so many horses are injured and killed each year.
They believe such an inquiry could lead to reforms that protect horses, while still preserve the vested interests of governments and big business.
Receive all of our articles weekly