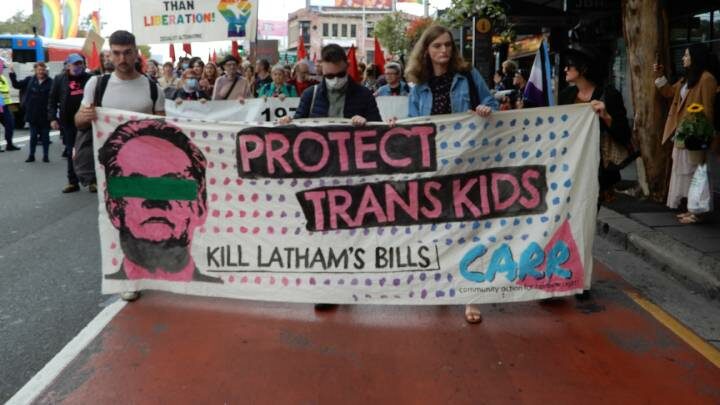 Mark Latham seems to be having a very public and paranoid personal crisis about "the family unit", as the leader of Pauline Hanson's One Nation Party in NSW is concerned that "family life is under challenge" and the chief culprits posing this threat are vulnerable trans and gender diverse kids.
So, Latham introduced the Education Legislation Amendment (Parental Rights) Bill 2020 in August last year. Framed around restoring the rights of parents, the private members bill actually seeks to erase the identity of trans and gender diverse students from the state's education system.
The NSW One Nation MLC – who entered parliament in 2019 claiming the "New Left" was trying to turn the state's schools into "gender fluidity factories" – was then, as chair of the Legislative Council Education Committee, permitted to oversee a parliamentary review of his own divisive legislation.
And to the disbelief of many, as the Parental Rights Bill review report was tabled earlier this month, the document outlined that the majority of committee members had endorsed Latham's winding back of the clock to a time when bigotry,  like his, had free range.
A "retrograde step"
The report recommends that the proposed ban on the mention of "gender fluidity" in any form within the school system in various pieces of legislation be dropped, but that official NSW education policy – specifically Bulletin 55 – stipulates that gender fluidity is not part of the state curriculum.
But the committee endorsed the insertion of "parental primacy" provisions into the education legislation.
These measures seek to ensure that when it comes to social values and ethics all teaching be "non-ideological", which is a term that could be replaced with be "in line with Latham's conservative values".
The majority of the committee went step further with this, so that parental primacy measures around parents being able to excuse their children from certain classes be extended beyond the scope of "religious grounds" to include "political and ideological dogma".
The outright sacking of teachers over the mentioning of gender fluidity would be removed from the laws, but the stipulations on "non-ideological" content and "parental primacy" would be hanging over their heads as a possible reasons to lose their accreditation.
And in terms of a transgender or gender diverse student approaching a teacher or counsellor for advice around gender fluidity, school staff would be restricted from discussing such matters unless the student's parents are notified of the conversation beforehand.
Attacking the vulnerable
Latham is leading this ideological attack against the NSW education system based on the targeting of trans and gender diverse kids, who only make up about 2 percent of the population, yet are eleven times more likely to attempt suicide than their cisgender counterparts.
Equality Australia is campaigning against what it terms One Nation's Ignorance in Education Bill. The LGBTIQ rights organisation, which was pivotal in the push for marriage equality, is further opposing the blatantly prejudicial provisions of both NSW and federal "religious freedoms" legislation.
Sydney Criminal Lawyers spoke to Equality Australia legal director Ghassan Kassisieh about how it got to the point that the Berejiklian government is considering such laws, the implications of both the proposed state and federal religious freedoms bills and how the public can end Latham's attacks.
Ghassan, a lot of people shrugged off Latham's anti-trans bill as being so extreme that the proposed laws would never gain government approval, but now it looks like similar laws might be passed.
In your opinion, what's led us to the point that these sorts of laws are even being considered?
The NSW parliament dropped the ball on this bill, when it let it go through to an inquiry chaired by Mark Latham himself.
But there is a real chance that if the community strongly rises in opposition to the bill, then it won't be passed.
It's important that NSW leaders are clearly told that they shouldn't accept laws that take back rights, particularly for students who already experience massive disparities in terms of health and welfare outcomes.
While ostensibly about strengthening the rights of parents, the bill serves to undermine the rights of trans and gender diverse students.
What sort of impact do you foresee these laws having on vulnerable children?
The first thing the law does is deny the existence of trans and gender diverse students, and the ability for teachers and staff, like school counsellors, to provide them with support in a way that affirms who they are.
So, when we look at the mental health statistics regarding trans and gender diverse young people, we see shockingly high rates of suicidality, and it also impacts on their education outcomes, such as when students don't go to school because of fear of harassment and bullying.
Laws like this prevent teachers from supporting and affirming students and giving every child the opportunity to have an education in a school that supports and welcomes them.
These laws will only serve to place more barriers in addressing some of those disparities.
Around the same time the report was released, NSW attorney general Mark Speakman announced his government will be supporting religious freedom laws proposed in another Latham One Nation bill.
These laws are supposed to be about protecting people of faith, however they go much further than other anti-discrimination laws.
In your understanding, what sort of changes are those promoting these enhanced religious protections hoping to establish?
A genuine attempt to address religious discrimination would be a conventional law that said you can't discriminate on the basis of someone's religious belief.
Those kinds of laws are in statute books across the country, and they work well for the most part.
What we're seeing with some of the new proposals – with the federal Religious Discrimination Bill and the One Nation Mark Latham proposal – are provisions that allow people to discriminate on the basis of religious belief, rather than prevent discrimination against people with religious beliefs.
To the credit of the NSW government though, they haven't indicated what form of legislation they will be progressing once they turn their minds to any reforms in NSW.
Certainly, from our perspective, we want to see laws that protect all of us – including people of faith and those without religious beliefs – equally.
That means protecting people from discrimination, but it doesn't mean allowing people to discriminate on the basis of religious belief.
You've just mentioned the federal Religious Discrimination Bill. Speakman recently outlined that his government won't be passing its religious discrimination laws until the Morrison government passes its own.
The religious freedoms debate commenced during the marriage equality campaign. And it's been spearheaded by the prime minister ever since same-sex marriage became the law.
As someone who was active in the campaign for same-sex marriage, how do you sum up what the religious freedoms debate is all about?
To the extent that it seeks to redress the discrimination that occurs on the basis of religious belief, it is part of a well-established legal principle, and series of laws, that protect people in their workplaces, where they study and where they access services, no matter who they are.
Those aspects of those laws have been really important in providing protection to people of faith, to women, to people of disability and LGBTI people – to allow everyone to work, study and live with dignity and respect.
The more alarming aspects to parts of the federal proposal, and what we're seeing in NSW, is the reversing of that principle on its head.
That is rather than protecting people from discrimination, these laws allow, for example, people to say offensive things in the workplace to colleagues, to teachers or students based on their religious beliefs.
These are things that today would be discrimination but tomorrow would be lawful.
These laws would also embolden certain health professionals to refuse to treat people based on their religious beliefs to the detriment of the patient's health.
Those laws are not conventional, and those laws don't actually accord with the well-established principles that we have that protect people from discrimination.
So, to the extent that the discrimination proposals allow people to discriminate based on religion, they represent a retrograde step away from what we have been trying to achieve for decades now, which is that everyone is treated equally in their workplaces, where they study and where they access services, no matter who they are.
So, looking at all these laws more broadly, what kind of society are the Christian Right seeking to establish?
It is just dressing up discrimination in another way because they know that the vast majority of Australians are fair-minded and don't want to see discrimination against anyone, whether it is in the workplace, in a school or in a service setting.
Having lost the campaign to prevent marriage equality in Australia, they've had to refashion their argument in a way that presented them as being discriminated against because they wanted to discriminate against others.
Looking at the result of the postal survey, and the results of a number of polls since, these show that generally speaking Australians are a live and let live group of people, who are very comfortable with ensuring that others can live their lives without interference or someone else imposing their religious views upon who they should be or how they should live their life.
And lastly, Ghassan, Equality Australia stands opposed to Latham's Parental Rights laws, which have gotten much further than most expected. So, what action is your organisation suggesting be taken from here?
We've already seen over 12,000 people write to NSW leaders – the premier, the deputy premier, the minister for education, the opposition leader and the shadow minister – asking them to oppose the bill and the report recommendations outright.
So, people who are opposed to the bill are encouraged to go to our website and join in writing to NSW leaders to ensure that it and the report recommendations are completely rejected.
You can call on NSW political leaders to reject Latham's anti-trans student laws here. It only takes a couple of steps.
Receive all of our articles weekly