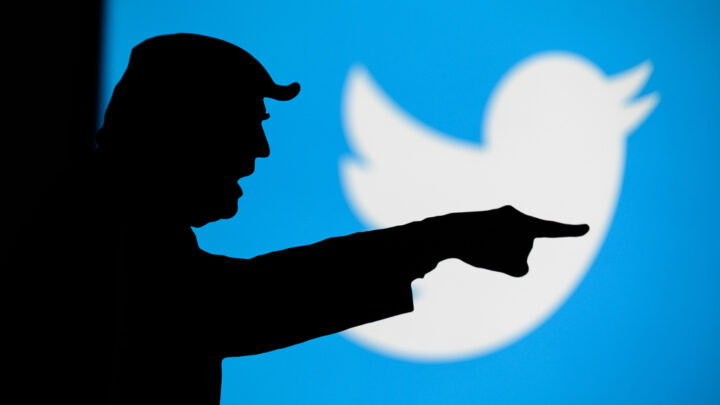 Scenes of the mob attack on US Congress earlier this week shocked the world.
Five people have died as a result of Trump supporters breaking into the US Capitol Building last week disrupting the certification of Joe Biden as the President Elect.
One woman was fatally shot by police, three others suffered medical emergencies. A US Capitol police officer is the latest to be confirmed dead after sustaining injuries during the riot.
Social media bans
Since then both Twitter and Facebook have taken steps to remove Donald Trump from social media platforms. Facebook has put an indefinite ban on the former US President's account and Twitter has permanently suspended him, accusing him of posting tweets in the lead up to, and after the mob riots at the US Capitol Building he had violated the platform's Civic Integrity policy.
What's more, Twitter said in a statement: there was a risk of further incitement of violence, with some tweets "highly likely to encourage and inspire people to replicate the criminal acts."
It's understood that Twitter's decision to remove the @realDonaldTrump account was precipitated by the fact that more than 300 Twitter employees signed an internal petition calling for Trump to be permanently banned following the Capitol riots.
Incitement
Facebook made a decision along similar lines, banning Donald Trump until at least Inauguration Day. Facebook CEO Mark Zuckerberg said this was because risks "are simply too great" to allow Trump continued access after he used the platform to "incite violent insurrection against a democratically elected government."
Trump reacted to Twitter's ban by claiming "Twitter employees have coordinated with the Democrats and the Radical Left in removing my account from their platform, to silence me – and you, the 75,000,000 great patriots who voted for me."
The suspension has been a long time coming. For years, Twitter has faced pressure to remove Donald Trump based on the fact that the global reach of the platform allowed him to spread often hateful language and untruths.
Most people have watched the Donald Trump presidency with a mixture of mocked interest, and discernment. Others at times have expressed disbelief at the outrageous candidness of his comments, in light of his position and responsibilities as a global leader. But, now in hindsight, it's also possible to see the real and dangerous impact his regular informal commentary via social media had on his supporters.
Clearly as his tantrums grew at losing the 2020 election, and his legal challenges against election fraud amounted to nothing, his dialogues influenced his supporters to such a degree that they felt compelled to storm the Capitol Building, vandalising the interior and injuring whomever got in their way.
The role of social media
The power of social media platforms to sway opinion and fuel beliefs has been well documented in recent years and while the companies themselves have deployed measures such as codes of conduct to protect users, they are, as it turns out relatively powerless to stop hate speech, bullying and incitement in many situations, often to coin an old phrase, 'closing the gate long after the horse has bolted.'
For its own part, Twitter defended it's decision to allow Donald Trump to remain active on it's platform for many years before this final ban, arguing that his presence was in the public interest.
Defining what is in the public interest of course, is never clear cut and the other very important side of the argument is the protection and perpetuation of freedom of speech, because social media platforms are used for information-sharing and important social discussions, including political discussion and debate.
Will Donald Trump face charges?
What will happen next in America is not certain.
It's been reported in the US that the Whitehouse legal counsel repeatedly warned Donald Trump to be aware of what he said on social media. At his counsel's behest he has issued a statement which can be seen on YouTube, deploring the violence and the riot on the Capitol Building.
Will his tweets land him in jail? It's difficult to know at this point. Federal prosecutors have vowed to investigate the Capital riots and as the former President leaves office, he will lose protection from legal liability that the Oval Office has afforded him for the past four years.
Offences of Incitement in Australia
Inciting a criminal offence can be a criminal offence under both Commonwealth law, which applies across Australia, as well as under laws of states or territories.
Commonwealth law: inciting a crime
Section 11.4 of the Criminal Code Act 1995 (Cth) contains the general offence of 'incitement', which provides that:
'A person who urges the commission of an offence commits the offence of incitement.'
The section goes on to states that:
A person may be found guilty even if committing the offence incited is impossible,
Any defences, procedures, limitations or qualifying provisions that apply to an offence apply also to the offence of incitement in respect of that offence, and
Any special liability provisions that apply to an offence apply also to the offence of incitement in respect of that offence.
This 'catch-all'-type provision means that a person can be found guilty of a particular offence under Criminal Code Act – which applies across Australia – if they encourage another person to commit that particular offence.
So, for example, if a person encourages another to commit the offence of intentionally causing serious harm to an Australian citizen or resident under section 115.3 of the Act, he or she may be found guilty of that offence – whether or not the encouragement is due to the person's beliefs or characteristics.
The offence is not applicable to attempts or conspiracies, and the penalties that apply are:
10 years in prison for offences punishable by life imprisonment,
7 years in prison for offences punishable by 14 years' imprisonment or more,
5 years in prison for offences punishable by at least 10 years' but less than 14 years' imprisonment,
3 years or the maximum penalty, whichever is less, for offences otherwise punishable by a term of imprisonment, or
the maximum applicable fine if the offence is not punishable by a term of imprisonment.
Commonwealth law: urging violence against members of groups
In addition to the law against incitement, section 80.2(1) of the Criminal Code prescribes a maximum penalty of 7 years in prison for urging violence against members of groups.
The section provides that:
A person (the first person) commits an offence if:
(a)  the first person intentionally urges another person, or a group, to use force or violence against a person (the targeted person); and
(b)  the first person does so intending that force or violence will occur; and
(c)  the first person does so because of his or her belief that the targeted person is a member of a group (the targeted group); and
(d)  the targeted group is distinguished by race, religion, nationality, national or ethnic origin or political opinion; and
(e)  the use of the force or violence would threaten the peace, order and good government of the Commonwealth.
Section 80.2(2) prescribes a 5 year maximum penalty where subsection (d) above is not established.
NSW law: publicly threatening or inciting violence
Publicly threatening or inciting violence is an offence under section 93Z of the Crimes Act 1900 which carries a maximum penalty of 3 years in prison.
To establish the offence, the prosecution must prove beyond reasonable doubt that:
You intentionally or recklessly threatened or incited violence towards another person or group,
You did so by way of a public act, and
You did so on grounds of the other person or group's race, religious belief or affiliation, sexual orientation, gender identity, intersex status, or HIV or AIDS status.
A 'public act' includes:
Any form of communication to the public, including speaking, writing, displaying notices, playing recorded material, and broadcasting and communicating through social media and other electronic means,
Any conduct observable by the public, including actions, gestures, wearing or displaying clothing, signs, flags, emblems or insignia, and
Distributing or disseminating any matter to the public.
The section makes clear that an act may be public even if it originates or occurs on private land
'Race' includes colour, nationality, descent and ethnic, ethno-religious or national origin and 'religious belief or affiliation' is defined as holding or not holding a religious belief or view.
'Sexual orientation' means a person's sexual orientation towards:
Persons of the same sex,
Persons of a different sex, or
Persons of the same sex and persons of a different sex.
'Gender identity' means the gender related identity, appearances, mannerisms or other gender related characteristics of a person without regard to the person's designated sex at birth.
'Intersex status' means the status of having physical, hormonal or genetic features that are:
Neither wholly female nor wholly male,
A combination of female and male, or
Neither female nor male.
'Violence' includes violence towards persons as well as property
To establish the offence, the prosecution does not need to prove that:
Your views were incorrect or correct, or
Any person formed a particular state of mind or carried out a violent act.
Proceedings for the offence can only be commenced with the approval of the Director of Public Prosecution.
Defences to the charge include:
Duress,
Self defence, including the defence of others, and
Necessity.
Receive all of our articles weekly