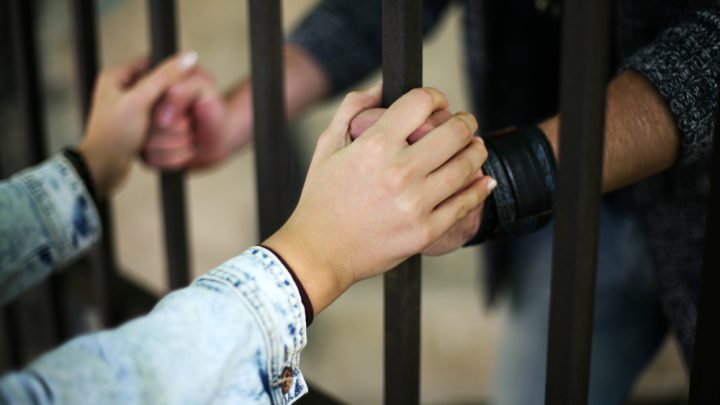 Thinking of smuggling contraband into prison? Think again.
NSW Corrective Services has announced that a body scanner, known as the Body Orifice Security Scanner (or 'BOSS' for short) will be installed at Goulburn Supermax Prison later this year to prevent mobile phones, SIM cards and other contraband being smuggled in.
BOSS is a scanning chair which is used by law enforcement authorities around the world. Unlike typical body scanners, it has the ability to detect the presence of electronic items hidden in a person's vaginal, anal, abdominal, foot and leg areas.
Prison authorities say the move is necessary to crack down on communications between prisoners and the outside world following a spate of embarrassing incidents involving the use of mobile phones.
In September last year, 25-year-old Goulburn inmate Beau Wiles made headlines after escaping from a minimum security section of the prison, where he was serving an 18 month sentence for shoplifting and driving while disqualified.
A subsequent investigation revealed that Mr Wiles had uploaded several photos to Facebook from within the prison in the days leading up to his escape – and had organised for his partner and another woman to help him break out. The trio were caught less than 48 hours after their escape.
And in October, a man with links to the Brothers 4 Life gang was caught posting photos to his Instagram account, and commenting that prison guards were smuggling tobacco and drugs into the facility.
Wesam Hamze was being held at Parklea prison, but his phone was seized soon after and he was transferred to Goulburn Supermax.
Prisons Crackdown on Contraband
Recent months have seen a surge in attempts to bring contraband including drugs, mobile phones and SIM cards into prisons.
In October, prison officers identified two men in possession of illegal items after carrying out a random blitz at the Wellington Correctional Centre, located in central western NSW. One of the men, aged 41, was found with 13 grams of tobacco, cigarette papers, and tablets, while a second man, aged 34, was found with 28 prescription pills. A search of their vehicle uncovered over 100 prescription pills, 13 grams of cannabis, alcohol, and a mobile phone and sim card.
Subsequent raids in prisons across the state in November 2015 uncovered a range of illicit items, including 22 syringes, drugs, tattoo guns and even a pen gun, together with a single bullet. Inmates have resorted to desperate measures following a statewide ban on cigarettes and tobacco products within prisons, with guards finding quantities of tea soaked in nicotine patches during the raids, as well as large quantities of tobacco, which is illegally traded at high prices.
Experts have blamed the increase in contraband on prison overcrowding, with Public Service Association Corrections Branch chairman Steve McMahon telling the media:
'…Overcrowding is a major part of it because there's more demand and the jails are operating with reduced staff…it's making it very difficult to police these things and prevent them coming in.'
As discussed in several previous blogs, prison numbers across the state have skyrocketed following the introduction of tougher mandatory sentencing measures and strict bail laws.
A report released in 2015 found that the NSW prison population stood at 11,100 despite prisons only being able to accommodate a maximum of 10,800 inmates. The situation has seen staff resources stretched to the brink.
Corrections Minister David Elliot has made it clear that, despite the pressure on resources, prisons have 'stepped up efforts to crack down on smuggling of contraband with the latest technology, intelligence gathering, frequent inmate, visitor and cell searches and ground patrols, and screening.'
He has promised to introduce the BOSS body scanning chair in all maximum and medium security prisons by the end of 2016.
Penalties for Bringing Contraband into Prisons
A range of items are banned from NSW prisons, and inmates and visitors who bring prohibited items into prisons risk heavy penalties under the law.
These items include:
Drugs
Alcohol
Tobacco, matches and lighters
Syringes
Prescription medication
Mobile phones, SIM cards, and chargers
Computers
Weapons, including homemade weapons
Any inmate found in possession or a mobile phone, or any part of a mobile phone, including a SIM card or charger, faces a maximum penalty of 2 years imprisonment and/or a fine of $5,500 under section 27DA of the Summary Offences Act 1988.
Anyone who attempt to communicate with an inmate through illegal means faces up to 6 months behind bars, and/or a fine of $1,100 under section 27E of the Summary Offences Act.
A maximum penalty of 2 years imprisonment and/or a fine of $2,200 applies to those who deliver or bring illegal items into prisons, or who attempt to smuggle items out of prisons.
Visitors caught trying to bring illegal items into prisons can also be banned from visiting their loved ones for up to two years.
Receive all of our articles weekly