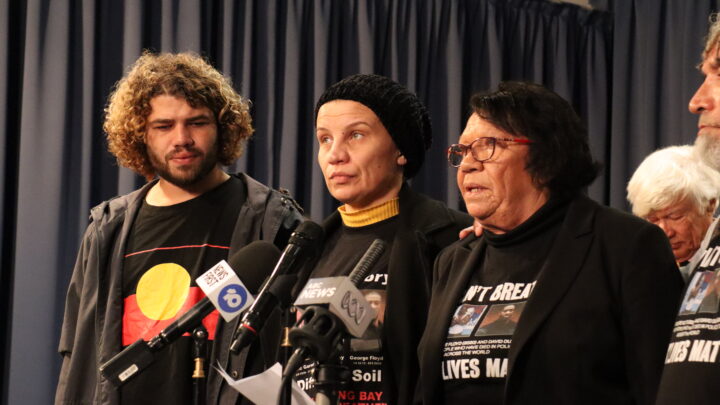 Aunty Leetona Dungay has resolved to take both the Australian and the NSW governments to the United Nations to seek justice in relation to the killing of her son David Dungay Junior at the hands of Long Bay Gaol prison guards.
In going before the UN Human Rights Committee, Aunty Leetona will have internationally renowned human rights barristers Geoffrey Robertson and Jennifer Robinson from London's Doughty Street Chambers arguing the case.
At a 10 June press conference at NSW parliament, Aunty Leetona explained that her son "was killed in Long Bay Prison Hospital on 29 December 2015". She added that his death in custody is part of "a pattern of dispossession and violence against Aboriginal people" going back to 1788.
"Governments have a responsibility to hold people and organisations accountable when there is a death in custody," the Dunghutti elder said.
However, despite an inquest, and repeated requests to the NSW Director of Public Prosecutions and SafeWork NSW, no attempt has been made to conduct a criminal investigation into her son's death.
"That's why we need to go to the international stage to seek justice," Aunty Leetona made clear, "to shame our government into action, to expose systemic racism that runs throughout the justice system."
And with the legal heavyweights in tow, the government ought to be feeling the heat.
To the international stage
Geoffrey Robertson told reporters that part of the problem is Australia has no bill of rights, which would allow for such a case to be brought before the domestic courts. And he asserted that "there is a disconnect between the coroner's inquiry and the legal procedures of analysis afterwards".
"Justice in its broad sense includes the right to life, and where life is taken by the state, the right to a proper inquiry," he explained. "Everyone should have that right, and dignity in death – if taken by the state – to have a full and proper inquiry."
Robertson and Robinson will argue that the Australian state's failure to investigate David's death has breached the International Covenant on Civil and Political Rights (ICCPR), and further, our nation should sufficiently investigate all deaths in custody and where evidence exists, move to prosecute.
Dungay family lawyer National Justice Project director George Newhouse has pointed out that the NSW government has left his clients no choice but to go to Geneva. And he added during the press conference that the family has sought to meet with NSW premier Gladys Berejiklian, but to no avail.
"We are committed to taking her voice to the international stage," Robinson said, "and to raising the systemic failure of the Australian government to take appropriate action in relation to the human rights crisis in this country, which is Indigenous deaths in custody."
A decades-old crisis
The preparation of the case going before the UN Human Rights Committee has been assisted by Jumbunna Institute for Indigenous Education and Research director Larissa Behrendt, as well as institute deputy director and barrister Craig Longman.
"You can see from the emotion it has taken Leetona to once again tell the story, how driven the family has been for justice," Behrendt said before the cameras. "It's important to acknowledge the personal cost in these fights for people who are going through a process of grieving."
Behrendt stressed that in "speaking through this pain" the Dungay family were also representing "so many Aboriginal and Torres Strait Islander families across this country who are going through something similar."
Since the Royal Commission Into Aboriginal Deaths in Custody handed down its final report in 1991 there have been at least 474 further First Nations custodial deaths, yet no police officer or prison guard has ever been convicted in relation to one.
Indeed, there have now been nine Indigenous deaths in custody nationwide since the beginning of March this year.
The Royal Commission made 339 recommendations in its report. Most of these have never been acted upon. However, the issues they sought to resolve are constantly being raised as causes of First Nations custody deaths during coronial inquests.
"There is now nothing left within the Australian legal system that gives Leetona the ability to find justice or some sort of closure," Behrendt further explained. "We are trying to hold a government accountable for a continued and systemic failure that is continuing to cause great harm."
Government take heed
David Dungay was alone in a cell in the hospital ward of Long Bay Gaol eating a packet of biscuits. As he was a diabetic, some nurses became concerned. Yet, what resulted was six Immediate Action Team officers storming his cell and dragging him down a hallway into another one.
At that point, five of the guards held the 26-year-old Dunghutti man face down in the potentially fatal prone position. As he called out repeatedly that he couldn't breathe, officers continued to press down on his back, a nurse then injected him with a sedative, and he stopped breathing for good.
Support for the Dungay family's fight for justice is widespread within the community. And it has been growing since the recent upsurge in the Black Lives Matter movement commenced this time last year.
As he opened the press conference, NSW Greens MLC David Shoebridge said that this state's parliament has been "a centre of dispossession and violence against First Nations people" and it passes laws that sees them "some of the most incarcerated people on the planet".
The Greens justice spokesperson added that earlier that day he'd tabled a further 8,000 signatures in support of a petition calling for justice for David, which added to 91,000 signatures already tabled last year. But, to date, there has still been no response from the NSW government.
Aunty Leetona's niece, Elizabeth Jarrett, put out a call to prime minister Scott Morrison, asking why he won't meet with her aunty and other First Nations families who have suffered a death in custody, as has been requested.
"Are you listening to me out there, Scotty?" asked the Gumbaynggirr Dunghutti Bundjalung woman. "Are we a threat? The only threat I see here is that you won't meet with us, and you won't listen?"
After answering a further question, Jarrett turned towards the camera to end on, "Are you listening Gladys? Is anyone out there listening, Mr Speakman, all of you – we know your names."
"Get to know ours."
Main photo: Aunty Leetona Dungay addresses the press, with Elizabeth Jarrett by her side
Receive all of our articles weekly