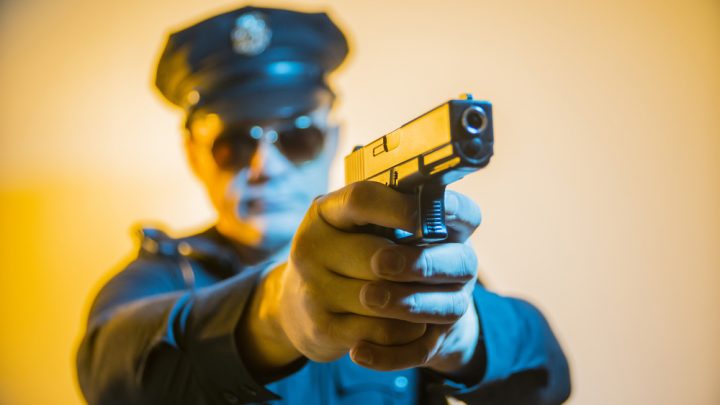 On the 9th of August this year, Darren Wilson, a police officer in the city of Ferguson, Missouri, shot and killed 18-year-old African-American Michael Brown following an altercation on the street.
The incident sparked anger and unrest within the community and across the globe, with many arguing that the Wilson used excessive force in apprehending Brown.
Sadly, incidents such as these are not uncommon, and they even occur in Australia.
In fact in Queensland, police have been involved in the deaths of four people within the last two months.
There have also been fatal shootings in Victoria, NSW and Western Australia.
This outstrips historical statistics, which show that across the whole nation, police shoot and kill 4.7 people each year on average.
Most recently, Queensland police shot and killed 32-year-old Troy Foster, after his mother called police reporting that her son had threatened her with a meat cleaver.
Mr Foster suffered from an intellectual impairment and, according to his mother, had the mental capacity of a 13-year-old.
His mother says that police could have handled the situation differently, and that there was no need to shoot him.
Civil libertarians say that the increase in shootings highlights a systemic problem with the way that police use dangerous weapons such as guns.
Victims of police shootings often have complex mental health issues and they may even be armed, yet police are only supposed to shoot people as a last resort.
However, many fatal shootings occur in the 'heat of the moment' in dangerous situations, where police officer may need to make a tactical assessment of the threat they are confronted with.
Whether or not a police officer should shoot a person may therefore not always be an easy decision to make.
While all fatal police shootings are subject internal reviews and coronial inquests, the spate of recent police shootings, especially in Queensland, has sparked calls for a review into police weapons training.
This has been backed by police commissioner Ian Stewart, and police minister Jack Dempsey.
It is estimated that almost half of all victims of police shootings suffer from a mental health condition of some kind.
Three of the four victims recently shot dead by Queensland police a form of mental health impairment.
Mental health advocates suggest that police weapons training should therefore include mechanisms for how to deal with mentally ill persons who may be armed.
Anna Brown, a spokesperson from the Human Rights Resource Centre, says that this training should focus on giving mentally ill persons time and distance, rather than confronting them with a dangerous weapon.
Criminologist and former police officer Terry Goldsworthy says that the increase in fatal police shootings can be attributed to the government's 'tough on crime' approach.
According to Goldsworthy, a focus on anti-terrorism laws, as well as a desire to curb the activities of organised crime groups such as bikies, has resulted in a 'focus on lethal force options' such as the use of guns.
These problems have been compounded by those associated with alternative weapons such as tasers, which do not always provide police with the same level of protection and security as guns.
However, the statistics indicate that something needs to be done to curb the number of deaths resulting from police shootings.
Perhaps Queensland could look to Victoria for guidance on how to address these issues.
In the 1980's and 1990's, Victoria earned a reputation for its problems with police shootings.
In 1994, the Victoria Police Force sought to address these issues with the introduction of Project Beacon.
Project Beacon emphasised putting safety first in dangerous situations and minimising the use of force.
It resulted in the number of fatal police shootings being halved in the decade following its implementation.
Sadly, from the early 2000's, the level of training that police received dropped, resulting in another increase in fatal police shootings.
The problems culminated in 2008 with the death of 15 year old Tyler Cassidy, who was shot 10 times by Victorian police after he approached them armed with knives.
The Victorian Police Force responded by conducting an internal review of weapons training and refocussing efforts away from confrontational tactics.
The success of this approach has been reflected in a fall in the number of fatal police shootings in Victoria in recent years.
The Victorian approach therefore sets the bar for other states such as Queensland.
So, where to from here?
The Crime and Corruption Commission, which is only allowed to exercise investigative powers where there have been suspicions of police misconduct or corruption, has said that it will conduct research into Queensland police shootings in the public interest.
It's hoped that these efforts, along with the decision by Queensland police to review their training methods, will result in a reduction in the number of police shooting deaths.
Receive all of our articles weekly