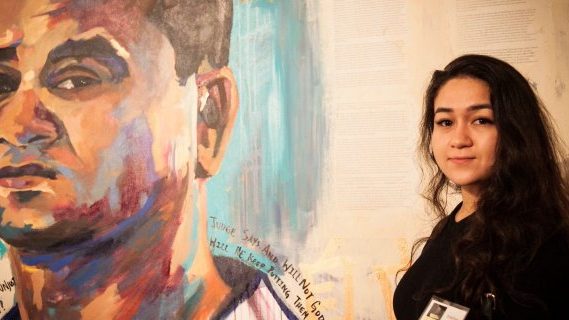 On September 23 2014, peaceful Uyghur rights advocate Ilham Tohti was sentenced to life imprisonment by the Xinjiang People's High Court in western China on separatism charges. The two-day trial was condemned as "grossly unfair" by human rights activists around the world.
A former economics professor at Beijing's Minzu University, Mr Tohti has been a moderate critic of the Chinese government's policies in the far western province of Xinjiang for decades.
Since the 1990s, he'd been calling for a peaceful dialogue between the nation's majority Han Chinese and the Uyghur minority, a predominantly Muslim Turkic people from Xinjiang. He'd been spreading his word on the multilingual website he ran called Uyghur Online.
Mr Tohti was arrested at his Beijing house in January 2015, and since then he's been detained at Urumqi Number One prison in Xinjiang. In January last year, 400 academics from around the globe sent an open letter to Chinese president Xi Jinping calling for the release of the political prisoner.
The repression in Xinjiang
The Uyghur population in Xinjiang has been living under the increasingly oppressive rule of the Chinese Communist Party, since the People's Liberation Army marched into the region and took control in 1949.
At present, the Uyghur people are fast becoming a minority in their own land. Uyghurs now make up 45 percent of the population, while the Han Chinese account for account for 40 percent. This is after years of Beijing encouraging Chinese settlers to make the move west.
Increasing crackdowns
A peaceful protest by Uyghur people in the Xinjiang capital of Urumqi turned into a violent clash with police in July 2009. Hundreds were killed and thousands imprisoned. At the time, Mr Tohti gave interviews to western reporters about the large numbers of Uyghurs who'd been detained.
In the wake of the riot, Chinese authorities further cracked down on the region, and this led to a series of violent reprisals carried out by Uyghur people throughout the country over the period 2013 to 2014.
Despite no major attacks having been carried out in Xinjiang since 2014, Beijing launched an "all-out offensive" in the region in March this year. Thousands of paramilitary personnel have been dispatched across the province.
Cultural suppression
And the clampdown on Uyghur cultural practices was further tightened last month. New laws were enacted on April 1 banning 15 types of behaviour. These include growing long beards, the wearing of veils in public places, and the refusal to watch state television.
Later in the month authorities released a list of so-called "extreme" names that are now banned in the region, such as Muhammad, Islam and Arafat.
His daughter's plea
In February 2013, Mr Tohti and his daughter, Jewher Ilham, were about to board a plane to Indiana in the US, where he was going to spend a year teaching at Indiana University as a visiting scholar. Chinese officials detained him at the airport and Ms Ilham continued on to attend the university on your own.
Since the time of her father's arrest, Ms Ilham has been in the United States tirelessly campaigning for Tohti's release. Sydney Criminal Lawyers® spoke with Jewher about her father's life imprisonment, the reasons behind it, and the continued calls for his freedom.
Firstly Jewher, your father, Ilham Tohti, has been detained in prison since January 2014. Your family members are only allowed to visit him for 20 minutes every three months.
Can I ask how Mr Tohti is going in prison? And what sort of conditions he's facing?
My family members are still only able to visit him every three months. We're not allowed to give him any letters or books. But we can show him pictures.
His health situation is stable. He has lost a lot of weight, which happened two years ago. His hair has all turned grey. But there's no big health issue going on right now.
Our family members will go to visit him again during the summer. They will be on a break from school. My step mother and my two brothers, even though they are allowed to visit him every three months, they are still not able to make it.
For tickets from Beijing to Urumqi, it's very pricey, especially for three people. And also, because of the official policy, they're not allowed to leave all the time.
It takes almost a day to get to Urumqi by plane or train. So finances and the time don't allow them to visit my dad every three months. But every winter break and summer break, they can go back to visit him.
Ilham was sentenced to life imprisonment on separatism charges, and yet, he'd always been a moderate voice, advocating for a dialogue.
What was your father saying that led him to come under the scrutiny of the Chinese authorities?
It was a long-term thing. My dad started his website in 2008. At that time, the pressure of the Chinese government – on not only Uyghur people, but other ethnic minorities – had been growing intensely.
So my dad started to realise that it's not OK. There should be someone to stand up and to talk, so they fix the problem. He started to email magazines. He started his website, which captured a lot of attention. But there wasn't any changes, and he kept going.
Then he was investigated by the Chinese government, followed by the police. Then he was denied from going to teach and to work.
Prior to your arrival in the United States, your family was under house arrest. Can you tell us about what life was like for you then?
I got used to being under house arrest, because it was there all the time.
In the beginning, because I went to boarding school, I didn't really live at the apartment. So I only went back home on the weekends.
Every time that I'd go back home, I'd see these policemen, but I didn't know they were police. They wouldn't wear their uniforms. They'd just wear casual clothes. And they would sit around the table with my father, and drink tea and chat.
They were introduced to me as friends, but actually, they were the people who were sent to monitor him. So for the first year, I didn't actually know who they were.
I realised there was something wrong in the second year. Because when I got back home from boarding school one weekend, I found nobody home. And nobody had even bothered to text me to inform me that they were out of town.
This was unusual. Parents wouldn't just leave their underage daughter outside, without giving her money, or without telling her what they were doing. I was worried.
But my mother and my father divorced when I was very little. So I sat by the door for a couple of hours, late at night. Then I realised they weren't coming home. So I went to my mother's home and I stayed there for two weeks.
And then finally, they got back. When I asked, "Where did you go?" They told me, "We went to travel. Don't ask too much." That's what they always said, whenever I had questions. It was a way my father tried to protect me.
My boarding school was right in front of my apartment block in Beijing. It's just two minutes away. So it wasn't necessary for me to stay in boarding school, but my father insisted. I didn't know the true reason until I came to the United States. It was also his way to protect me.
Your father had been commenting on Chinese government policies since the 1990s. And he'd been placed in detention before.
What was it in 2014 that led Beijing to take the extreme measure of sentencing him to life imprisonment?
One of the reasons that pushed the government to decide to arrest him was in 2013 when he tried to come to the United States. I think that was one of the reasons because he might run away. They assumed that at that time.
But that was impossible, because my two little brothers were in China. And I had university to go to in China. I was already a freshman student, before I came here. My father was the only person who was actually going to the US to stay for a year.
I think they got threatened because they thought my dad was going to run away to the US. That's one of the reasons. But also, in 2013, when he was arrested at the airport, that captured outside attention from the media. The publicity of my father's articles and words increased.
Your father was speaking out for Uyghur rights. Last month, the Chinese government placed more restrictions on the behaviour of Uyghur people, banning long beards, wearing veils in public, as well as giving children certain Islamic names.
What impact are the continuing restrictions being placed upon Uyghur people doing to their way of life?
These kind of restrictions have existed for a while. They're just getting more and more. For example, in Beijing at school, you're not allowed to talk about the Quran or Islamic things, or you can be expelled. And also fasting and wearing the hijab at school – and to pray at dawn – those were almost impossible. It's very difficult.
Also, during Ramadan, the restaurant was still serving meat and lot of food during the daytime, when you weren't supposed to eat. They would even provide more food at that time to encourage us to eat.
I never really fasted before I came to the US. I actually learned how to fast and how to wear hijab since I came here.
One of the reasons was because I grew up in Beijing and I am a modernised Uyghur, but also, the environment didn't allow me to do it. I would be the weird one if I did it. I would be the one that people would think was not good. The one the teachers would think was not good.
All the pressure makes you stop doing that. And it's not only me, other students have the same problems too.
You were about to take a flight with your father to the US, when he was detained at customs. And you continued on there alone.
How was that for you to have to leave your family behind, and make your own way in the United States?
This wasn't the life that I chose. I got into a really good university in Beijing. I'd just started my first semester. Everything was perfect. I was only coming for a vacation, in the beginning, to help my father set up.
But somehow I just had to stay here, because I couldn't predict if I would be safe if I went back. I'm not sure if I would have a school to go to. I'm not sure in the future whether I would have a job.
I cannot predict anything. And your life is controlled by other people.
I'm isolated from my entire family. They're not allowed to see me and they don't even have passports.
We can only meet through Skype. And even Skype is limited. Because once we talk to each other through Skype using the same account for a long time that account stops working. And I need another one. This happens very frequently.
Everything gets harder. I never left home for the first years of my life, before I came to the US. My middle school and high school, were all within walking distance of my home. I never left home and was never unable to talk to them in person.
At the time, during summer, when my friends tell me they're going back to their country, the jealousy would be so obvious on my face. People can tell.
But I don't even know, if I go back, what will happen to me.
I'm not sure if I will have the same result as my father, but I'm pretty sure there won't be as many chances as I am having now in the US to help my father.
And lastly, Jewher, what's happening at present with your campaign to have your father released?
This May people who have been working with me are going to the European parliament with my father's case. In the past, a lot of people weren't aware of my father's case in Europe, but now many people know.
And I really appreciate those people who are putting out such a good word.
We're also preparing a book of my father's, which collects my work and my father's together in the one book. So it will be easier for people to read. We also might get volunteers who can translate it into different languages.
I always say, the more people who know about my dad's case – the more publicity my father gets – there will be less possibility for them to harm my father in prison.
It's already the worst case now. It can either stay the same, or it can get better. Because, we've already got the worst. It's a life sentence. So we can only try to help.
Jewher thanks very much for speaking with us today. You have our support in your continued attempt to have your father released from prison.
Oh, thank you so much.
Receive all of our articles weekly