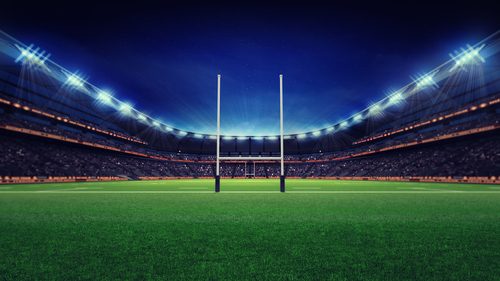 Like many other sports, the NRL has long been plagued by match-fixing scandals.
In one of the most infamous examples, former Canterbury Bulldogs player Ryan Tandy received a criminal conviction and was banned for life from the NRL in 2012 as a result of his conduct in a game against the North Queensland Cowboys.
Alarm bells rang when the TAB reported that 95% of bets placed on the 'first scoring play' in the game were on the highly irregular option of a Cowboys penalty goal.
In the game's early stages, Tandy gifted possession to the Cowboys by dropping the ball and, later, caused the Cowboys to be awarded a penalty near the Bulldogs try line.
The Cowboys kicked the penalty goal and the bet came good.
And last year saw the well-publicised investigation of several regular season Manly games, where dramatic changes to score lines coincided with large bets which seemingly foresaw those fluctuations.
This year, the NRL made an example of West Tigers centre Tim Simona, who was deregistered indefinitely for betting on opposition players scoring against his team.
"Our fans have a right to expect that every player on every team is doing his best to win each game and we will be relentless in dealing with anyone who attempts to breach this trust," said NRL chief executive Todd Greenberg.
"At the end of the day, he has deliberately flouted the laws of the game for his own gain and there is no place for him in the NRL."
Other examples
Numerous other NRL betting scandals have occurred over the past decade, including that involving former brothel owner Eddie Hayson who used inside information that Andrew Johns had injured his neck and would not play for the Newcastle Knights that weekend to place hundreds of thousands of dollars in bets. The bets were placed through a third party, as Mr Hayson was banned from betting at the time.
And in 2014, five NRL players and several officials were punished for illegal betting. Manly Sea Eagles player David Williams was suspended for the remainder of the season after placing multiple bets on his own games. Four other players and nine game officials were also suspended, and three casual officials terminated.
Then there are the numerous incidences of salary cap breaches, leading to a less-than-level playing field between NRL teams.
Indeed, it seems hardly a season goes by without some form of NRL 'cheating' scandal.
Fresh allegations
Now, NRL officials have received reports of players betting on themselves, raising fresh concerns of 'spot-fixing' and sharing insider information with members of the public.
The reports are currently being investigated by NSW Organised Crime Squad Strike Force Nuralda, which has undertaken a number of other investigations in recent years.
While the details of the new reports have not been released, many see the announcement as yet another blow to the credibility of a sport whose popularity has waned since the days that the 'Super League' launched a rival rugby league promotion.
Criminal law
The Australian Crime Commission Report into Organised Crime and Drugs in Sport previously raised concerns about associations between professional athletes and organised criminal identities in Australia.
As a result, new laws were enacted to criminalise corrupt practices in sport.
Sections 193H to 193Q of the NSW Crimes Act make it an offence to engage in a range of corrupt conduct in gambling, including:
'Corrupt conduct' is broadly defined as that which:
Is likely to affect the outcome of any type of lawful betting on any event, and
Does not meet the standard of integrity that a reasonable person would expect of those in the position that affect this outcome.
To establish guilt, the prosecution must prove beyond reasonable doubt that the defendant intended to obtain a financial advantage for themselves or another person, or to cause financial disadvantage to another.
The maximum penalty for most of the listed offences is ten years' imprisonment.
Changes to betting options
In a bid to eliminate corrupt practices, the NRL plans to scrap a number of betting options which can be manipulated by a single player.
Among others, it intends to remove the option to bet on the type of first scoring play, whether a 40-20 will be kicked, how many tackles a specific player will make and which player will rack up the most attacking runs in a game.
NRL spokesman Peter Grimshaw says a ban will also be implemented on betting in the national youth competition.
Receive all of our articles weekly