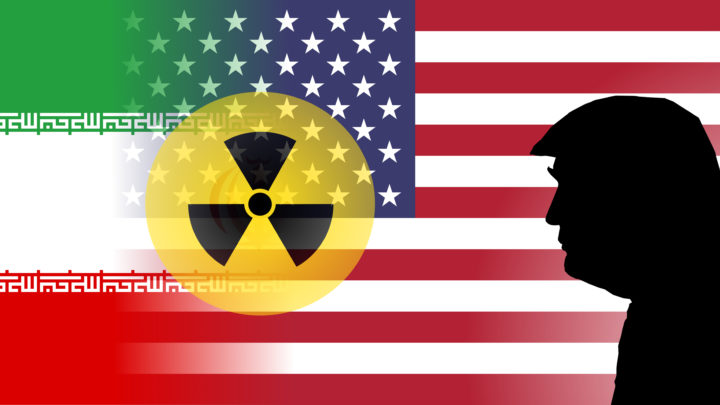 The US killed Iran's most powerful and respected military official last Friday, in a move that has the potential to escalate the Trump-provoked tensions that have been mounting between the two nations into a full-scale war.
Major general Qassem Soleimani was assassinated via a US drone strike at Baghdad International Airport on 3 January. He was the head of the Quds Force, an elite unit of Iran's Islamic Revolutionary Guard Corps, as well as being a renowned veteran of the 1980s Iran-Iraq war.
The air attack also caused the death of Iraqi-Iranian military commander Abu Mahdi al-Muhandis, who was the deputy commander of the Iran-backed Iraqi militias known as the Popular Mobilisation Forces (PMF), which are said to have been instrumental in the defeat of ISIS.
"We took action last night to stop a war," Trump told reporters in a highly ironic moment the day following the strike. "We did not take action to start a war." The US president went onto explain that he'd decided to kill Soleimani, as the general was planning attacks on Americans.
And just to reinforce the "give peace a chance" message, the Pentagon announced it's deploying close to 3,000 additional troops into the region. However, whether this will now occur is anyone's guess, as the Iraqi parliament has since voted to expel all US troops from its country.   
Provoking war
The assassination came a few days after protesters descended upon the US embassy in Baghdad, following American airstrikes against Kataib Hezbollah militia targets in Iraq and Syria on 29 December.
These were reprisal attacks after a US contractor was killed via missile strikes in northern Iraq two days prior. This assault was blamed upon Kataib Hezbollah, which is an Iraqi miltia group backed by Tehran that operates under the state-sanctioned umbrella group PMF.
After the US airstrikes in Iraq, which reportedly killed 25 people, Iraqi demonstrators stormed the perimeter of the American embassy and hurled rocks over a two day period. The protesters withdrew late on 1 January, following a PMF issued order.
Trump promised reprisals over the embassy storming, which is a pledge he seems to have fulfilled with the killing of Soleimani. And just like clockwork, Tehran has vowed to take revenge over the death of its most popular military official.
Maximum pressure
The Trump administration began provoking Iran back in May 2018, when it announced it was pulling out of the 2015 Joint Comprehensive Plan of Action – better known as the Iran nuclear deal – and in its place it would be imposing debilitating sanctions upon the republic.
Commencing in November 2018, the sanctions sent Iran's economy into free fall. Today, the nation is in deep recession. Foreign investment has dried up, oil exports are in decline and US companies are barred from doing business with Iranian ones.
As unemployment rates in the Middle Eastern republic began to soar last year, tensions escalated in the Gulf of Oman in mid-June, when two oil tankers – one from Japan and the other from Norway – were attacked.
Washington was quick to blame Tehran for the bombings, claiming it had used magnetic mines to disable the ships. Although, eyewitness crew accounts described a situation that sounded more like torpedo attacks, than stationary mines exploding.
And the week following the oil tanker incidents, Iran shot down an American surveillance drone eight miles off its coast. The US described the attack as "unprovoked", whereas Iran asserted that the high-altitude drone that had taken off in the United Arab Emirates had violated its airspace.
Deputy Dawg
Meanwhile, back in fire ravaged Australia, prime minister Scott Morrison admitted on Saturday that he was a bit taken aback by the US assassination of the leading military officer. And he added that the Australian embassy in Iraq was in lockdown.
The PM explained he was not privy to the strikes that took out Soleimani, and nor had he been informed about a second US strike that took place north of Baghdad the day following. Targeting Iraqi militia, the second strike took place close to Camp Taji, where 280 Australian troops are stationed.
But, despite Morrison stating that he was aiming for "de-escalation" in the region, it should be noted that following the troubles in mid-2018, our PM committed last August to sending troops to back up the US and the UK in securing the safe passage of oil shipments in the Persian Gulf.
Australia's contribution to the "security mission" initially consisted of sending in one surveillance aircraft last year. But, as of this month, the Australian frigate HMAS Toowoomba will be sent in, along with 177 personnel on board.
Calls for Coalition evacuation
And while the US is planning on sending in more troops, it's civilians are evacuating the region. Last Friday, it was announced that dozens of US citizens working for foreign oil companies were leaving the southern Iraqi city of Basra. And the embassy was advising that all US citizens leave the country.
But, the Iraqi government has different ideas about the US further bolstering its troop numbers in the region, as it voted on Sunday to expel all US troops and those of its allies – including Australia – following the assassination of Soleimani.
Australian foreign minister Marise Payne is currently calling for Baghdad not to throw out Australian troops, or other international forces, as she asserts its essential for Iraq and the Coalition to remain united in the fight against ISIS.
Doubling down
And as the region braces for some form of retaliation from Tehran, Trump has been threatening he will respond to any further escalations by targeting Iranian cultural sites. The US president has tweeted that his nation has 52 such sites on its radar.
The US has also started drafting potential sanctions it could impose upon Iraq if its oil-rich ally decides to go ahead with forcing US troops to withdraw. And Trump has further demanded that Iraq reimburse his nation for billions it has invested into a local airbase.
Receive all of our articles weekly
Author
Paul Gregoire
Paul Gregoire is a Sydney-based journalist and writer. He has a focus on social justice issues and encroachments upon civil liberties. Prior to Sydney Criminal Lawyers®, he wrote for VICE and was the news editor at Sydney's City Hub.