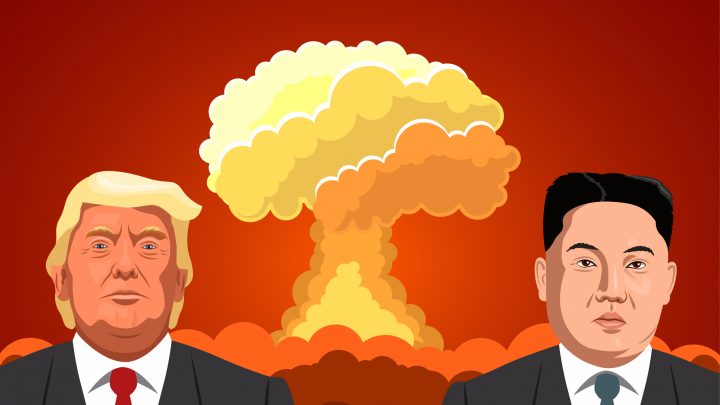 Tensions continue to mount on the North Korean peninsula, as the Trump administration and the regime of Kim Jong-un continue threats to carry out pre-emptive military strikes against each other.
On September 25, North Korean foreign minister Ri Yong-ho warned his nation had the right to shoot down US strategic bombers, even if they weren't over his country's airspace. The minister made the remark to reporters in New York, after a week of UN general assembly meetings.
Mr Ri explained that the threat was a response to a US declaration of war against North Korea. He was apparently referring to a tweet that US president Donald Trump made over the previous weekend.
In the tweet, Trump described Mr Ri's heated UN speech as echoing the thoughts of the "Rocket Man" – his nickname for North Korean supreme leader Kim Jong-un – warning "they won't be around much longer."
The provocative statement reiterated the US president's earlier threat made during a speech to the UN general assembly on September 19. If the United States "is forced to defend ourselves or our allies, we will have no choice but to totally destroy North Korea," Trump declared.
However, what many Americans fail to remember, and what most North Koreans have front and centre in their minds, is that the United States totally destroyed North Korea once before.
A nation annihilated
During the Korean war, the United States dropped more bombs on North Korea than it did fighting in the Pacific Ocean over the course of the Second World War. The military campaign comprised 635,000 tonnes of bombs, with napalm and chemical weapons deployed.
An estimated 3 million people, or 20 percent of the North Korean population, lost their lives. No concern was displayed for civilian casualties.
The US forces completely wiped out most of the cities, towns and villages in North Korea. Eighty five percent of the structures in the country were levelled, according to one study.
In the later stages of the war, US bombers were running low on targets, so they began to destroy hydroelectric and irrigation dams, resulting in the flooding of farmlands and destruction of crops.
The memories of these events may be lost to the US president, but in the isolated country of North Korea, they are kept alive as high school students are taught about the devastation of the conflict, and adults mark the Struggle Against US Imperialism month every year.
Today, North Korea technically remains at war with South Korea and their US ally, as a peace treaty was never signed. On 27 July 1953, the warring nations signed a ceasefire.
Burgeoning capabilities
The North Korean foreign minister's threat to shoot down US bombers came just two days after the US had flown warplanes close to the coast of North Korea. The planes were flown further past the Korean demilitarised zone in the direction of North Korea than any other US mission this century.
The US Air Force claimed the exercise was in direct response to North Korea's recent weapon tests.
On September 3, Pyongyang carried out its sixth nuclear test, which was the most powerful the nation has ever held. North Korea successfully tested a miniaturised hydrogen bomb that can be attached to a long-range missile.
And on September 15, the country launched an intermediate-range missile over Japan. This was the second aggressive test flight over the island nation in less than a month.
These tests were carried out after Pyongyang threatened to launch a missile strike on the US territory of Guam in early August.
Foreign minister Ri remarked during his UN speech that his nation's nuclear weapons program was to counter that of the United States, and that Mr Trump's threat to "totally destroy" North Korea was "making our rocket's visit to the entire US mainland all the more inevitable."
Tightening the screws
In response to the most recent North Korean nuclear test, the UN security council voted to adopt a new US-drafted resolution to impose fresh sanctions on North Korea on September 11. Amongst other measures, the sanctions cap North Korean oil imports and ban textile exports.
This is the eleventh round of sanctions imposed on North Korea in response to its missile and nuclear tests since 2006. On August 5 this year, the UN council voted to impose another sanction designed to cut a third of the impoverished nation's export revenue.
As a result of the latest UN sanctions, Beijing has ordered North Korean companies based in China to cease business within 120 days of the UN decision. China, North Korea's main trading partner, also announced it would be cutting off gas and a limited amount of the refined petroleum it exports to the country.
Denying diplomacy
On Sunday, US secretary of state Rex Tillerson said Washington had direct lines of communication with Pyongyang, advising that his nation was "probing" ways to resolve the escalating crisis.
However, Twitter-happy Trump jumped back online to let everyone know that his colleague was wasting his time with Rocket Man. The president suggested Tillerson should "save his energy," as "we'll do what has to be done."
Australian foreign affairs minister Julie Bishop rejected the US president's approach on Monday, praising Tillerson's diplomatic measures and congratulating the US on convincing China to play a more active role.
This is a turnaround from the gung-ho sentiments expressed by Australian prime minister Malcolm Turnbull in early August, when he told 3AW that if North Korea makes a strike on the United States, Australia would come to the superpower's aid.
A post too far
While many of the threats between the United States and North Korea could be interpreted as mere political posturing, it seems Pyongyang is determined to strengthen its military capabilities to counter US military might.
And while Donald Trump doesn't seem to be able to control himself on Twitter, there are fears his impulsive fingers could trigger another devastating war on the Korean peninsula.
Receive all of our articles weekly