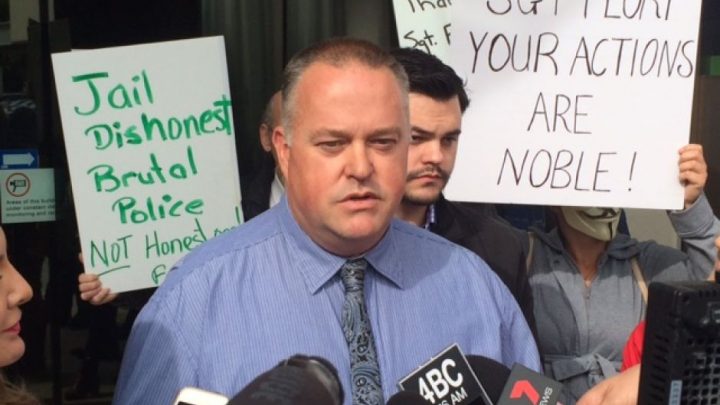 In an open letter to the Queensland Police Service (QPS), former police sergeant Rick Flori has resigned stating he has 'lost faith' in the culture of the force and has 'no confidence' in its management.
The former Gold Coast officer, who had 25 years of service behind him, was suspended without pay after being accused of leaking CCTV footage of the brutal police bashing of Noa Begic at the police station carpark in 2012.
In his resignation letter, Mr Flori described the "gradual slippage" of leadership and declining morale, which he says, is "impacting the way crime is managed, reported and investigated".
"Throughout my employment I have, along with the public, repeatedly heard words such as transparency, accountability, openness and honesty," he wrote.
"…However I am of the personal and educated view that these are important words, that carry significant weight and they are becoming nothing more than rehearsed rhetoric."
"I have witnessed more time, effort and money being directed toward covering up various indiscretions, rather than it being utilised to correct poor culture and break the cycle of the irresponsible use of power and resources."
'Torment by the QPS'
Mr Flori also explained his own treatment at the hands of the QPS.
He has steadfastly maintained his innocence since being charged with misconduct in a public office over the alleged leaked. Many have leapt to Mr Flori's defence, expressing the view that even if he were guilty of leaking the footage of brutality (which, again, Mr Flori denies doing), he should be commended for bringing the crime to light, rather than criminally prosecuted.
The battle been a battle played out very publicly in the media with allegations of cover-ups and 'cops protecting their own'.
Mr Flori has been the recipient of anonymous death threats which have contributed to his declining mental health.
The battle continues
Last year, a Southport Magistrate found that Mr Flori has a case to answer, and that there is enough evidence for the QPS case against him to proceed to a jury trial.
In the meantime, Mr Flori is fighting another battle against the QPS after it allegedly leaked his private information to the media.
Mr Flori's legal team has asked the Court of Appeal to overturn a previous decision, which found the QPS had not breached the Information Privacy Act. The lawyers are arguing that the QPS had an obligation to protect against the "disclosure or loss" of their client's private information. The appeal continues.
He has also launched a civil claim in the Brisbane Supreme Court, signalling the beginning of his lawsuit against the Queensland Police Service (QPS) for "whistleblower reprisal", seeking seeking $1 million in damages for loss of reputation and loss of wages, plus $300,000 for lost superannuation.
Hope for the future
In his letter of resignation, Mr Flori explains that: "The torment by the Queensland Police Service for almost six years has left me with no other choice but to pursue other opportunities to serve the community, knowing I am doing the right thing."
Two months ago, Mr Flori announced his plans to run for Parliament as an independent candidate for Southport, despite the looming proceedings against him and related legal battles.
He has been committed to stand trial on the misconduct charge. If found guilty, he faces a maximum penalty of seven years in prison.
Meanwhile, his support amongst the community continues to grow – and for good reason – with many pointing out that we need many more 'good cops' like him.
Receive all of our articles weekly
Author
Sonia Hickey
Sonia Hickey is a freelance writer, magazine journalist and owner of 'Woman with Words'. She has a strong interest in social justice, and is a member of the Sydney Criminal Lawyers® content team.