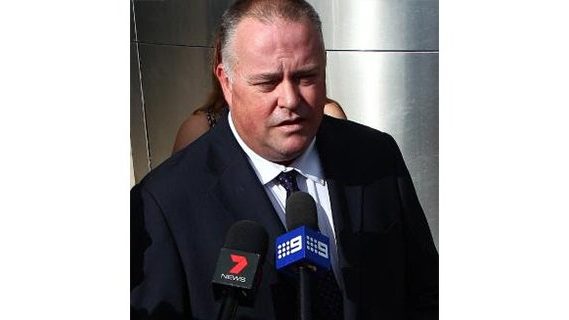 Former Queensland police sergeant and alleged whistleblower Rick Flori has announced plans to run for parliament in the upcoming Queensland state election.
Mr Flori is forging ahead with plans for his future, despite the looming threat of imprisonment over allegations of misconduct while he was a member of the Gold Coast police service.
Mr Flori was suspended after serving as an officer for 25 years and is fighting to clear his name, after being accused of leaking CCTV footage of the brutal bashing of Noa Begic in the carpark at the Surfers Paradise Police Station, an accusation he vehemently denies.
The leaked footage shows Mr Begic, who was arrested earlier that evening on allegations of public nuisance and obstructing police, being dragged by several officers, punched several times and thrown to the concrete floor while handcuffed.
As Flori mounted efforts to seek justice for himself, there have also been allegations of a cover-up by the police service, with many asking why the assaulting officers have largely gone unpunished.
It has been reported that one of the officers, David Joachim, is related to Queensland Police Commissioner Ian Stewart. Mr Stewart was the Deputy Police Commissioner when the bashing occurred in 2012, and became the state's top cop later that year.
In September, Mr Flori was committed to stand trial on the misconduct charge, with a mention date set for November 2. If the trial goes ahead and he is found guilty, he could face up to seven years imprisonment.
Section 92A of the Queensland Criminal Code makes it an offence for a public officer, including a police officer, to release information obtained as a result of his or her office, or to perform or fail to perform a function of office, or to make an omission in abuse of the authority of office.
To be found guilty, the prosecution must prove that the act was done with the intention of dishonestly gaining a benefit for themselves or another person, or dishonestly causing a detriment to another person.
Controversially, the law applies to police officers who release evidence of corruption, assaults and other crimes committed by their colleagues.
Defiant in spite of the upcoming case, Mr Flori announced on a Facebook page that he would run as an independent for the seat of Southport, on the Gold Coast in Queensland.
"As my past has shown I don't always follow the crowd", Flori stated.
"I don't follow and don't need to follow any particular party line or party policy."
When asked about the policies of his campaign, Flori mentioned government transparency, domestic violence and crime as areas he would fight to change.
The brave former officer has been fighting to clear his name for the past five years. It's been a struggle played out in the media, and has involved protracted legal proceedings and even death threats to the former cop. Flori has always maintained his innocence and has thousands of supporters around Australia.
Earlier this year, the former officer lodged a civil claim in the Brisbane Supreme Court, signalling the beginning of his own lawsuit against the Queensland Police Service for "whistleblower reprisal".
Court documents reveal the claim for $1.3 million alleges loss of reputation, professional damage and humiliation.
Receive all of our articles weekly