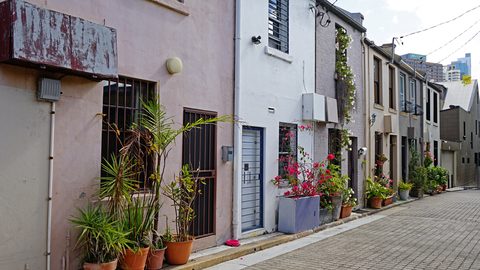 The Department of Family and Community Services (FACS) issued a letter to inner city public housing applicants on February 28, explaining that they'll be banned from certain housing estates if they were convicted of, or even charged with, drug supply or manufacture in the last five years.
The Inner City Local Allocation Strategy applies to public housing estates in Redfern, Waterloo, Surry Hills and Glebe.  When applicants receive a public housing offer, they'll now have to undergo a criminal record check conducted by NSW police.
The FACS letter states that the year-long trial is designed to make public housing "safer by reducing drug-related crimes and incidents of anti-social behaviour." NSW social housing minister Pru Goward told the ABC it will "reduce temptation" for drugs in estates, which have become "real honeypots."
However, experts outline that the strategy will merely shift the problem elsewhere, extending punishment to offenders who've already served their time, or have been charged and found not guilty, and that it focuses on punishing drug-related crimes when the call for a different approach to illicit substances has become deafening.
Prison increases the risk of homelessness

"These kinds of policies simply displace complex social issues," Community Restorative Centre program director Dr Mindy Sotiri explained, "they don't actually do anything to address them." Her organisation assists offenders post-release, so she's well aware of the issues they face.
"The reality is that people who have criminal convictions and contact with the criminal justice system are at heightened risk of homelessness," Sotiri said, adding that homeless people are overrepresented in gaol, and those who've been inside are at greater risk of becoming homeless.
Indeed, in her reckoning the Berejiklian government's new strategy is counterintuitive. "Stable housing in a community is essential in breaking entrenched cycles of criminal justice system involvement," Dr Sotiri told Sydney Criminal Lawyers®.
"If we were to be very pragmatic about reducing crime," she continued, "we would look to expanding the housing options open to this population, not limiting it."
The tough on drugs approach
At a time when former Australian police commissioners and heads of corrective services are calling for a different approach to drugs, the NSW government's new strategy is not dissimilar to the same tried and failed drug war tactics the federal government wants to rely on.
The Turnbull government is still pushing plans to trial quarantining the welfare payments of recipients who test positive to drugs. Despite briefly dropping the proposal due to widespread criticism last year, the Coalition currently has a new welfare drug testing bill before the lower house.
Australian Drug Law Reform Foundation president Dr Alex Wodak said that for fifty years authorities have been experimenting with varied approaches to punishing "people with a minority taste in drugs," yet "drug markets have continued to grow and become more dangerous."
And according to the doctor, it's high time to lend assistance to these people, rather than penalise them. "Many people who use drugs also sell drugs," Dr Wodak explained. "So, trying to think up new and harsher ways of punishing people might be clever gesture politics, but it's dumb policy."
Increasing the harms associated
It's likely the public housing program "will have no impact on drug supply, but will exacerbate drug-related harm," the Dr Wodak said. Many of the dangers associated with drug use these days are caused by their criminalisation and heavy-handed law enforcement approaches.
The long-term drug law reformist points out that "if government's want to reduce the demand for drugs they need to make young people feel more confident and optimistic." If issues like affordable housing and wage stagnation were addressed, "demand for drugs would probably decline."
"Stigmatising and discriminating against people who use drugs hasn't worked," Dr Wodak declared. "Let's try education, training and employment."
Sweeping it under the carpet
Minister Goward defended her government's new policy against the criticism that it will simply shift the problem to other areas. "It's rubbish to say this will move the problem to other parts of NSW," because these applicants will be eligible for housing in other areas of the inner city, she said.
However, this policy approach will move the problem into other city areas, rather than addressing its underlying causes.  And it smacks of a recent approach the state Coalition government took to another social issue that merely succeeded in moving the problem on.
As the number of rough sleepers at the Martin Place homeless camp grew last August, the Berejiklian government failed to implement any long-term housing options. Instead, it passed a bill providing police with the power to move these people with no fixed address on.
And many of those who'd been pushed out of the CBD mall ended up sleeping beneath the arches in Glebe's Wentworth Park, only to be similarly told they had to leave in mid-October by FACS officers, who only made offers of temporary accommodation options as an alternative.
Punishment that never stops
Dr Sotiri warns that the state government approach could have further dire consequences. "The new strategy is a troubling policy precedent for Australia," she remarked. "We have managed to avoid the policies of perpetual punishment adopted so wholeheartedly in the United States."
The program manager explained that perpetual punishment is a system whereby offenders who have already been dealt with by the criminal justice system are then subjected to "ongoing, and sometimes life-long, penalties."
"In many states in the US, perpetual punishment relates to almost all areas of civic participation," Sotiri continued. This means a criminal record can lead a person to being prohibited from accessing public housing, employment and social security benefits.
A 2013 paper published in the journal Cityscape found that public housing restrictions placed on people with a history of alcohol or drug use, or a criminal record, actually create barriers for entire households that include an individual affected by the prohibition.
Dr Sotiri added that in some US states where perpetual punishment measures are in place, they've been shown to actually increase crime and incarceration. "People should have their criminal matters heard by the courts, and their punishment determined by the courts," she made clear.
"Criminal justice system involvement should never form the basis on which we determine the legitimacy or otherwise of someone's social and welfare needs," she concluded.
Receive all of our articles weekly