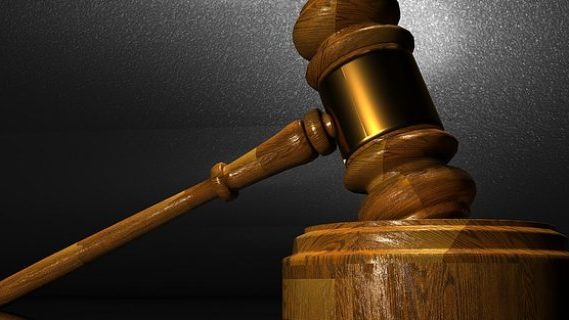 CCTV, selfies and mobile phone recordings are at the centre of a Queensland murder trial this week.
A Supreme Court jury is deciding the fate of a Gold Coast man on trial for murder after his Tinder date plunged 14 floors to her death from his apartment balcony.
During the course of the trial, the jury was shown more than 40 minutes of security camera footage of the night that Warriena Wright died. They also saw a number of selfies and SMS recordings which shed some light on the events of the fateful night.
The case that's unfolding…
Ms Warriena Wright and Mr Gable Tostee met on the popular dating app, Tinder.
Wright, from New Zealand, was on holiday in Australia attending a friend's wedding when she decided to meet up with Tostee.
CCTV footage shows the pair awkwardly hugging when they meet in Cavill Mall, a famous night club strip in Surfers Paradise, at about 8.45pm on August 7, 2014.
Various public and private CCTV cameras capture their every move as they walk into a nearby tavern, then leave a few minutes later, stopping at a bottle shop along the mall. Cameras inside the shop capture Ms Wright placing a six pack of beer on the counter, before Tostee pays for the drinks.
They are then seen continuing to walk along the mall to Avalon Apartments, where Tostee lived alone.
The last sighting of Ms Wright is when she gets into a lift at the apartment complex with Tostee. The building footage then skips forward to 2.23am the following morning, when Tostee, neatly dressed in a collared shirt and pants, is seen getting out of a lift.
He returns moments later and takes the lift back down to the car park, where he is seen leaving the building.
Pizza stop
For the next hour and a half, CCTV in Cavill Mall captures Tostee walking in circles. Shortly after 3am, he is seen going into a Dominos pizza store, then sitting on a bench and eating pizza.
In audio played to the jurors, Tostee is heard to call his father.
"Hello Dad, I might have a bit of a situation… She kept beating me up and whatever and, um, I locked her out on the balcony and I think she might have jumped off."
"There's a million cops around my building, I'm f***ed. I don't know what to do."
"I didn't cause this, I didn't push her or anything. I'm just walking around the area and there's a million cops around the area."
Ms Wright died of extensive head injuries when she fell after attempting to climb to another balcony.
Tostee's downstairs neighbour testified in court that she was woken by something that sounded like furniture being thrown around the apartment above her, before hearing a panicked woman crying, "No, no, no".
She opened her balcony door to see Ms Wright's legs dangling before her, then watched in horror as she fell to the driveway below, clipping the balcony rail during the fall.
Is Tostee responsible?
Mr Tostee alleges that Ms Wright was "beating him up" shortly before she climbed and fell to her death.
In a recording he made on his own mobile phone as the date was unfolding, Tostee can be heard saying:
"You've worn out your welcome you're not my kind of girl. That's enough, alright? "
"This is f**** . You're lucky I haven't chucked you off my balcony you Goddamn psycho little B****."
Wright had allegedly been throwing ornamental rocks at Tostee.
The audio runs for three hours, and there are times when Ms Wright sounds very drunk-Tostee admitting giving her too much to drink.
Eventually, Tostee locks Wright out on his balcony.
What the jury must decide
While there is no allegation Tostee pushed Ms Wright from the balcony, the Crown alleges Tostee is responsible for her death because his actions – including "threats and intimidation" – made her fear for her safety, giving her no other option but to try to escape by climbing down from the balcony; which is enough to convict him of murder.
Tostee's defence team is arguing that any alleged culpability ended when he locked the balcony door, saying he was within his rights to restrain her to protect himself.
Tostee's criminal defence barrister, Saul Holt QC has told the jury its job is to decide whether what happened amounts to murder, manslaughter or neither.
"The right answer," Mr Holt submitted to the jury, "is neither", arguing his client's actions did not cause Ms Wright's death, as she had the option of simply staying put rather than taking it upon herself to engage in the risky behaviour of climbing down the building.
The trial continues in Brisbane, with Tostee facing the possibility of life behind bars if he is convicted of murder.
Receive all of our articles weekly