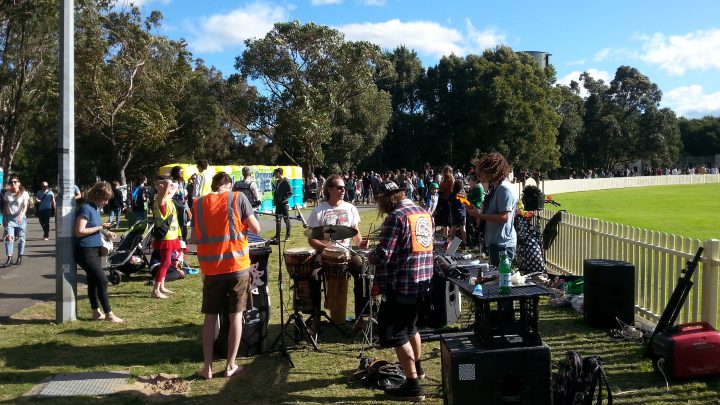 On the first of this month, around 2,000 revellers converged upon Sydney Park to party at the latest Reclaim the Streets event.
Dressed in an array of quirky clothing, attendees gathered around the seven sound systems stationed in the park to show solidarity with the Westconnex protesters, who'd been camped out for two weeks.
The movement
Reclaim the Streets is always a colourful event. Usually a crowd meets at a park, then marches through the city to an undisclosed destination – often a closed off street – and the party continues on into the evening.
The movement that originated in Brixton, London in 1991, was formed by a group called Earth First. And just as its name suggests, a reclaiming of roads and streets, areas that are usually occupied by traffic.
The first actions were specifically anti-car events with a focus on alternative modes of transport. But in later years, the movement broadened its scope and started taking aim at other issues.
Sydney protests
Last year in Sydney, Reclaim the Streets held a protest march through Kings Cross, which ended up in Taylor Square.
Its aim was to draw attention to the impact of the Baird government's lockout laws on Sydney's nightlife.
Another called Keep Newtown Weird was aimed at combating the increasing homophobic and transphobic violence in Newtown, since the advent of lockout laws.
The old days
Sydney has always been the heartland of Reclaim the Streets in Australia. The first event occupied the intersection at Enmore Road and King Street, Newtown on November 1, 1997.
And while the events have always been non-violent direct actions, there were moments in the early years when things got a little out of hand.
In 2004, a march that converged on Erskineville Road, Erskineville was met by a heavy police presence.
Officers tried to move protesters off the street and, when some refused by sitting down, police ran their horses into the crowd.
The protest party
What makes Reclaim the Streets unique is that it's a protest/party, combining a political statement with a good time.
It has its origins in the dance music culture of the 90s and American author Hakim Bey's concept of the Temporary Autonomous Zone (TAZ).
"The TAZ is like… a guerrilla operation which liberates an area (of land, of time, of imagination) and then dissolves itself to re-form elsewhere before the State can crush it," Bey wrote in 1991.
Ivan Crozier is a coordinator of the Sydney Reclaim the Streets collective. He's been involved since the second wave of the movement began in 2014.
We spoke with Ivan about what the collective is trying to achieve these days.
What is Reclaim the Streets?
Reclaim the Streets is a global political movement, which started in the UK, but isn't coordinated globally or anything like that.
It's just a bunch of like-minded people, who form local collectives to put on protest/parties, which often involve overtaking public spaces like streets, in order to bring attention to particular issues.
Typically these issues are things like the environment, public transport and criticisms of corporate culture. But sometimes they're more directed towards local issues.
Reclaim the Streets is a protest, but it's also a party. Can you tell me a little more about the idea behind joining these two usually divergent events together?
Well, certainly the main aim of Reclaim the Streets is political. It's a political protest, but we do so by using the party as a political vehicle, if you like, and putting the two together.
It has a number of effects. One is that usually the things we're protesting against are very negative, either environmental catastrophes or homophobic violence, all those sorts of things.
And we want to respond, not by being militant in return, but instead by being positive in return. By getting together people as a community, letting them enjoy themselves, but in a way that has a political aim, to bring attention to these issues.
So in many ways, it's a form of non-violent direct action as well.
And how would you say a protest that includes music and dance differs from your usual rally? What do these elements add?
One thing it does is it brings people together and allows them to enjoy the space and themselves. It's not us standing up the front giving them lots of speeches about what we think they should think.
We're giving them the opportunity to experience being in social spaces in a different way than they're used to.
Lots of people sit in their cars listening to music. We think we give them an opportunity to go into the streets and dance together and experience it in a very different kind of way.
What type of people would you say Reclaim the Streets attracts?
It's pretty various. I mean we encourage people to be sort of wild and dress up and that sort of thing. So it encourages a lot of people who like to do that.
But, I mean we have a kids' space there, so people are happy to bring along their children. Sometimes for example at the lockout laws one we had in October 2015, there were heaps of kids there playing.
But then on the other end of the spectrum, we get lots of older people, even older than me. In the collective the range goes from people in their early twenties to people around their fifties. And some people who actually help out are in their seventies.
So it's a very wide group of people who get involved.
So it's basically about reclaiming roads and streets, spaces that are usually occupied by cars. But over the years you've also taken aim at other issues. Can you outline some of these?
When we talk about reclaiming the streets, we don't just talk about it in terms of the physical sense of the street, or the road or the highway. We're instead trying to use streets in the metaphorical sense: reclaiming the community, reclaiming public space.
So yeah, quite a few of our protests have been directed towards things like Westconnex, but we don't just want to focus on those sorts of things.
We also include being in the street, as being safe in the street. So for example, we put on one against homophobic and transphobic violence, which seemed to be on the increase in Newtown quite recently. And we did that in response to a particularly violent attack.
But in addition to that, we want people to be able to think about using that public space in ways which are different to how we have dictated to us and the ways that it's being controlled put down on top of us.
Your most recent event was supporting the protestors at Sydney Park, who were fighting against the encroachment of the Westconnex tollway project. How did it go? And why did you decide on this issue?
We've done more than one event with regards to Westconnex. The Campbell Street one we did in 2014 was focused on Westconnex as well, and we've done a few other things, which were much smaller in regards to that.
But we were very happy with the way it went. It brought a lot of people in contact with the camp.
The camp had more visitors than it had ever had. It had more people volunteering to do shifts there. And it has become more important recently, since last Friday when they actually started cutting down the trees in some sections of the park.
It gave us a media presence. It gave the Westconnex Action Group (WAG) an opportunity to be in the press again. Jenny Leong came to speak on this issue again. So she's been circulating Greens networks. So I think in terms of publicity for WAG, it was very good.
And for us it was a fantastic event, because there was a lot of policing of an Aboriginal football game that was happening on the same day. There was a very low police presence at the park, but I think we showed we can put on a very successful event with absolutely no problems. We left the park clean. Had no complaints. The police dropped in once and were very happy with us. And that was it.
Last year, you organised a march to protest the Baird government's lockout laws. Can you tell me a bit about what the collective's view is on the current state of Sydney nightlife?
We think it's in an appalling condition and it seems to be getting worse. When I went to the UK in 2000, Sydney was a very different city to the one I came back to.
I came back to a city that is heavily policed with drug dogs on the streets and at railway stations. There's a huge police presence. The way they react to protests and that sort of thing is very heavy-handed.
When we came back here the lockout laws weren't in place yet. A lot of my friends are musicians, DJs and performers and they've been incredibly affected by this. The way that Mike Baird imagines Sydney should look, I mean, even cities like Singapore have more relaxed rules, it's ridiculous. I've lived there as well and it was possible to go out to clubs until four o'clock or later.
We think this government's being very strangely restrictive. What it's doing basically is seemingly shutting down the gay areas of Oxford Street for redevelopment. So getting out the people who live there, in the same ways they've got out other groups, when they want to redevelop those areas. So I think that's what's happening.
It's all about redevelopment?
It seems that Mike Baird's basically a flunky for development interests.
Reclaim the Streets has been around since the 90s. But it disappeared for many years. There was a revival in 2014. How did that come about?
I came back here in 2012. And not long after that I went to a Reclaim the Lanes party that was put on by some friends. And that party sparked a lot of people's interest in actually going back to Reclaim the Streets, because NSW was in a lot of trouble.
We could see there were development interests crouching in on all angles. Suburbs that we were living in were basically being transformed into soulless monstrosities.
We thought that we had to respond to this in some way. And I think it was an opportune moment, because since we've been involved in this, there seems to have been even more pressure put on protesting, with those laws being developed.
And it's increasingly allowed us to let people who have had no sort of politics in their life, actually get a little bit more interested in things because they can come to a protest, which is pretty low level.
It's not supposed to be a dangerous, risky activity. We're not aiming for the police to be heavily involved or anything like that. We just want people to feel like they've got a voice.
In the democracy we live in, people are increasingly feeling disenfranchised. You vote for one thing and it never ever happens, so it's one of the few opportunities where people can go into a public space, take it over, do what they want to do in that space and then leave.
And lastly, what's next for Reclaim the Streets? When's the next party going to happen and what will be the focus issue?
We're meeting tomorrow to evaluate how the last party went. And to think specifically what our next task is going to be.
We've got a few issues in mind that may or may not get attention from us. Things like the Safe Schools project, because we think that leads to safe streets. So reclaiming the streets from that sort of violence, is one thing that a number of us are keen on doing.
Our issues are usually to do with social space and its use, to do with the environment, how roads work and what other alternatives there are. It's all about imagining alternatives.
Thanks very much for this Ivan and good luck with the next party.
Great. Thanks very much.
Receive all of our articles weekly