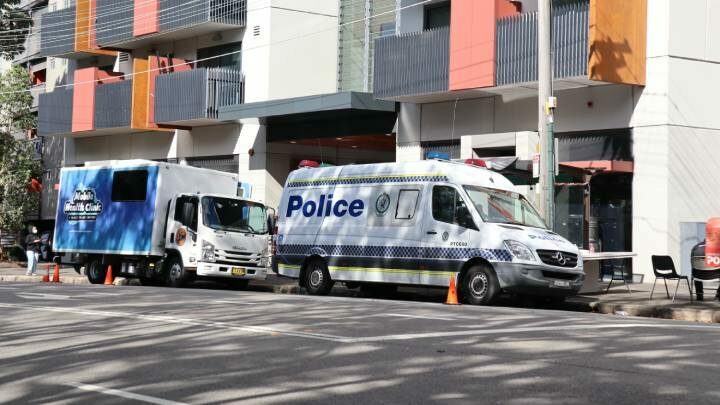 Residents in Mission Australia's Common Ground Facility in Camperdown are having care parcels that they've been sent from families and friends opened, searched, and items confiscated.
The residential tower was placed into lockdown earlier this month after four residents tested positive for Covid-19. The strict lockdown means that no one is allowed to leave the building.
Friends and families have been sending care packages that are being intercepted by NSW Health.
Items confiscated
According to residents, NSW Health has confiscated bottles of spirits and large quantities of alcohol from residents in an attempt to limit the number of drinks they have each day.
Residents are now allowed to receive a "ration" of one of the following per day: six beers or pre-mixed drinks, one bottle of wine, or one 375ml bottle of spirits.
"They are searching all bags and things coming into the building… They confiscated a series of gifts," one resident told media.
NSW Health says the limiting the amount of alcohol consumed aims to "ensure the safety of health staff and residents".
NSW Health argues it's for resident safety
Anyone who thinks that democracy is alive and well in New South Wales, really needs to think again. Welcome to the new political regime: 'Heath Authoritarianism' under which the Government makes decisions on behalf of individuals for their own perceived 'health and safety.'
The actions of NSW Heath intercepting and confiscating other people's property should send shivers up the spine of every single Australian, because this country is classified as a liberal democracy.
Under the democratic freedoms this country was founded upon, and which it has fought for over the years, people have free will, freedom of choice.
And yet, the Berejiklian Government is continually eroding those freedoms under the guise of "health" and "safety."
This is a very dangerous strategy, particularly because as Delta case numbers keep rising, this strategy keeps evolving, slowly taking away basic, fundamental human rights and removing individual responsibility.
Constantly raising the bar to 'freedom'
The New South Wales Premier originally suggested several months ago as Delta was becoming problematic for Sydney that lockdowns would be eased at 70% vaccination rates and the state would begin opening up. Gladys Berejiklian then changed that number to 80%.
Now the number 85% as the desired vaccination rate is slowly creeping into her daily press conferences. Vaccination rates have been climbing steadily since the vaccination became more widely available in New South Wales, without Government intervention in the form of coercion disguised as 'incentives.'
The plan to re-open the country has long been mooted to be reliant on contact tracing even after we hit a mass target of vaccinations, and most people have come to terms with that.
But now in NSW there are plans underway to link contract tracing to a vaccination passport that allows people to go to the movies, or the pub.
At a Federal level when vaccination passports for international travel were being discussed, the cabinet was divided on the use of them nationally, worried they would discriminate against Australians who choose not to be vaccinated.
Yet, as we all know, pandemic management is the responsibility of state leaders and the Berejikllian Government keeps pushing on, changing targets, adding more public health rules, continually reviewing the dates to end lockdowns around the state. Although there is no hoping that Prime minister Scott Morrison will step in, he's all for a passport and for vaccinations to be as "mandatory" as possible, which is what he said when jabs were close to becoming available.
And this week Gladys Berejiklian went a step further, beginning a "name and shame" strategy, singling out several suburbs in Sydney that haven't yet met the NSW Government's desired vaccination rates.
Where does it end?
We are not alone. Around the world, the Covid-19 pandemic has handed governments a political weapon, some commentators have even called it a "dictator's dream".
In recent weeks we are beginning to see legal challenges to some of the decisions being made in New South Wales. It's disgraceful to think that this is the only sensible avenue left for people who want to preserve their freedom.
Receive all of our articles weekly