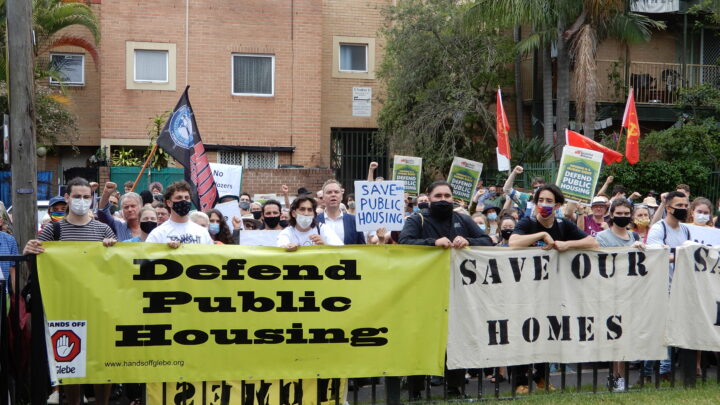 In November 2020, NSW housing minister Melinda Pavey informed residents of the Franklyn Street public housing complex in Glebe and the Explorer Street public housing estate in Eveleigh that their homes are slated for demolition to make way for high-rise apartment blocks.
In a pattern that's increasingly occurring across the Sydney metropolitan area, the residents were informed that new private residential developments were going to be built on public land, which will include 30 percent social housing apartments.
Public housing differs from social housing, in that public housing is run by the Department of Communities and Justice, while social housing is administered by a not-for-profit, regardless of whether its ownership is maintained by the state or a private entity.
The government line on why this is advantageous for public housing residents is they'll be receiving new homes. However, the reality is that the new high-rises replacing the low-rise estates won't simply appear overnight, and residents will need to live elsewhere during the construction stage.
Public over social
A number of demonstrators at the Save Our Homes rally – which took place alongside the Franklyn Street estate in Glebe on 30 January 2021 – remarked that it was encouraging to see so many people turn up at a public housing rally.
Maritime Union of Australia (MUA) Sydney Branch secretary Paul Keating told the crowd that they "shouldn't be fooled by the notion of social housing… because it's the purging of the responsibilities of government" via the "contracting out of social services to nongovernment organisations".
Keating further warned that with the coming of social housing, rents are likely to rise. And he added that in stark contrast to public housing, those operating social housing units are less likely to make allowances for vulnerable residents when they fall on hard times.
NSW Greens MP Jamie Parker spelt out that the privatisation model means 70 percent of public land is given over to the private sector. And while the social allocation involves more units than the current number of public flats, the new ones will have less rooms and significantly less residents.
A fight that can be won
The Glebe public housing estate under threat is situated right next to the Broadway Shopping Mall. It's only 30 years old, and it includes a range of garden areas, which are supposed to be replaced by roads. And the buildings received an architectural award following their construction.
Hands Off Glebe secretary Emily Bullock has been living in the estate on the Bay Street side for the last three decades. And the 68-year-old artist makes clear that the sense of community that currently exists within the complex will be lost if three high-rise apartment blocks replace it.
Sydney Criminal Lawyers spoke to Ms Bullock about where the residents are expected to go while the new apartments are being constructed, what the housing minister has failed to fill them in on, and why the government is so set on destroying public housing.
Emily, back in November, you and the other residents of the Franklyn Street public housing estate were given notice that the complex has been slated for demolition and redevelopment.
It was a "Dear Resident" letter. I wouldn't call it notice. It was like being informed.
So, this involved the Glebe residents, along with the residents of the Explorer Street public housing estate in Eveleigh, being given two years notice?
Two year's warning. I wouldn't call it notice.
This is going to impact every resident, but it will also impact everybody in NSW, because the state government is basically passing valuable land directly on to developers.
This redevelopment is going to involve the construction of privately owned residences, but there will also be some social housing allocations as well.
Yes. They say there's going to be 30 percent social housing.  At present, there are 108 flats in the complex. They say they're going to replace them with 131 studio, one bedroom and two bedroom apartments.
But currently we have two, three and four bedroom apartments. There are only about four studio flats.
So, they're removing lots of bedrooms. They're saying it's more. But it's actually less, because there are fewer bedrooms. It will house fewer people.
The estate is currently public housing. But the private towers will instead incorporate social housing. What will this mean?
This means that the government is handing the housing over to a private provider. We don't know who these housing providers are.
We don't know if the board is being paid one million dollars per person, or whether they're voluntary. The housing providers are undefined.
So, you're being offered some of the social housing. But the construction of the new apartments will take some time. Where are residents expected to go in the meantime?
I have no idea. That hasn't been discussed with me. In fact, on the radio last night, housing minister Melinda Pavey said that we have all been informed and she had sought our advice.
We have not been informed. We have not received any advice. We have not been told what's happening. We are all vague on the details.
But we do know that the people who were moved out of Cowper Street public housing about 10 years ago, some of them were moved into our complex and they're being asked to move again.
We also know that the new housing development on Cowper Street is being maintained by Bridge Housing.
They pulled down 134 public housing flats, of which many had three bedrooms. And the new buildings are eight floors, which would mean only one or two bedrooms apartments.
So, some of the former public housing tenants, who are now Bridge Housing tenants, are in the block on the corner of Elger Street and Bay Street.
So, what's Hands Off Glebe calling for in regard to the Franklyn Street estate?
Our building should be refurbished. It doesn't need to be torn down. It's only 30 years old. It's basically a sound property.
The department has closed the parking for it. So, for the last 30 years, they could have leased that to Wilson Parking. But there are 50 parking spots behind locked gates. They could have been getting money there.
The finance of this redevelopment is irregular. They've said that they're going to spend $1.9 billion on our property and the property in Eveleigh. But where's that money going?
And lastly, Emily, there's a lack of public housing in NSW, so why is the government going to tear down some of it, especially when it's completely functional?
The government seems to dislike public housing. It wants to convert it all to social housing.
The important thing is it doesn't take anybody off the waiting list – absolutely nobody off the waiting list.
There are 50,000 public housing applications, so some of those applications would be four, five or six people. It doesn't say. They're just applications.
People with families have to wait 10 to 15 years for a house. This won't solve their problem, because they're just making small sterile units.
Please sign the online petition calling on NSW housing minister Melinda Pavey to halt the demolition of the Glebe and Eveleigh public housing estates.
The next rally calling for a halt to the demolitions – Save Explorer Street – is being organised by Friends of Erskineville, and it will be held at the Explorer Street estate in Eveleigh at 12 pm on 13 February.
Receive all of our articles weekly