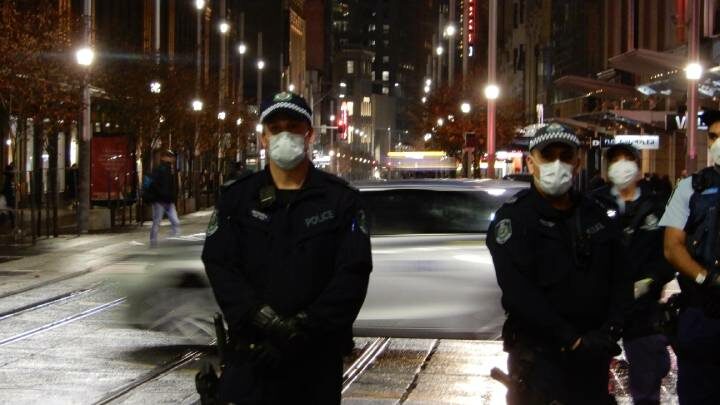 Just so we're all clear, a virus is an infectious agent that only replicates itself within the cells of living organisms.
A virus is too small to be seen under a microscope. And it can't be chased down, arrested, placed in the lockup at the Surry Hills Police Station, or denied bail by a NSW magistrate.
So, when NSW police commissioner Mick Fuller explained during a budget estimates hearing on 1 September that, in relation to COVID-19, his force is "treating the virus itself like a criminal", it seemed a little odd.
The top cop added that as he's treating this tiny biological entity that's spread across the entire globe like a human who's broken the law, "therefore, wherever the virus is, you will see an increased police presence".
But the truth of the matter is COVID isn't a criminal and it doesn't abide by human-imposed laws.
So, it would seem that more to the point, the commissioner is actually saying his officers are treating people who are infected by COVID-19 or have the potential to be infected by the virus as if they have done something illegal.
Indeed, one only has to think back over the past 18 months, with the heavy police presence on the streets, checking IDs and handing out penalty infringement notices, to come to the conclusion that in the COVID-19 pandemic era, we are all guilty until proven uninfected.
Australia's most wanted
The onset of COVID policing commenced in March last year, as the first strain of the COVID-19 virus arrived on Australian shores. And to be fair, it's not just the commissioner who considers the virus a police issue, as the NSW premier placed Fuller in charge of the entire state response back then.
Since 26 March 2020, NSW police has been empowered to hand out steep COVID noncompliance fines. It was then announced that 70,000 officers were being deployed to enforce restrictions. And the NSW police minister David Elliott stated that, "We need to kill this virus before it kills us."
But as UNSW senior law lecturer Dr Vicki Sentas told Sydney Criminal Lawyers last month what the preemptive policing approach taken to the virus in the initial three months of the pandemic resulted in, was an escalation in the prejudicial targeting of people based on race, class and gender.
And while NSW saw an end to the first less aggressive strain of the COVID-19 virus around the end of May last year, the state somewhat complacently wandered into the current second wave of the pandemic, with the much more transmissible and problematic Delta strain of the virus.
Escalating virus activity
As Fuller further told the budget estimates hearing last week, the approach the NSW Police Force has taken to this more severe version of the virus has been to ramp up the number of fines officers have been handing out.
Between March 2020 and April this year, NSW police issued 2,900 pandemic fines, while over the six weeks to the beginning of September, Fuller estimates that around 18,000 penalty infringement notices have been issued to individuals that could possibly be infected by the "criminal" virus.
And if you go back 10 weeks ago to 8 July, NSW police began a high visibility crackdown on southwestern Sydney, as the fugitive virus made its way out there. Police numbers were upped, the army was deployed, and a curfew was put in place, but rather than succumb, COVID only grew.
This has seen Sydney split in two, as the southwest and now western Sydney are subjected to a heightened policing operation, which, again, sees police prejudices at play, as the populations subjected to overpolicing are multicultural and of a lower socioeconomic standing.
However, over Fuller's cited six week period, the daily case rates have increased ten-fold. On 21 July, NSW premier Gladys Berejiklian announced 110 new cases within the community, while, on 1 September, there were 1,116 new COVID infections.
So, it would seem the escalation in COVID policing, with its accompanying fines, isn't having the desired effect.
Carte blanche on the virus
The onset of COVID-19 with its potential to wipe out large numbers of people is unprecedented in living memory. And many residents are fearful for their lives.
So, the criminalisation of the entire community – which is heightened for some areas – is only serving to increase the anxiety of all.
As the presence of the Delta variant continued to rise despite the heavy policing, the NSW Police Force launched Operation Stay at Home on 16 August, which entails the enforcement of expanded and ambiguous public health orders which were drafted by the police force itself, more army troops and the hiking of some fines to $5,000 in an obvious attempt to hit people where it hurts.
It's important to note that failing to comply with a public health order is a criminal offence, carrying a prison sentence of up to 6 months – and that police officers enjoy full discretion regarding whether to issue a suspect with a fine or send them to court to face criminal prosecution.
Days after the launch of Operation Stay at Home, an internal NSW police video emerged of Fuller addressing his officers. This saw him asking them to "put community policing aside" and to focus on COVID policing, while he added that "if you write a ticket, and you get it wrong, I understand and I won't hold you to account for that".
The commissioner further stated that the only way the cases are going to reduce is if officers "start writing tickets" and handing out future court attendance notices, which again points to the fact that he might be treating COVID like a criminal, but it's potential human carriers being punished.
Into the future
As the old adage goes, if police are given new powers, it's near impossible to roll them back. And with the onset of COVID policing the fear was there would be a hangover, which was seen when restrictions were lifted last year, yet protests remained outlawed and heavy-handedly policed.
However, this year the path to establishing COVID policing as an ongoing feature of our community seems clear, with the Morrison and Berejiklian governments dropping the initial attempt to eradicate the virus for their new vision of living with COVID.
And it was NSW deputy premier John Barilaro who outlined how this is going to work. As of next week, new rules apply for fully vaccinated adults in regions of the city that aren't considered "local government areas of concern", which means the wealthier eastern and northern sides of Sydney.
Barilaro stated on Tuesday that citizens who want to partake in the newly allowed allocation of five adults meeting to have an outdoor picnic from the 13 September onwards, will need to prove that they've been vaccinated, meaning NSW police officers will be approaching to check.
So, looking into the future, when certain restrictions are placed on unvaccinated members of the community, it will mean that all of us will be subjected to extra police scrutiny – at random and without reasonable suspicion – which will entail being stopped to prove your vaccination status.
And bear in mind, as Dr Sentas pointed out in August, over the 3 months ending on 15 June last year, 45 percent of all individuals stopped by NSW police over a suspected COVID breach were subsequently searched.
Receive all of our articles weekly