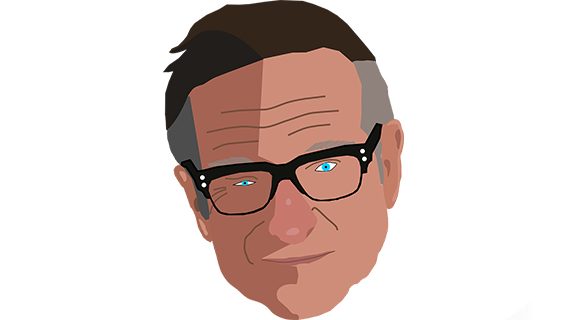 Suicide is something that can impact anyone, no matter their background, or how wealthy, successful or popular they may be.
Issues like depression and anxiety, as well as emotionally distressing life events, can strike at any time and lead to a tragic outcome.
The recent death of actor Robin Williams from suicide at aged 63 shocked people all over the world.
Since his death, it has been revealed that as well as a much-publicised battle with drug addiction over the years, he was also struggling with a long history of depression and anxiety, and a recent diagnosis of Parkinson's disease.
Robin Williams is the latest in a number of high profile celebrities who have taken their own lives recently, including Philip Seymour Hoffman and Australian TV personality Charlotte Dawson.
Is suicide on the increase?
Statistics from crisis organisation Lifeline reveal that suicide is the leading cause of death for Australians between the ages of 15 and 44.
Suicide is also on the increase with the number of suicide-related deaths currently the highest they have been in a decade, almost twice that of road transport-related deaths.
According to Lifeline figures, for every person who successfully commits suicide, as many as 30 people attempt to.
Men are at a slightly higher risk of committing suicide, with three out of five suicide deaths being male.
What should I do if I suspect someone is thinking of suicide?
If you are concerned for the wellbeing of a friend or family member, it's important that you don't just ignore it.
Although it can be extremely distressing to think that someone you care about might be considering taking their own life, there are things you can do to help and support them, and intervening may just save their life.
Here are some signs that someone you know might be having suicidal thoughts:
They have undergone major life changes or disappointments recently. This can include the loss of a loved one, separation or divorce, failed exams, loss of job or financial or legal problems.
They have previously made suicide attempts.
They take less care of themselves and their appearance than previously.
They are sad, withdrawn or moody.
They have difficulty concentrating or sleeping.
They lose interest in activities and people they previously enjoyed.
They talk about feeling helpless, worthless or hopeless.
They talk about death and/or suicide.
If you notice some or all of the above signs or have other reasons to believe that someone you know might be thinking of committing suicide, there are a few things you can do to help.
Ignoring the situation won't make it go away, and criticising or dismissing the person for their feelings won't help; it can make things even worse
Letting someone know you are there for them and encouraging them to talk about their feelings can help them feel less isolated and alone.
If possible try to encourage them to speak to a qualified professional or call a crisis intervention service like Lifeline.
If they have plans to commit suicide, consider whether they have the means to carry out the plan, and if you are really concerned about their safety don't leave them alone.
Remove their access to knives, medication, weapons and alcohol and don't let them drive.
Contact your local hospital emergency department or Lifeline as soon as possible.
Ongoing support can make a difference. Even after the initial crisis may have passed, someone who has previously considered suicide may find the thoughts returning at times of turbulence in the future.
There are a number of organisations that can offer help and support to people who are experiencing mental health issues or who are having suicidal thoughts.
The most well-known are Beyond Blue and The Black Dog Institute and they have information and details of support organisations for people with mental health issues and their friends and families.
Can I really make a difference?
By offering support to someone who might be experiencing suicidal inclinations you can potentially save their lives.
In 2012, a well-known Sydney man, Don Ritchie, died at 85.
Mr Ritchie was named a Local Hero at the 2011 Australian of the Year awards for his work in talking people out of committing suicide at The Gap at Watsons Bay in Sydney.
Over the course of 50 years, Mr Ritchie helped to save 500 lives through compassion and support, by talking to people who were thinking of ending their lives by jumping off the cliff.
He was an advocate for the power of speaking up to those who were in need and offering them kindness and support.
If someone you know is considering suicide, it's important to intervene and offer help and support.
Don't assume the urge will pass or the problem will go away by itself. By providing support and listening to the person, you may help to save their life and thereby help protect the most precious gift of all.
Receive all of our articles weekly