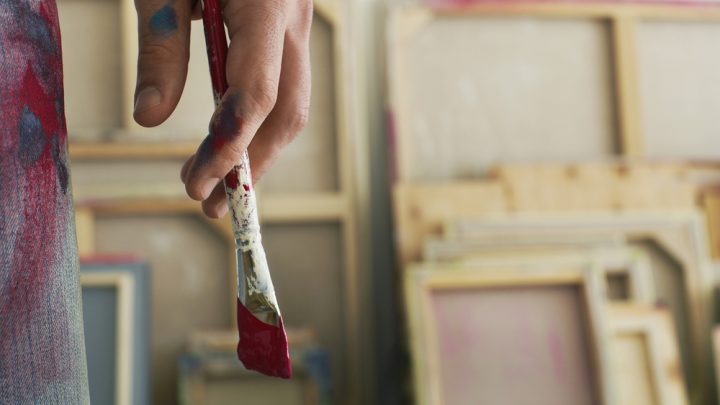 Imprisonment that focuses on containment rather than rehabilitation is not generally successful at reducing reoffending; with about two-thirds of sentenced Australian inmates having previously served time behind bars.
As prison populations grow, there has been an increasing emphasis on making room for inmates rather than rehabilitating them. And with overcrowding comes increased pressure on a range of resources; from mental support services to programs aimed at addressing the underlying causes of offending.
The benefits of art
Art can be educational, expressive and therapeutic. For inmates looking to break the cycle of offending and become productive members of society, art therapy can assist not only them, but also the prison institution and society generally.
Many beautiful works of art have been created by gifted inmates who use painting, drawing and sculpture as a form of therapy, expression and stress relief – acting as a barrier to the negativity of the prison environment.
The Individual
Research has shown that art rehabilitation programs can improve mood and attitude, while promoting positive engagement with staff and peers. Art is a recreational and enjoyable outlet in the context of sustained deprivation, and is often the first time inmates will have been absorbed by a positive activity behind prison walls.
Art programs can be used to express hidden thoughts and feelings that may difficult to otherwise communicate, improve self-esteem and help break down he stigma associated with those who have spent time in prison.
The institution
Studies have shown that inmates are more easily managed when engaged in positive programs.
Although rehabilitation is supposed to be one of the core objectives of punishment, the reality is that imprisonment can produce negative outcomes – acting as a medium for stigmatisation, alienation, and a place where inmates acquire new criminal skills and contacts.
Attitudes towards artwork courses
Funding for prison rehabilitation programs is scarce, and artwork courses are often placed at the bottom of the list in terms of importance, with vocational and substance abuse programs being viewed as far more important.
Many do not recognise the potential value of artwork course, with research from staff at the Tasmanian Department of Justice suggesting that:
"Art in prison is best seen as a hobby to keep people occupied and at worst a total waste of time. The idea that art has an intrinsic value for both individuals and the community is not understood; nor that art can be a means of skilling people with generic job skills or that creativity can change and heal people."
Australian research – the J Block Women of Art Project
A 2008 report into Darwin Correctional Centre's J Block Women of Art Project found that producing artwork was both therapeutic and assisted in the running of the prison.
Participants reported that:
"We think about the art and not our problems; your mind is on the canvas and not on everything else; it breaks up the week and is something to look forward to; it makes you feel happy and brightens up the area."
Prison guards also reported the benefits, stating:
"Prisoners are easier to manage if engaged," and that dealing with issues "is important for women coming up on parole. If they can't demonstrate addressing their problems they are disadvantaged."
The report found that the artistic process assists individuals to express issues that are relevant to them, allowing underlying problems to surface and helping them to seek help from appropriate psychological support services.
Case study: Myuran Sukamaran
Before the Indonesian government executed Myuran Sukumaran and Andrew Chan earlier this year, many saw the positive effects of producing artwork on Sukumaran who was in custody at Kerobokan prison, where artists Ben Quilty and Matthew Sleeth facilitated art classes.
We saw Sukumaran teaching his fellow inmates and heard him described as "the hardest working, the most desperate to learn, and the most generous of his peers." Several prison staff attested to his transformation within prison through religion and art, expressing confidence that he was well on the road towards rehabilitation.
At the time of Sukumaran's death, the Sydney Morning Herald reported Sleeth said, "The last time I spoke to him, we were speaking about the works he made and he said, 'Just as I'm getting good, they're going to kill me'."
It is hoped that Australian prison administrators will better recognise the benefits of such programs, and implement them more widely.
Receive all of our articles weekly
Author
Sydney Criminal Lawyers
Sydney Criminal Lawyers®
is Australia's Leading Criminal Defence firm, Delivering Outstanding Results in all Criminal and Driving cases. Going to Court? Call (02) 9261 8881 for a Free Consultation.