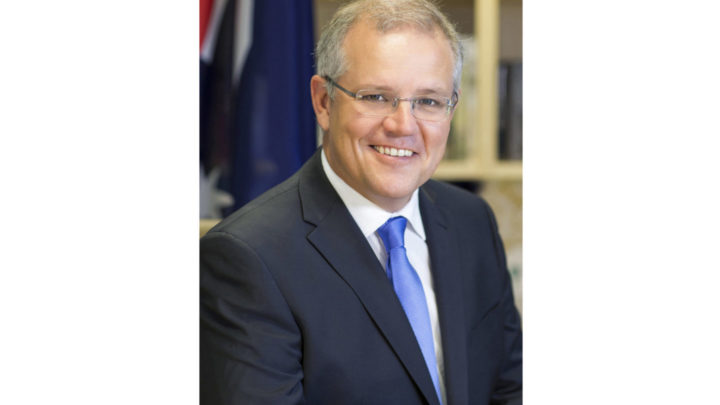 Taxpayers have forked out thousands of dollars on kitchen and home appliances as well as wine for Scott Morrison and his family.
New government audit reports for 2019 show how public money was used to purchase goods for the newly-elected PM's homes in Canberra and Sydney.
One of the largest expenses over the 2018-19 summer was for four Dyson fans. Arguably though, this was money well spent because the top-of-the-range coolers come with HEPA (High Efficiency Particulate Air) filters, and report air quality levels in real time, which would have certainly been useful in the ensuing bushfires, making sure that the Morrison family weren't overly bothered by harmful bushfire smoke particles that hung over many east coast towns and cities, for days on end.
Another expense was a Sous Vide machine which gently cooks vacuum-sealed food in a water bath.
Stocking the wine cellar
Taxpayers to, are footing the bill for the PM's extensive wine collection. Audit reports show that the total cost of the Prime Minister's cellar in Kirribilli jumped by 50 per cent in the past year while the value of The Lodge stocks dropped by 30 per cent.
Figures show that the collection, worth about $8300 at the Prime Minister's official residences, is still less than Kevin Rudd's $14,000 booze collection but similar to Malcolm Turnbull's which was worth close to $9000.
In the last 12 months, taxpayers have also covered the cost of numerous whitegoods, including a $60 rice cooker, an $89 steam iron, a $258 Kitchen Aid blender and a $299 Nespresso coffee machine.
Taxpayer funded security on holidays
But that's not all. Public money also paid for a team of Australian Federal Police officers to provide round-the-clock security for the PM on both is recent family holidays, to Fiji several months ago, and Hawaii late last year. The Hawaiian trip angered many Australians who believed that he should have remained at home with the bushfire crisis beginning to escalate.
During official overseas trips, the PM travels with a team of four or more AFP officers.
These close personal protection (CPP) officers travel with him at all times. Two remain with him, while another team sets up live CCTV vision of his location to monitor the coming and going of all people in the immediate vicinity. Prior to leaving the country, the security team must prepare a Standard Tactical Plan (STP) and upon return, a Post Visit Report (PVR).
While these security measures are not uncommon for any leaders, previously in Australia or around the globe, the additional costs associated with taking this team overseas can be avoided if the PM stays at home for his holidays, as was the practice of former PMs including John Howard, Kevin Rudd and Julia Gillard.
Completely out of touch with ordinary Aussies
Is the PM living in a bubble and out of touch with reality? Many would respond with a resounding 'yes!'.
The PM himself earns almost $550,000 a year. Not only does he reap the benefits of tax-payer funded perks while in office, but he will also receive many in retirement. along with a substantial pension. If these things are guaranteed, it's difficult to see any built-in financial incentive for him to do as he expects all other Australians to do, and that is work harder, make a meaningful contribution to the country.
By comparison, the average annual salary sits at around $80,000-$90,000 and many of our most important workers – nurses, teachers don't even earn that. Then there are the homeless. People on the poverty line. And the welfare recipients.
Those on Newstart can claim the grand total of $277 per week, which incidentally is the lowest rate of any country in the entire OECD.
According to a Salvation Army report in 2018, in real terms this means that most people on Newstart, after paying accommodation and other expenses live on less than $20 a day.
Despite many MPs lobbying for an increase in welfare payments last year, the PM remained staunch, pushing back with rhetoric that the focus should be getting people off Newstart and into jobs. At the time he claimed that the 'best form of welfare is a job'. Which is alright if you can get one. The vast majority of Newstart recipients are long-term unemployed.
But it's not just about the money.
What leadership?
Last year the PM's badly timed Hawaiian holiday which meant absence in a time of crisis, his tepid response to the national bushfire emergency, his numerous gaffs on tv, radio and while meeting the rural Australians who were crisis, and in particular the refusal of 'ordinary Australians' to shake his hand, have simply highlighted his remoteness to real life and lack of understanding of what tens of thousands of Australians have experienced over the past several months: lives lost, the loss of animals and flora and fauna, the loss of homes and the impact on businesses.
All of these actions, and more, have led many to question Scott Morrison's ability to effectively lead this country. And, in fact, several political commentators have already suggested that his actions over the course of 2019, have already signalled his downfall, and last year fed up Australian's launched a petition to have him removed from office. While there have been recent murmurs of a leadership challenge within the ranks of the Liberal party, only time will tell how long Scotty from Marketing can really stay on as leader.
Receive all of our articles weekly