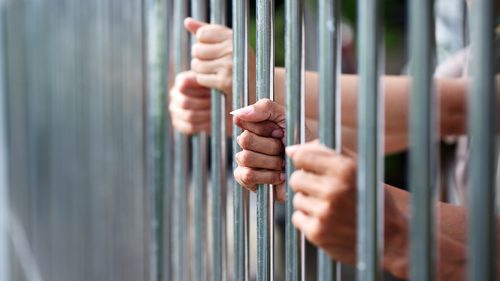 The Ravenhall prison riot broke out on June 30 2015. The major reason given for the disturbance was a tobacco ban that was about to be enforced the following day. However, an independent report found another major reason behind the incident was overcrowding in the correctional facility.
The official name of the prison located in the Victorian suburb of Ravenhall is the Metropolitan Remand Centre, meaning that the majority of the people being detained in this maximum security facility are awaiting their court cases or sentencing.
Liana Buchanan, then executive officer of the Federation of Community Legal Centres said that over the four years prior to the riot Victorian remand numbers had risen by 60 percent. In her opinion, it was time for the state government to implement a plan "to reduce the numbers of unsentenced people held in prison."
Uncertainty and boredom
According to Victorian opposition statistics, there's been a total of 29 riots in the state's overcrowded juvenile detention centres since the beginning of last year, and often those youths involved are being held on remand.
Jesuit Social Services chief executive Julie Edwards said last month that the Victorian youth justice system is now made up of about 80 percent of young people on remand.
"What that means is we've got a system full of people who have a lot of uncertainty," Ms Edwards said, and added that they don't know how long they'll be in there and they're "basically bored."
Statistics on remand
Australian Bureau of Statics figures show a startling rise in unsentenced prisoners, or those on remand, over recent years.
The number of unsentenced prisoners in Australian adult correctional facilities increased by 22 percent over the last financial year. There were 9,898 on June 30 2015, however, on June 30 last year that number had increased to 12,111. And this followed a 21 percent increase over the financial year before.
Not only that, there was over an overall 7 percent increase in the median time spent on remand over the 2015 to 2016 period, up from 2.7 months to 2.9.
On December 1 last year, there were 39,527 full-time prisoners in Australian gaols, 32 percent of them, or 12,470, were sitting around on remand waiting for court appearances.
And perhaps what's the most staggering statistic of all is that between December 2011 and December last year the number of unsentenced prisoners had increased by 84 percent.
So what's behind this increase?
According to Brett Collins, coordinator of Justice Action, there are several major contributing factors to these unprecedented levels of people being held on remand.
Looking at NSW Bureau of Crime Statistics and Research figures, Collins outlined that between 2010 and 2016 there was "a doubling of the number of cases before the District Court that were outstanding." Currently, there are 2,042 criminal trials waiting to proceed, compared with 977 in 2010.
Collins said that there are also 400 sentencing matters currently waiting to be seen to in the District Court as well. "So this comes down to the unpreparedness of the government to pay for more judges," he said
And there's also the cost to taxpayers, as Collins points out. It cost $100,000 a year to hold a person in prison, whether they're sentenced or on remand. And he added that some people are waiting two or three years for a hearing.
"Forty percent of people on remand never get a prison sentence," Mr Collins told Sydney Criminal Lawyers®. "So that's a very significant amount of money that's being spent that doesn't end up in a custodial sentence."
The Changes to the Bail Act
Another reason that Collins gives for the increase in remand numbers are the amendments made to the bail regime via the Bail Amendment Act 2014, which now requires an applicant charged with certain offences to have to "show cause" as to why their detention is not justified.
The offences that the show cause provision applies to are all offences that are punishable by life imprisonment, as well as serious indictable offences such as having sex with a minor or committing an act of grievous bodily harm.
Strangely enough, the Bail Act doesn't provide any guidelines as to what amounts to cause being shown.
Mr Collins believes that the "show cause" provisions would account for another 10 percent of people being refused bail and therefore being held on remand.
Heavier policing of bail breaches
And the last contributing factor to the increase in remand numbers is that police are cracking down on people breaching their bail conditions, Collins explained.
"Police have been watching closely as to whether people have been abiding by their bail conditions," the long-time prisoner rights activist said. "And when they haven't, they've been quite harsh about it and people have then been returned to prison."
How does being held on remand affect an individual?
Unsurprisingly, the effects aren't that good, according to professor of criminology at Sydney Law School Murray Lee. Those on remand can suffer high-levels of anxiety, due to the uncertainty about their future, which is "amplified by being in a prison environment."
The professor adds that remand centres "also tend to be riskier facilities, where the possibility of harm may be increased for those detained." This has been exemplified by the recent violent incidents that have broken out amongst Victorian remand detainees over recent years.
"In short those on remand are more difficult to manage," Lee told Sydney Criminal Lawyers®. "They're anxious. They do not get a chance to settle in and obtaining legal advice is more complicated." He also added that the "prison beds and resources" they take up could be used in better ways.
That revolving penitentiary door
And an extremely valid point that professor Lee makes is that once a person comes into contact with the criminal justice system, it's usually "a predictor to future offending." A stint of time in prison, even if you're innocent, may lead individuals into behaviours that will see them back behind bars.
"Being on remand dislocates the individual from work, family, friends and support networks that may be important to their future desistance from crime," the professor concluded.
Receive all of our articles weekly