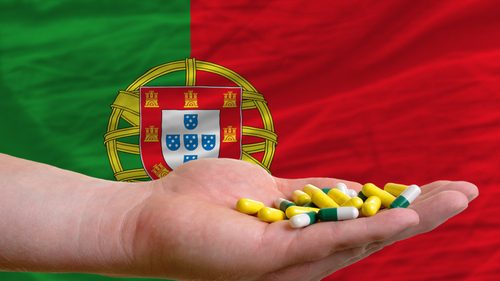 Portugal decriminalised the possession of all illicit drugs for personal use in 2001. If an individual is found with a permitted amount of cannabis, methamphetamine or heroin on them, they are not sent to court where they face the prospect of a criminal conviction, but to a dissuasion panel for counselling instead.
Before drug decriminalisation, one percent of the Portuguese population was dependent on heroin and the nation had the highest number of drug-related AIDS deaths in the European Union.
Sixteen years later, the current drug-induced death rate in Portugal sits at three per million residents, which is five times lower than the European average. And drug-related HIV infections plummeted to just 40 in 2014, compared with 1,016 in 2001.
Influence of the Portugese model
The Portuguese model is globally regarded as a resounding success. And while no other countries have reproduced it in entirety, the Irish government hinted back in November 2015 that it may be following suit.
Dr Alex Wodak, president of the Australian Drug Law Reform Foundation, recently pointed out that the Portuguese drug policy has had a major influence worldwide.
Around 40 countries have substantially reduced or eliminated "criminal sanctions for people found in possession of drugs" for personal use. These nations include the Netherlands, Denmark, India and Australia.
Decriminalisation versus legalisation
Decriminalisation does not equate to legality. Rather, it is a way to deal with the possession of illicit substances that sits between prohibition and legalisation.
Prohibition is a zero tolerance approach which means criminal penalties are imposed for the possession of any quantity of illegal drugs. Legalisation means that drug use is legal and you can't be prosecuted for partaking in it.
Decriminalisation means that criminal sanctions are not imposed on those who possess or take certain quantities of otherwise prohibited drugs; typically, amounts that are deemed to be for personal use only.
Decriminalisation in Australia
As Dr Caitlin Hughes, senior research fellow at the Drug Policy Modelling Program (DPMP) at the National Drug and Alcohol Research Centre, pointed out there are two types of drug decriminalisation policies in Australia.
"In short, all states and territories have some type of diversion scheme for use or possession for personal use of small quantities of cannabis," Dr Hughes told Sydney Criminal Lawyers®. However, some jurisdictions also have decriminalisation policies that include other illicit substances.
South Australia, the ACT and the Northern Territory currently run the Cannabis Expiation Notice Scheme. The initiative abolished criminal penalties for the possession of small amounts of cannabis.
If a person is caught with a permitted amount of cannabis on them, they're given a civil penalty, such as a fine, rather than sent to court. However, if the person fails to pay the fine, criminal proceedings may follow.
Police discretion
The second type of drug decriminalisation in Australia is where possession remains a criminal offence, but police can use their discretion to issue a warning or a fine instead of a court attendance notice.
An example of this is the Cannabis Cautioning Scheme in NSW, where a person who possesses less than 15 grams of cannabis can be issued a caution rather than sent to court.
The caution includes a warning about the legal and health consequences of using cannabis and contains phone numbers for the Alcohol and Drug Information Service (ADIS).
The information is provided on a first caution, and on a second caution a person is required to contact ADIS and attend an education session about their cannabis use.
Only two cautions are allowed under the scheme, and those who have a previous conviction for a drug, violent or sexual offence are excluded.
Dr Hughes explains that this type of decriminalisation can be "more restricted in access, as they are only accessible for some offenders… or if an offender admits" they've committed the crime.
Other illicit substances
In all states and territories except NSW and Queensland, police can also exercise discretion when they find a person in possession of other illegal substances.
However, no jurisdiction has removed criminal penalties for all illicit drugs. Thousands of people every year therefore continue to be sent to court for possessing small amounts of illegal substances.
The Drug Policy Modelling Program
After scrutinising an enormous amount of research on decriminalisation of small amounts of drugs, the DPMP found only one negative effect: net widening.
Net widening is where more people are issued with civil penalties and warnings after decriminalisation is implemented, because police do not need to prepare and file court attendance notices and other documents associated with criminal prosecutions.
However, the research also shows that decriminalisation does not lead to more crime. Indeed, the DPMP pointed out that the research consistently demonstrates that people who are not sent to court are less likely to engage in future crime.
And the benefits are many
Decriminalisation reduces the demands on the criminal justice system, including upon police resources, prisons and courts. The policy also reduces stigmatisation and improves the employment prospects of those who've been found in possession of illicit substances.
In addition, it increases the likelihood of habitual users seeking counselling and other rehabilitation services.
Australia's decriminalisation could go further
Richard Di Natale, leader of the Australian Greens, is an outspoken proponent for the decriminalisation of small amounts of drugs for personal use. The former drug and alcohol clinician is an advocate of the Portuguese system, which helped shape his party's renewed drug policy which was released in November last year.
The DPMP has made recommendations to widen the scope of Australia's drug decriminalisation initiatives, including the removal criminal sanctions for possessing small amounts of all illicit substances.
And along with this, it recommends the removal of the "criminal sanctions for non-compliance" with the rules and the "strict eligibility requirements" that pertain to some of them.
Last updated on
Receive all of our articles weekly