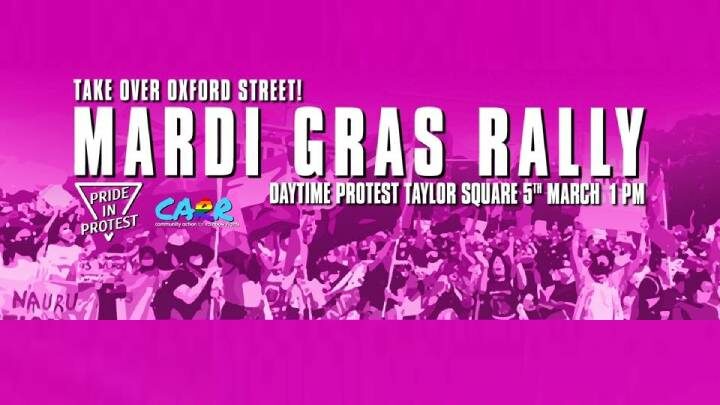 The second Mardi Gras Rally is set to take over Darlinghurst's Oxford Street on 5 March. This counter event to the Sydney Gay and Lesbian Mardi Gras parade is being staged as organisers assert the official procession has lost its radical roots and, in the present political climate, a return is needed.
The first Mardi Gras march in 1978 challenged societal norms, as diverse sexualities and their expression were then illegal. Indeed, so great was the afront the event caused the establishment that NSW police was deployed.
Over 100 officers surrounded participants. They were then brutally set upon and many were arrested. Those taken into custody were subsequently outed in the Sydney Morning Herald, which could lead to loss of employment in those days.
Organiser of the 2022 rally Pride in Protest is bringing back the counter event for a second year, as it's decrying the corporatisation of Mardi Gras. Formed in 2018, PIP has been pushing for "cops, corporates and conservatives" to be barred from the event.
Under the Morrison government, the state of the nation has grown more conservative over the last four years. And developments, like the PM's religious freedoms crusade and the conservative assault on trans people, further necessitate the Mardi Gras Rally Oxford Street Protest 2022.
The conservative spring
PM Scott Morrison has been pushing the Religious Discrimination Bill for his entire term. It permits discrimination against anyone on the basis of their protected attributes in the name of religion. And the legislation particularly targets LGBTIQ people.
A fortnight ago, Morrison shelved the bill because Labor wouldn't support a deal whereby religious schools would be prevented from expelling gay students but would maintain this ability in terms of trans kids. But the opposition then refused to revoke a law allowing LGBTIQ teachers to be sacked.
Putting the bill to the side hasn't changed the reactionary climate though. One Nation MLC Mark Latham's own religious freedoms bill was slated for debate in the NSW upper house on Wednesday. Although, the NSW attorney general has said such laws won't be passed until the federal ones do.
Meanwhile, the leader of the nation is continuing his targeted campaign against transgender people. Tasmanian Liberal Senator Claire Chandler has tabled a bill aiming to ban trans people from single-sex sports. And Morrison stated on Tuesday that he supports it and thinks "it's a terrific bill".
Cops, corporates and conservatives out
Controversy around Pride in Protest was rife at the last Mardi Gras annual general meeting, as the group attempted to pass motions on kicking out police, corrective services, the Liberals and the defence forces from the event, while other members pushed for bans against the radical group.
Despite these differing opinions, two PIP candidates, Wei Thai-Haynes and Alex Bouchet, were voted onto the current Mardi Gras board. However, after last year's highly successful counter Mardi Gras street protest, PIP's Charlie Murphy was stood down as a Mardi Gras board director.
Sydney Criminal Lawyers spoke to Pride in Protest member Wei Thai-Haynes about why her organisation is back with a second street protest, the need for nationwide sex work decriminalisation, and why the Mardi Gras annual general meetings have become so controversial.
On 5 March, Pride in Protest is holding a grassroots Mardi Gras demonstration, which will be marching down the event's traditional route of Oxford Street.
This will be the second year your organisation has staged this alternative to the official Mardi Gras event.
Wei, why the alternative to the Gay and Lesbian Mardi Gras parade? And why is the demonstration back for a second year?
Pride in Protest, and more broadly the left in Sydney, have a vision for Mardi Gras, which is one by the people for the people. It's one that has a protest history.
These protest roots began in fighting against the Summary Offences Act, which, in 1978, forbade gay and lesbian people to speak out in public, and also to be out in the context of their employment.
If they were to come out, they were liable to be fired from their jobs.
The 1978 party/protest turned into a full riot, when police came to suppress it. It marks one of the great instances of police brutality, oppression and state violence against the queer community.
So, we make the argument that, whilst things have gotten better, this is marginally so, and the fight needs to continue.
That's why we're putting this protest on for the second year. This time we're chiefly protesting the Religious Discrimination Bill, which has been making the rounds of the news cycle of late.
This religious freedoms bill impacts the lives and livelihoods of queer and trans people, especially children and workers.
We're also running a full slate of demands. The first is the nationwide decriminalisation of sex work.
We're also calling for the defunding of the police and the reorientation of that funding to community-based projects that curb the systemic issues that produce incarceration rates.
Another point is there's "no pride in detention". We don't think that refugees seeking asylum, as is their United Nations right, should be locked up and discriminated against on that basis.
The final demand we're running on this year is transition leave, which is a campaign to get this type of leave on the log of claims – ideally at every worksite – but at as many worksites as possible.
Last week, the Morrison government shelved the Religious Discrimination Bill. It sought to override antidiscrimination protections nationwide in order to enable religious people to make currently illegal remarks in the name of their faith
It's unsure whether the Coalition will bring back this bill and it's also become uncertain as to whether Labor may come forward with something similar.
In your opinion, what sort of effect is the religious freedoms debate having on the nation?
The most immediate concern to address is the welfare of LGBTI people, both in response to the legislation being put forward and its endlessly being debated.
Both the bill and the debate around it are essentially playing political football with the livelihoods of LGBTI people in the lead up to the election.
As you've said, there's no clear indication that the bill is dead, and Labor hasn't promised to kill it completely. The only major party that's standing outright against the bill is the Greens.
In terms of the bill's concerns, we're talking about entrenched religious bodies and organisations, including healthcare, aged care and schools being empowered to sack workers or expel students on the basis of their identity.
This is a human rights issue. If the bill was to pass in its current form it would materially impact the lives of some of the most vulnerable people in our community.
More broadly, the bill calls into question the role of religion and the place of it in our society.
Australia is presumably a secular state with a secular government, so, therefore, public space should be secular, but we have entrenched religious organisations in the form of schools.
Around 30 percent of schools across the country are religious. And much of our aged care and health sectors are run by religious organisations.
So, this raises questions around these services that are deemed to be essential having the power to discriminate against who they provide their services to or who they employ. So, we then have a serious issue with discrimination against queer people on our hands.
As the government was still trying to get its bill across the line, attorney general Michaelia Cash put forward a deal where religious schools would lose the ability to expel students based on sexual orientation but maintain the power to do so on the basis of gender identity.
What sort of effect is this singling out of transgender people for special discriminatory measures having?
The trans community is one of the most vulnerable in this country. Trans people are overrepresented in a negative sense in key quality of life indexes, such as suicide rates, unemployment, access to employment and mental illness.
This is part and parcel of societywide discrimination against trans people and Cash's proposal is an extension of that in an attempt to codify this into law.
Transgender children have become a political football for the Liberal government. They maintain the position that trans people aren't welcome in the community and they're not to be treated with the same respect as the rest of society.
On a personal basis, I look around at the people in my circles and trans friends of mine, and they're all quite anxious and upset by the bill.
This is especially in light of the deal Cash put forward whereby trans kids would continue to be discriminated against but not queer kids. It really does feel like targeted harassment from the government.
The Mardi Gras protest also has a focus on decriminalising sex work. NSW was the first jurisdiction on the planet to have made this move in 1995. The Northern Territory did so in 2018, while Victoria has just done the same.
Why is this a priority issue for Pride in Protest? And is there a need for an overhauling of NSW laws?
First of all, I congratulate Victoria for passing decriminalisation. It's a really big win. But the fight continues. We don't have nationwide decriminalisation yet. Sex work is still illegal in South Australia, Western Australia, Queensland and Tasmania.
But, looking at NSW, there are still concerns around the rights of sex workers. There are no antidiscrimination protections afforded to them in terms of applying for different employment.
Former sex workers can be discriminated against or ranked unfavourably amongst other candidates applying for a job on the basis that they have previously worked in the industry.
If someone is known to be a sex worker during that interview process, they can still be discriminated against and rejected on the basis of being a sex worker.
This is a point of concern for Abigail Boyd from the NSW Greens. She's put forth a bill to amend the NSW Anti-Discrimination Act to insert sex worker protections into that legislation.
It's tabled in parliament right now, and it was last heard in November, but it hasn't gotten anywhere since then.
Whilst we do have decriminalisation here in NSW, we don't have full decriminalisation. And the same applies to the Northern Territory.
Street-based work is still highly prosecuted. It is outright illegal in the Northern Territory, and oftentimes it's the most marginalised people in the sex worker community, who find themselves doing street-based sex work.
These sex workers are the most underprivileged, the most vulnerable, and they have the imminent threat of the police on their necks. In NSW, there are stipulations about where a street-based worker can and can't work.
The other thing that's of concern regarding decriminalisation in NSW is around brothel regulations. These are governed by local councils, and something like less than 15 percent of brothels in this state have gained planning consent from their respective councils, meaning the vast majority are illegal.
This presents a labour rights issue, as a brothel worker could find that they're out of work one day because their place of employment has been shut down by the council because it turned out it was operating illegally.
Another key focus for Pride in Protest is transition leave. Last October saw Sydney University come to the table with a one-off 30 days paid transition leave.
Can you talk about what this campaign entails?
The campaign acknowledges that trans people need specific leave to have their needs met in terms of various aspects of transition. This can involve medical appointments, various therapies or even surgical procedures, which take weeks, if not months, to heal from.
It's also the acknowledgement that transgender healthcare is not something that happens just once. It's something that can happen throughout someone's life and can take place over many years.
So, the demand put forward by the queer arm of the NTEU was for a six-week transition leave recurring package.
Pride in Protest played a role in supporting this. We attended their rallies and had contingents talking about the importance of transition leave in the workplace at meetings.
If you take care of the needs of workers, then they're more productive. That's what needs to be outlined in relation to transition leave.
Trans people have special needs that go beyond sick leave, and it's not fair for a trans person to get sick, use all of their sick leave and then have to take additional leave because they have, for example, to undergo surgery.
Pride in Protest has produced a transition leave pack that we hand around at our meetings. It outlines how to start a transition leave campaign within a union and how to get it onto a log of claims, and more broadly, how to unionise your workplace.
So, we function as something like cheerleaders of unions that are championing transition leave, like the NTEU USYD.
And lastly, Wei, over recent years, the actions of Pride in Protest have caused a stir at Sydney Gay and Lesbian Mardi Gras annual general meetings. Indeed, you've recently been elected to the Sydney Gay and Lesbian Mardi Gras board.
So, why is Pride in Protest's campaigning and organising causing such a stir within the organisation?
Pride in Protest has a very distinct understanding of what the event means to that of Mardi Gras Inc. They want it to be a company that runs an event, which takes corporate money, platforms the police, and then pink-washes corporates, NSW police and the Liberal Party.
We think Pride is inherently a protest for the rights of the LGBTI community and beyond.
So, we hold a position against supporting the police to march in the parade, on the basis that they continue to vilify, harm, maim or outright kill queer people and they're not held to account when doing so.
Equally, the Liberal Party has put through heinous anti-LGBTI legislation in the form of the Religious Discrimination Bill, and it has also moved to keep the religious exemptions in the Sex Discrimination Act.
So, why should the Liberals have a place at the table in celebrating pride and pink-washing their party, when clearly, they don't have our interests on their political platform?
As such, we run a political campaign within the membership at the annual general meeting each year where we put up a series of motions.
These include getting cops, corporates and conservatives out of the parade, emboldening campaigning around the rights of refugees, queer people, sex workers and the rights of First Nations people.
The putting of these motions has come to a head with the clear expression of a political divide between the conservative hegemony of Mardi Gras and the left-wing radical position.
The nature of this conflict is class orientated with the professional managerial class, bosses and conservatives on one side versus radical left-wing dissenters against the status quo on the other.
Pride in Protest wants radical change and justice for the most vulnerable people in the community and this has produced quite a disturbance within Mardi Gras.
The Mardi Gras Rally Oxford Street Protest 2022 is meeting at Sydney's Taylor Square at 1 pm on 5 March. Following speakers, protesters will march down Oxford Street towards Hyde Park.
Receive all of our articles weekly