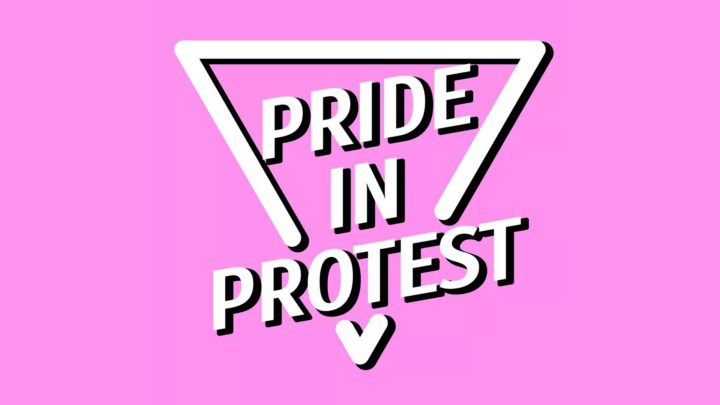 Pride in Protest wants to bring back the radical roots of the Sydney Gay and Lesbian Mardi Gras. The group posits that while the four decades old LGBTIQ festival is now an internationally lauded event, it could be using its platform to bring about social justice change.
Mardi Gras was pivotal in asserting rainbow rights both domestically, and on the international stage. Since the first march took place on Sydney's Oxford Street in 1978, homosexuality has been decriminalised, trans protection laws have been enacted, and marriage equality prevails.
However, Pride in Protest argues that there are still urgent reasons to mobilise. And one very distinct threat to LGBTIQ rights currently is Scott Morrison's religious freedoms bill, which not only reinforces prejudicial laws, but seeks to build upon them further.
And the group also puts forth that some of the corporate sponsorship of Mardi Gras actually comprises what the festival should be all about. Pride in Protest claims that associations with certain entities – such as Qantas and ANZ – are stifling grassroots voices.
Re-radicalising Mardi Gras
Of course, the first Sydney Mardi Gras was very much a protest for human rights. Members of local LGBTIQ communities took to the streets in 1978, calling for an end to the criminalisation of their lifestyles. And for their trouble, they were confronted by the violent reproach of NSW police.
Pride in Protest wants Mardi Gras to reflect on this, as LGBTIQ communities are now facing a renewed threat from the reigning Morrison government, which is seeking to enact laws that promote bigotry, and are a direct response from politicians displeased with same-sex marriage laws.
But, the LGBTIQ protest movement also wants one of the largest pride marches in the world to broaden its scope so that it directly addresses concerns around climate, the offshore detention of refugees, and the current assault upon the right to protest itself.
Prioritising social justice
Pride in Protest is running four candidates in this year's Mardi Gras board of directors election. And the group will also be moving a number of motions at the Mardi Gras annual general meeting on 30 November, aimed at bringing it more into line with social justice concerns.
Lead candidate Charlie Murphy has worked for the Mardi Gras organisation over the past five years. They produced the Mardi Gras' symposium on queer issues Queer Thinking in 2018 and co-curated Queer Thinking: Fearless Youth in 2019.
Long-time social activist Evan Gray is the second candidate running on the Pride in Protest ticket. While writer and community worker Bridget Harilaou and former federal Greens candidate Connor Parissis complete the list of candidates running for the left-wing group.
Sydney Criminal Lawyers spoke to Charlie Murphy about the motions Pride in Protest will be moving at the AGM, what they think about current attempts to silence dissent in this country, and the need for louder cries calling for the advancement of transgender rights.
Firstly, you're the lead candidate running for the Mardi Gras board of directors for Pride in Protest, which is an organisation that aims to bring back the radical roots of the event. Charlie, how would you describe what Pride in Protest is all about?
Pride in Protest is about focusing attention on social justice, community voices and protesting against some of the larger institutions, which are involved with Mardi Gras that seek to lesson those voices, crowd them out, or speak over them.
Those larger institutions being corporations and the cops.
Along with running four candidates for the board of directors, Pride in Protest will be moving a number of motions that relate to issues it believes Mardi Gras should act on. Can you outline what some of those are?
The first motion we're moving is in regard to corporate sponsorship. The way that we see corporate sponsorship is there's really no opportunity to have any input into what sponsors we would want to see for the organisation.
If there are partners or sponsors that affect our community directly in negative ways – such as a company like Gilead that price gouged PrEP in the US, which is a direct attack on our community – we don't have the ability to say that they should be booted out of Mardi Gras.
Even after Gilead was there last year and there was pushback against that, they're now back for the 2020 Mardi Gras. So, there's a great sense of powerlessness that we feel in terms of trusting that Mardi Gras has any ability to judge the ethics of a sponsor that comes on board.
And certain sponsors have committed actions that are against principles of social justice. Gilead made PrEP unaffordable for a lot of Americans. Only 10 percent of Americans that can use PrEP are receiving it.
Qantas deport refugees to danger. We see a lot of pressure on Qantas, even from shareholders. But, their motions failed. So, it's very clear people want Qantas to change, and pressure from Mardi Gras would help.
What we want is to implement some oversight on who the sponsors are in terms of social justice for our community and other marginalised communities.
Another motion is against Scott Morrison. It's similar to a motion from last year. We want to say that Scott Morrison is not welcome at the parade. The reasons are pretty obvious.
Last year, we were looking at potentially having a Labor government. Now, we've had a year of the Morrison government.  And with Morrison in power we've seen things change for the worse. And we really want to reiterate, as a community, just how opposed we are.
I'm trans, so it's important to stand against Morrison and the comments he's made about trans people. We want to show that he's definitely not welcome at our parade.
And we have a motion against the cops. We want to move that the cops don't march in uniform or have a float under the NSW police.
Again, over the last year, we've seen so many conditions worsen with the police right across Australia.
We've just seen the IMARC protests and how authoritarian police are becoming around protests. And this is very worrying in terms of making Mardi Gras a space for protest and for actual resistance.
There's also the recent tragic case of the 19-year-old boy in the Northern Territory and the continued racialised violence that's committed by the police around Australia.
We have to have meaningful resistance to that. And part of that is not having cops march in the parade.
Lately, Australian governments have been conducting an assault on the rights of people to speak out in protest.
New right to farm laws have been passed in NSW parliament. Queensland just passed anti-protest laws in response to Extinction Rebellion. And Scott Morrison recently took very specific aim at protesters during a fossil fuel council meeting in Queensland.
Charlie, what do you think about the assault on the right to demonstrate in this country at present?
It's an absolute horror. There's the growing inequality and the continuing assault on our democracy.
Forty years of neoliberalism has seen money siphoned to the top. People who have money have the ability to influence politics. And the only meaningful avenue that others have is protest.
We're seeing organised labour under threat with the Ensuring Integrity Bill, as well as the power to protest. And these are the only forms of resistance when we come up against those with money.
The way that links into what we want to do is Mardi Gras is now a controlled event in terms of the parade. It's not a protest in any way. It's very much a planned and organised event.
But, we need to press against those anti-democratic ideals that push for the suppression of protest. It's about pressing against big business and forces like the police. It's saying that these things are all interconnected. We don't want to be controlled by Big Money.
And we don't want to kowtow to the police. They're the people that work in connection to ensure that democracy and protest is stopped in the interests of capital.
You're also a member of Trans Action Warrang-Sydney. Over recent years, there have been a lot of gains for the trans community, although it still faces prejudices. And as you've mentioned, some of that's coming directly from the prime minister.
How would you say trans rights have fared of late? And how do they need to be progressed further?
We've seen an all-out attack on trans people since the passing of gay marriage, because people feel that after that gays aren't a viable source of attack anymore. That's why we see the Murdoch press unrelentingly attacking trans people to the point of being neurotic.
We've absorbed so much of the general anti-queer sentiment, because people believe there's enough popular support to do so, or there's not enough popular pushback to stop them.
There's a lot of movement that needs to be made in LGBTI organisations in general to show that we need their support for trans rights, in the same way that we supported a lot of the major equality debates for gays and lesbians.
We need allies. We need that swell of public support. And that means having representation in certain places. And one of those places would be in Mardi Gras. There's not a single trans member on the board. We need to see places like that be louder and prouder for trans rights.
And lastly, Charlie, you worked for Mardi Gras over five years. How would you say your experience of working within the organisation has informed your decision to run for the board as part of Pride in Protest?
There's been a lot of noise about the viability of the proposition that Pride in Protest has made. And there's been a lot of scepticism about just how practical that is from people on the other side.
Now, I've worked for the organisation for five years. And I can tell you that there are so many ways for what Pride in Protest wants to implement practically into the organisation to make it freer, more democratic and more open.
So, from having five years of quite intimate understanding of how the business is run, the concept of Pride in Protest being impractical just isn't true. It's scaremongering.
Also, being in that space allowed me to understand the way things function, in terms of corporate support, or the way they can be dealt with regarding community voices and members.
So often in the time I saw that managed, it was about managing the voices in the community and creating certain PR narratives. It was more about trying to subdue or lessen what the community was saying, rather than listening to it, responding and absorbing it in some way.
Photo credit: Jonno Revanche
Receive all of our articles weekly