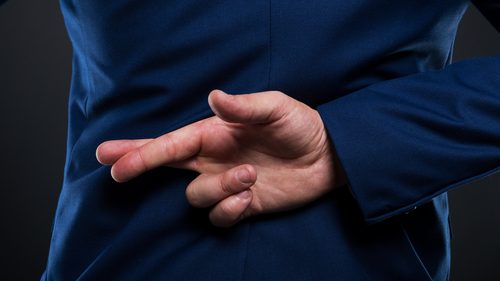 Sydney lawyer Brody Clarke came from a privileged background, benefited from a stellar education and was employed by investment banks Goldman Sachs and JP Morgan before turning his hand to law in his early thirties.
But it all came undone when the now 36-year old engaged in an unsophisticated scheme to fund his gambling habit and get rich quick.
Easy money
The junior lawyer was employed by Sydney law firm Atanaskovic Hartnell and had won the trust of Bruce Gordon, the multi-millionaire owner of WIN Television.
In August and September 2017, Clarke borrowed a colleague's mobile telephone and used it to contact Deutche Bank, which was holding over $68 million of Mr Gordon's money.
The lawyer then managed to convince the bank that he was Mr Gordon's son, who is a director authorised to release funds from his father's account.
Mr Clarke went about authorising the transfer of millions in funds into his own personal account, before the 'discrepancy' was detected by the chief financial officer of one of the Mr Gordon's companies.
All in all, Mr Clarke defrauded Mr Gordon of $9.853 million, primarily using it to fund his heavy gambling addiction.
When suspicion started to mount in September 2017, Clarke confessed his conduct to George Thomas, a criminal defence barrister he had worked with as a law student, and asked him to report the matter to his employer and police.
In court
Clarke pleaded guilty to six counts of fraud under section 192E of the Crimes Act 1900 in June 2018.
During his sentencing hearing before Judge Mark Williams in Downing Centre District Court yesterday, submissions were made that the lawyer had been consumed by a "24 hour" gambling addiction between 2015 and 2017, during which he made an estimated $100 million in bets including a $1.5 million wager on an NRL game between the Sydney Roosters and North Queensland Cowboys and a $1.2 million bet on two American football games.
Mr Clarke gave evidence that he wasn't thinking properly at the time and was completely immersed in his gambling addiction.
He said of his bets, "I didn't know anything about those games or what league they were playing in", describing his crimes as "impulsive and opportunistic".
The court also heard Clarke was living with undiagnosed and untreated bi-polar disorder, using drugs and alcohol and was at one stage sleeping in his car and showering in the office basement prior to work.
The sentence
His Honour described the case as a "sad illustration of the moral delinquency and immorality of the online betting industry in Australia and the pernicious effects it has upon people seduced by its false promises of easy riches, but instead are often led into fraud and other criminal behaviour".
He allowed Mr Clarke a 40% discount on his sentence, including 45% for the utilitarian value of his early guilty pleas.
Finding that Clarke is unlikely to reoffend, the judge ultimately sentenced Clarke to 6 years in prison with a 3 year non-parole period – which means he must spend at least 3 years behind bars before becoming eligible for release on parole.
His Honour said the sentence is, "likely to operate as a powerful deterrent to people in business and the legal profession where the offending involves a breach of trust, particularly involving large sums of money, systematic dishonesty with planning and some sophistication, general deterrence requires that substantial sentences of imprisonment be imposed."
Lawyers who commit fraud
When applying to be admitted into the Australian legal profession, law graduates are required to undergo a character test to determine whether they are a "fit and proper person" to engage in legal practise.
But, as with any profession, there are lawyers who breach the trust of their clients and the community and fall foul of the law.
Last year, Sydney lawyers Victor Berger and Michael Kinchington were both convicted of defrauding clients in separate instances, and struck off.
In 2017, Queensland criminal lawyer and principal of Bosscher Lawyers, Michael Bosscher was convicted of fraud, and in another high profile case, Queensland Lawyer Tim Meehan (the lawyer who represented Daniel Morcombe's killer) and who was also a partner at Bosscher Lawyers was convicted of fraud the same year.
Fraud in NSW
Section 192E of the NSW Crimes Act 1900 makes it a criminal offence to obtain property belonging to another, or obtain any financial advantage or cause a financial disadvantage to another, where this is done dishonestly by any deception.
The maximum penalty is 10 years' imprisonment when the matter is referred to the District Court, or 2 years if it remains in the Local Court.
To establish the offence, the prosecution must prove that:
By a deception, the defendant acted dishonestly, and
These actions created a financial advantage over another person's property, or caused them to suffer a financial disadvantage, and
The actions were intentional or reckless.
If the prosecution is unable to prove each of these elements beyond a reasonable doubt, the defendant is entitled to an acquittal.
Receive all of our articles weekly