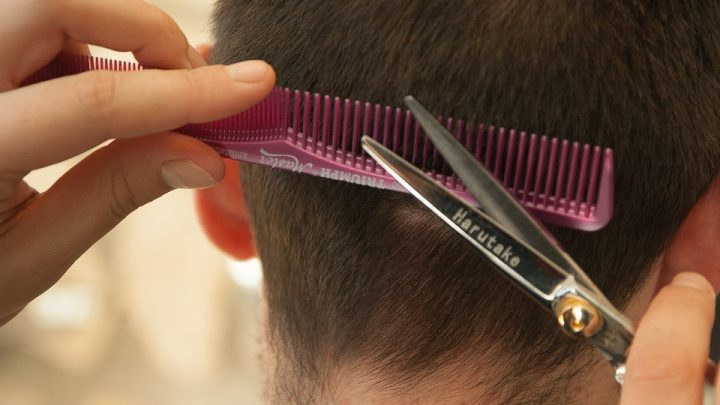 After several weeks of investigation and extensive examination of CCTV footage, Police have charged a 19-year old man with assault, after he allegedly used scissors to cut off a fellow passenger's hair on public transport last month.
The bizarre incident, which left the teenaged victim shaken and distressed, happened on a bus travelling from Clovelly, to the Sydney CBD at about 9.30 in the morning.
'Creepy and Freaky'
Witnesses say the whole incident was 'creepy'. The young woman sat in front of a couple who looked 'pasty and drug-affected'. Then, as the bus was travelling through Moore Park, the young woman became distressed. As she was pulling small clumps from her hair, she turned and asked the man behind if he had cut her hair.
Witnesses say there was a good 3-to-4 inches coming from the woman's hair, and she was convinced the man had cut it.
One passenger offered to change seats with the woman, but she said she was going to be alright, and then, when the couple got off the bus moments later, the woman completely broke down into tears.
Other passengers alerted the driver.
The driver pulled the bus over to the side of the road, stopped and chased the couple on foot, but they jumped into a taxi and disappeared.
Witnesses say the couple – particularly the woman – were acting strangely and looked like they were on drugs.
One passenger, who had been reading a booklet on bicycle tracks in Perth, said the man asked if he could have it.
Another passenger said he'd noticed the couple immediately because the woman was sitting on the man's lap sucking her thumb, and he wanted to avoid them.
Another passenger said the same man also touched her hair.
Police have arrested a man over the incident and charged him with 'common assault'.
CCTV and Video Helps Police
This is another example of how high tech CCTV footage and the video footage that passengers take on their smartphones is aiding police with investigations, and helping authorities to crack down on anti-social behaviour.
Last month, a man who allegedly smashed the windscreen of a bus on Sydney's North Shore after being asked to alight, was arrested based on footage taken by a witness. The footage, which has been posted on You Tube, shows a man repeatedly hitting the windscreen. At one point, he charges at the bus with his hands and elbows, cutting himself.
The footage does not capture the events leading up to the many being asked to leave, but he allegedly assaulted another passenger following an argument on board. The driver and other passengers then insisted he get off. Enraged, he then began attacking the front of the bus.
Camera footage also captured a shocking moment late last year when passengers were asked to leave a bus after a fight broke out between the driver and another passenger.
We all deserve the right to feel safe on public transport, and New South Wales now has a greater police presence on board buses, trains and ferries than ever before.
The presence of more high tech video surveillance and the prevalence of camera and video phones means that while our privacy is compromised and a great deal of our lives are captured on film, it also means that those who do the wrong thing are more likely to be caught.
Assault Charges
Section 61 of the NSW Crimes Act contains the offence of 'common assault', which carries a maximum penalty of two years' imprisonment.
To be found guilty, the prosecution must prove beyond reasonable doubt that:
The defendant acted in a way that caused another person to fear immediate and unlawful personal violence OR touched another person without their consent; and
The other person did not consent to your actions; and
The actions were either intentionally or recklessly.
If a legal defence is raised, such as self-defence or duress (being forced), the prosecution will to 'negative' that defence beyond reasonable doubt; in other words, prove there was no such defence.
A 'common assault' can occur without any touching at all; just causing another person to 'apprehend immediate and unlawful violence' is enough, or, as the Judicial Commission puts it, "it is the fear which is the gist of assault".
Examples may include raising a fist at another person in anger, or threatening to hurt or kill them in their immediate presence.
An 'omission' (not doing something) cannot amount to an assault, and the threat must be immediate – long distance telephone threats, for instance, would not normally suffice (although they are generally covered by Commonwealth legislation).
Assuming police have charged the right person, the defendant's conduct in the present case would appear to amount to a "battery", which is touching another person without their consent. This could result in a finding of guilt for common assault even if the young lady was unaware her hair was being snipped; in other words, without her experiencing an apprehension of unlawful violence before the cutting.
Based on media reports, there does not appear to be a lawful excuse for his actions, such as self-defence, necessity or duress.
If you are charged with assault, it is a good idea to seek legal advice from an experienced criminal defence lawyer who can advise you about the strength of the prosecution case (or lack thereof), any available defences, the best way forward and the likely outcome.
There are several criminal law firms which offer a free first conference, so you can obtain advice even if you cannot afford to pay for a lawyer.
Receive all of our articles weekly