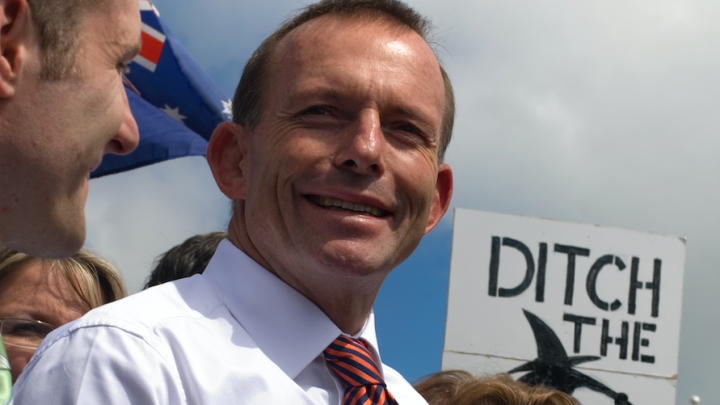 The man accused of head-butting Tony Abbott during his trip to Tasmania last month has had his charge upgraded.
Hobart DJ Astro Labe was originally charged with common assault, but the charge against him has now been upgraded to 'causing harm to a Commonwealth public official', which carries a maximum of 10 years in prison if dealt with in a higher court.
However, Mr Labe's case is likely to remain in Hobart Magistrates Court, where the maximum penalty is two-years in prison and/or a $25,000 fine.
Mr Labe appeared briefly in court this week to face the upgraded charges. He did not enter a plea and his bail was continued. It is next listed in court in January 2018.
Alleged attack on former PM
Police allege the defendant, wearing a 'VOTE YES' sticker, approached Mr Abbott on the street at about 4.30pm motioning to shake hands, but instead head-butted the former PM and ran away.
Mr Abbott reported the incident and, viewing CCTV footage and speaking with witnesses, police charged Mr Labe the following day.
Tony Abbott immediately labelled the incident an orchestrated attack by the pro-same sex marriage campaign, which the former PM has vocally opposed. But the defendant says the incident was spur of the moment and opportunistic. He is adamant it had nothing to do with the same sex marriage campaign.
"For all intents and purposes legally I'm remorseful. I'm not a campaigner, I'm a lone anarchist that felt the need to head-butt Tony Abbott because I didn't think it was an opportunity I'd get again," Mr Labe told the media.
Tony Abbott, who allegedly sustained a swollen lip as a result of the incident, has had vocal support of his political peers, with some calling the head-butt 'un-Australian'. Prime Minister Malcolm Turnbull told reporters that as a nation, we must have 'zero tolerance' for violence of any type on the street.
What the law says
Section 147.1 of the Criminal Code Act 1995 (Cth) makes it an offence to cause harm to a public official.
To establish guilt, the prosecution must prove each of the following elements beyond reasonable doubt:
That the defendant engaged in conduct,
The conduct caused harm to a Commonwealth public official,
The defendant intended to cause harm,
The official did not consent to the harm, and
The defendant's conduct was due to the complainant's status as a public official, or due to conduct engaged in by the complainant in his or her capacity as a public official.
The maximum penalty is 13 years imprisonment in the case of a judicial or law enforcement official, or 10 years in any other case.
Support for defendant
In the wake of the incident, two 'GoFundMe' campaigns were created to support Mr Labe: one to pay for his legal defence and the other to "make a trophy for Astro Labe".
The legal fund raised more than $1000 before it was suspended.
Receive all of our articles weekly
Authors
Sonia Hickey
Sonia Hickey is a freelance writer, magazine journalist and owner of 'Woman with Words'. She has a strong interest in social justice, and is a member of the Sydney Criminal Lawyers® content team.