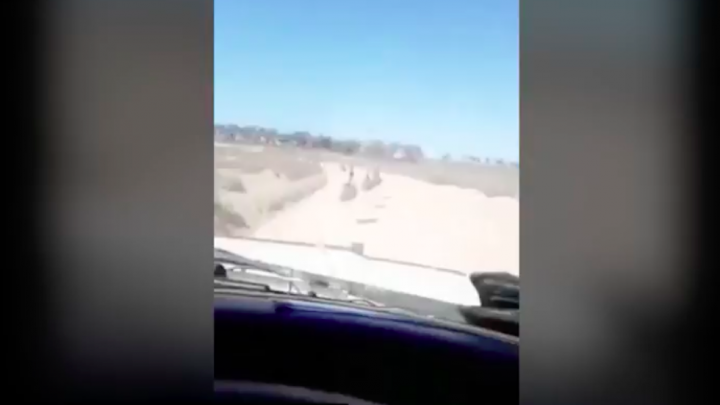 A farmhand in Victoria has been sentenced to time in prison for running down a herd of emus with his ute, filming it, and posting it to Facebook.
You probably saw the distressing video footage which went viral in September last year and sparked a nation-wide manhunt as people all around the country tried to identify the man behind the road rage.
During the video, the man drives at a high-speed towards a running mob of emus, shrieking and yelling. As he hits the birds, he yells and keeps count. He never shows his face, and therefore the video was not enough to immediately identify him.
Australian manhunt via social media
However, after the video was shared thousands of times, it eventually emerged that the suspect was 20-year-old man Jacob McDonald who was tracked down by Police with the assistance of the RSPCA.
He was charged late last year with two driving offences and also three charges of cruelty to animals.
Mr MacDonald claimed, at the time, that the cruel video was only for his mates to see and several of his friends submitted character references to court on his behalf.
Last year he also told media that he was acting to protect the land from Emus who are destroying crops and in ill-health because of the drought.
"I could show you some photos of the destruction the emus make down here…The reason there is so many on the road is because they're looking for something to eat. And there's nothing."
"Here is what the RSPCA doesn't understand, they go on about cruelty, they should come out here and have a look at the state of these animals … they're not doing anything for them," he said in his own defence.
Sixteen animals died in his rampage. And while the court watched the video, Mr MacDonald looked away.
Guilty plea
Jacob MacDonald pleaded guilty to the charges and has been sentenced to 42 days in prison and an $800 fine. While Magistrate Michael King accepted MacDonald's remorse, he described the offending as "disgraceful, appalling behaviour" and said he appeared to have taken pleasure in inflicting pain on the birds.
Animal cruelty offences
In NSW, offences of animal cruelty are primarily contained in the Prevention of Cruelty to Animals Act 1979 (the Act)
Cruelty to animals is an offence under section 5 of the Act which attracts a maximum penalty of 6 months in prison and/or a $5,500 fine, while aggravated animal cruelty is a crime under section 6 which carries a maximum of 2 years in prison and/or a fine of $22,000.
An 'act of cruelty' is defined in section 4(2) of the Act as including any act or omission to the animal that unjustifiably, unnecessarily or unreasonably causes the animal to be:
Killed, beaten, wounded, mutilated, maimed, pinioned, abused, tormented, tortured, terrified or infuriated; or
Over-worked, over-loaded, over-driven, over-ridden or over-used; or
Exposed to excessive cold or heat; or
Inflicted with pain
Receive all of our articles weekly